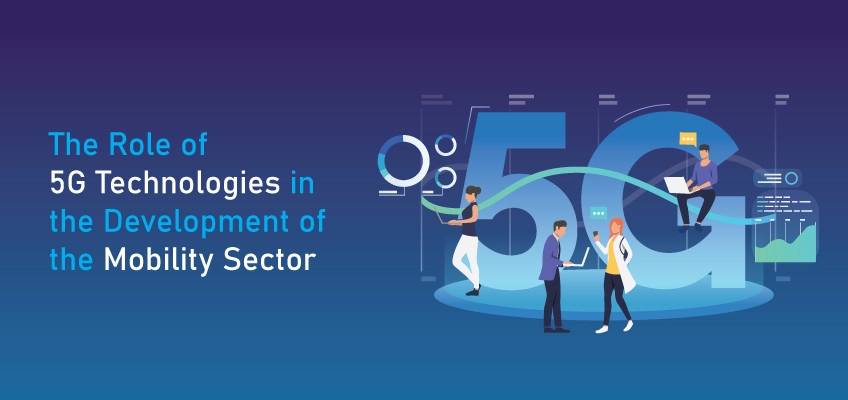 The Role of 5G Technologies in the Development of the Mobility Sector
Since the Internet of Things has become a part of our everyday life. We can assume that technology will eventually dominate the world.
Telecommunication companies have taken a step forward and begun investing in a new generation of wireless communications – 5G – to manage the continually expanding number of these devices and ensure they have the proper speed and data bandwidth.
With the emergence of ride-hailing companies and on-demand apps, the mobility sector has assisted consumers in reducing their travel commitments.
Here's our take on how 5G assists the mobility sector's future and present.
1. Robust Connectivity
Let's face it!
The mobility sector is rapidly expanding due to its capacity to exceed client expectations. Smartphones and phone applications are at the heart of the on-demand mobility arrangement. Through its channel, the launch of 5G gives the upper hand in making this link stronger and quicker.
It could say that companies are aggressively looking for an on-demand mobility setup to get their connectivity future-ready.
2. Hassle-Free V2X Connectivity
V2X, or vehicle-to-everything, is a 5G-based communication system. It supports ten milliseconds of latency end to end and one millisecond of latency over the air. In addition, the fifth-generation network delivers the required reliability, with ultra-reliable transmissions aiming for 99.999 percent.
Such demands necessitate the use of improved cellular technologies. 5G lays a solid platform for even better latency and dependability. AAS, or active antenna systems, which combine radio units with hundreds of elements, also provide the essential hardware for network capacity improvement.
These systems allow numerous users to share the same frequency resources simultaneously. Improved network orchestration features will also enable dynamic capacity allocation and will be able to handle a large volume of sensor communication.
3. Strong Ecosystem
When you consider the period before the Internet, the launch of 5G is unrivaled. Individuals have benefitted from the Internet and smartphones. However, suppose you choose to stay connected with applications in 5G technologies. In that case, you will discover that the entire on-demand industry ecosystem — customers, services, and availability – is tightly interwoven and interconnected. You'll grasp the value of 5G if you ask about the bridge that connects all the spots and fills in the gaps.
If you choose to stay connected with 5G, you can benefit from a more intelligent ecosystem and more channelized mobility operations. IoT has aided mobility entrepreneurs in achieving their objectives and business KPIs with precision. First, however, you must shake hands with 5G providers to develop a better environment.
4. Connected Vehicles
Users of modern vehicles may monitor and even communicate with themselves. In addition, our future appears to be becoming increasingly autonomous, and many applications rely heavily on networking. As a result, the demand for wireless capacity is increasing.
4G is currently insufficiently dependable to handle mission-critical workloads. For example, a network that cannot drive data traffic from autonomous vehicles or fleets connected in an urban setting could be dangerous.
Regardless of the type of connection, excellent connectivity is required to support vehicle autonomy. For a more dependable relationship between cars and their surroundings, Now 5G is needed. In addition, it is critical to overcoming the safety issues that occur with automation. Compared to current 4G or DSRC technology, 5G reduces latency and improves dependability.
Also Read: URBANCLAP (NOW URBAN COMPANY) BUSINESS MODEL AND HOW URBAN CLAP WORKS
5. Resolve the Issues
Another significant benefit of the on-demand 5G app is that it aids in accurately documenting all outages. In the case of the mobility sector, you never know when unexpected outages will occur. So you may need to fix those outages before it's too late.
5G ensures that these disruptions are appropriately managed and covered with minimal effort. With sophisticated decision-making power, it can fill its technical flaws and gaps. This ability develops over time and with practice. First, however, must make those decisions at the appropriate moment.
In unexpected challenges or outages, 5G functions as a tiebreaker and an immediate information sharer. There is no turning back if your mobility company has the advantage of making the correct decision at the right time.
6. Smooth Payment Channels
Last but not least, applications in 5G technologies have transformed the way people pay for things. Digital payment has established itself as the new set of charges. Compared to traditional payment methods, people are more inclined to prefer digital payments. Businesses may quickly interact with clients and enroll them with accessible payment channels thanks to the smooth payment channels given and supported by 5G.
CONCLUSION
Many new technologies have relied on 5G as a missing piece of the puzzle. However, even if it means changing how they function, establishing a new mobility technology ecosystem is critical for all companies involved.
Are you looking for a platform that can assist you in making your business more empowered? If that's the case, your quest is over!
Appicial Applications is a leading app development company with expertise in setting up and launching an on-demand mobility setup and its growth and expansion. The program lets a company start from the ground up and develop its empire using cutting-edge technology.
As a technology vendor, we can say that 5G's impact on the mobility business is enormous. We can't deny that development and success have a significant effect.