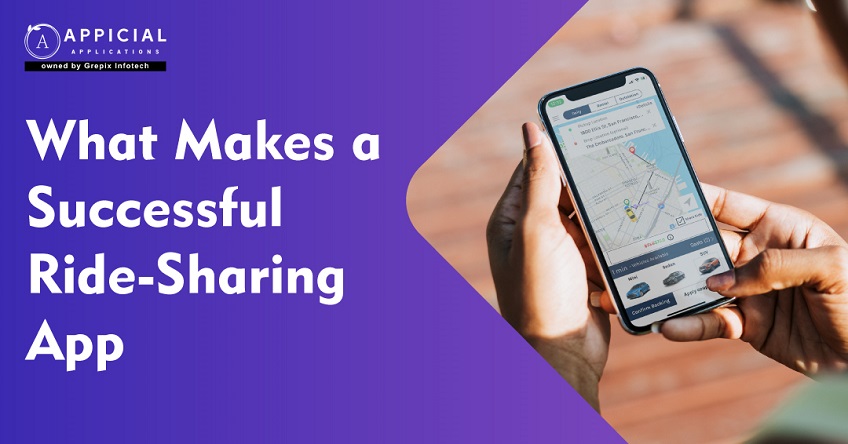 You're at the forefront of a ride-sharing revolution. The taxi industry's days are numbered, as ride-sharing apps have hit the scene and shown people a better way to get around. You've got an idea for an app that could rule the ride-sharing industry. But what exactly makes for a successful ride-sharing app?
There are a few key points. First, a stellar user experience. People want an app that's slick, intuitive, and makes hailing a ride as easy as clicking a button. Second, abundant driver supply. Without enough drivers, your app is useless. You'll need a way to recruit and retain top talent. Third, competitive pricing. Your fares have to compare favorably with taxis and transit to win over customers.
Finally, branding and marketing. How will you get people excited to use your app? With a memorable name, eye-catching design, and promotional push, you can become the next big thing in ride-sharing. Follow these tips, and you'll be well on your way to disrupting the taxi industry with your stunning ride-sharing app. The road ahead is open - time to put the pedal to the metal!
Provide a Seamless User Experience
A successful ride-sharing app provides a seamless experience for riders and drivers alike. As a rider, you want the process to be as simple as possible.
Signing up should be quick and easy, requiring just a name, email address, and payment info. The app interface should be clean, and intuitive, and guide you step-by-step through requesting a ride. Location services allow the app to automatically detect your pick-up location. Fare estimates and driver ETAs help you decide if you want to request a ride now or schedule one for later.
Once a driver accepts your ride, you'll see their details like photo, vehicle info, and rating. You'll get updates on the driver's arrival and can follow their route to you on the map. After the ride, you can rate your experience and provide feedback.
For drivers, the experience should be just as seamless. Signing up to become a driver is simple and getting approved is fast. The driver app makes it easy to log in and out, set your availability, and accept ride requests. Turn-by-turn directions guide you to the rider's pick-up location. Fares and payments are automatically calculated and processed through the app. Ratings and reviews from riders help drivers improve their service.
A stellar user experience for both riders and drivers is what sets a ride-sharing service apart. Uber clone makes the entire process simple, efficient, transparent, and even enjoyable, people will keep coming back for more rides. Focusing on user experience leads to success.
Ensure Robust Backend Architecture
To build a successful ride-sharing app, you need a robust backend architecture that can handle huge amounts of data and network traffic.
First, invest in a scalable cloud platform. As your app grows, you'll need a system that can scale quickly and efficiently to match demand. Look for a provider with multiple data centers across the globe so your app is fast no matter the location.
Next, focus on security and privacy. Use encryption, two-factor authentication, and data access controls to keep customer information safe. Regular security audits and penetration testing help identify vulnerabilities to address.
You'll also want a reliable matching algorithm. Consider factors like driver and rider locations, traffic and weather conditions, vehicle types, and more to pair riders and drivers efficiently. Continuously improve your algorithm using machine learning and real-time data.
A seamless payment system is a must. Integrate trusted third-party services so riders can pay via credit card, digital wallet, or other methods. Ensure fast, secure transactions with a payment gateway optimized for on-demand services.
Don't forget 24/7 customer support. Even with a flawless app, questions and issues will arise. Provide support through in-app messaging, email, social media, and phone so riders and drivers can get help anytime.
With the right backend foundation in place, your ride-sharing app will delight customers, attract drivers, and give you a competitive advantage. But technology is always changing, so keep innovating to stay ahead of the curve. Continually enhancing your platform will drive sustainable growth and success.
Also Read: Uber Business Model and How Uber Makes Money
Offer Competitive Pricing
To be competitive, your ride-sharing app needs to offer reasonable fares that attract customers away from taxis and other services. Price is one of the biggest factors for users when choosing a ride, so get this right from the start.
Keep your pricing lower than taxis in your city or region. Many ride-sharing companies charge 25-50% less per mile and minute than taxis. Offer promotional codes and discounts, especially when launching, to entice new users.
Implement dynamic pricing based on supply and demand. Increase fares during peak times when more drivers are needed and lower fares when demand is slack. This helps ensure quick pickups for riders and maximizes earnings for drivers.
Provide price estimates upfront so riders know what to expect for their trip. Give a fare range for the route so there are no surprises. Let riders compare estimated fares between different vehicle options like shared rides, eco-friendly cars, luxury vehicles, and SUVs.
Offer a cashless payment system through your app for a seamless experience. Accept all major credit cards, debit cards, and mobile wallets. Consider allowing riders to save payment methods to streamline future bookings.
Bill riders automatically through the app once the trip is complete so there's no need to exchange cash or receipts with the driver. Send riders an overview of their trip details including distance traveled, time elapsed, fare breakdown, and driver details.
Your pricing model and payment system are key to gaining an edge over taxis and competitors. Continue evaluating fares and making adjustments to find the sweet spot that makes your service the most affordable, convenient option in your city. With the right combination, you'll be well on your way to disrupting the taxi industry.
Recruit and Retain Top Driver Talent
To build a successful ride-sharing app, you need to recruit and retain high-quality drivers. Drivers are the face of your company and provide the actual service to customers. Focus on the following to keep drivers happy and engaged:
Offer attractive compensation and incentives
Provide drivers with a generous percentage of each fare and opportunities to earn bonuses and rewards. Consider offering weekly or monthly bonuses for drivers who complete a certain number of rides. Provide discounts and special offers from local businesses that drivers can take advantage of.
Make it easy to get started
Have a simple signup process to become a driver. Provide helpful resources to get new drivers on the road as quickly as possible. Offer an easy-to-use driver app that provides turn-by-turn directions, records mileage and time, and processes payments seamlessly.
Offer 24/7 support
Make it easy for drivers to get help at any time of day or night. Provide phone support as well as in-app chat options. Quickly resolve any issues or complaints from drivers to keep them satisfied. Address poor reviews from riders as well to support your drivers.
Provide flexibility and freedom
One of the appeals of driving for a ride-sharing service is a flexible schedule. Allow drivers to log in and out of your app and drive whenever they want. Don't require a minimum number of hours or rides. This freedom and flexibility will make driving for your service appealing and fit into many lifestyles.
Recognize and reward loyalty. Provide special rewards and bonuses for drivers who have been with your service for 6-12 months or more. Offer opportunities for top drivers to mentor new drivers. Give tenured drivers first access to busy areas or events. Make your most dedicated drivers feel appreciated and valued.
Keeping drivers engaged and satisfied is key to success as a ride-sharing company. Focus on their needs, offer fair pay and flexibility, provide helpful resources, and show your appreciation. Your drivers are the foundation of an amazing experience for riders, so do whatever it takes to recruit and retain top talent.
FAQs
Developing a ridesharing app involves answering many questions. Here are some of the frequently asked questions we get about building an Uber-like app.
Conclusion
There you have it, then. Your ride-sharing app should prioritize a fantastic user experience, reasonable pricing, and first-rate service if you want to compete with the taxi industry. In today's connected world, meet the needs of drivers and passengers, foster loyalty with rewards and promotions, and don't overlook the influence of word-of-mouth marketing. You'll be well on your way to disrupting an industry that desperately needs innovation if you launch with the right marketing and PR push, get people talking, and spread the word. Although the path ahead won't always be easy, keep your customers in mind and work to get better every day. If you do that, you'll soon be competing with taxis for business. You hold the key to the transportation of tomorrow! Why are you holding out? It's time to rev your engines up.
In the end, Appicial Applications is a leading app development company that has a dexterous team of talented developers and creative designers to turn your concept into a worth-using app. Our app developers have successfully made many apps and delivered more than expected. Uber clone app is a revolutionary ride-hailing service that's taking the world by storm. With its diverse range of transportation options, affordable rates, and commitment to safety, Uber Clone has set a new standard for ride-hailing companies around the world. As the company continues to expand and innovate, we can expect to see even more exciting developments from Didi in the future. So why wait? Contact us to get the best Uber Clone app that may significantly grow your business without breaking the bank.