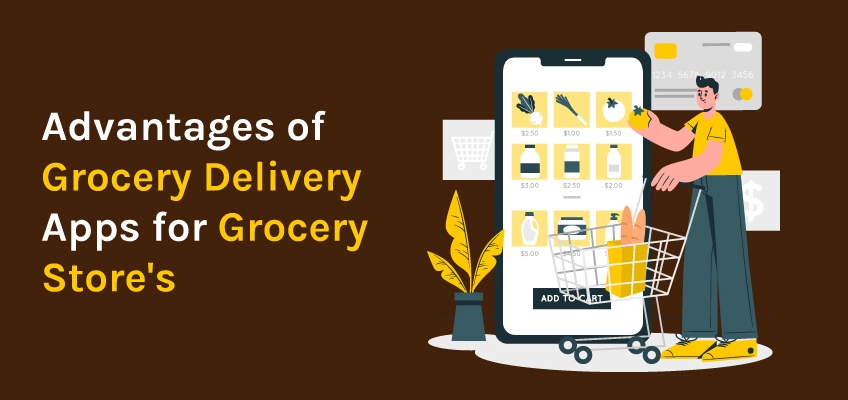 Advantages of Grocery Delivery Apps for Grocery Store's
Things are becoming more convenient for users as a result of technology improvements. Anyone can get everything they want with only a tap on their phone.
On the other hand, these shifting conditions impact customers' purchasing habits. People's buying habits are changing in the grocery store as well.
If you're reading this blog, you're probably thinking, "Your content with the current sales, so what's the need for grocery delivery app development?"
Factually, correct?
Okay, we didn't mean to upset you, but the truth is that you may begin to lose money soon. So, yes, we have a solid foundation to draw this conclusion.
Do you want to know more? The findings shed insight on the advantages of supermarket delivery applications and the future of grocery purchasing.
Potential Benefits of Grocery Delivery App
Have you ever looked into how white-label grocery delivery apps make money? Large corporations whose sole job is to transport groceries follow simple logic.
Customers place orders with the supermarket delivery service and the service purchases groceries from your store.
Do you ever feel like a fool? Don't you think so?
Is the answer so far no?
So, who is making money off of you? Unfortunately, they are stealing clients from your neighborhood and delivering products purchased from your store.
Here is the list of the benefits of choosing a dedicated grocery delivery app like Instacart clone.
1. Seamless Payment Options
What is your main concern as you prepare to expand your business into online grocery delivery?
Is it possible that it has something to do with the payment?
Any grocery store owner is delighted that their clients would pay the bill at the counter and go.
On the other hand, are you concerned that online grocery delivery will provide the same level of security?
The advantages of on-demand grocery delivery apps are numerous. Have you ever had the experience of a customer walking into your store and deciding what he wants to buy? The buyer then pays and begins shopping according to the shopping list.
You will never have to deal with such situations in your life. Customers shop from your app, pay, and then have the things delivered to their homes.
2. Profitable Inventory Management Options That Are Unbelievable
How often have your customers looking for a product to find it unavailable?
Because you forgot to restock certain things or because you were unfamiliar with the product.
Technology is far ahead of the rest of us. But, surprisingly, the unique qualities of these supermarket delivery applications help you. For example, you can use these grocery delivery apps to keep track of your inventory.
As a result, the white-label grocery delivery apps can track which things need to be refilled. Of course, you may have given this work to a specific person. But wouldn't it be fantastic if you could have all of the knowledge you needed right at your fingertips? Consider it for a moment!
3. Understanding the Mentality of Your Customers
It isn't easy to conceive how the business world would function without apps. Give an example of a business model that hasn't yet digitized its operations.
Uber has risen to the top of the transportation industry due to its early-bird advantage. In addition, clothing, beauty, cosmetics, real estate, lawn care, and various other company formats profit handsomely from digitization.
Everything is going digital for a reason, and buyers adore the idea of acquiring their desired product or service without spending time.
4. Your customers are becoming more knowledgeable
Customers look for ways to save money. Surprisingly, one of the benefits of grocery delivery apps is that they provide users with substantial discounts.
As a result, shoppers are enticed to use these grocery delivery applications to make purchases. Additionally, customers benefit from the application's cashback choices.
5. Customers will give you more money if you pay wholesalers less
Customers may come and go frequently. You might be able to retain your regular consumers if you have an internet presence. Furthermore, you will be able to reach customers that prefer to shop online.
As a result, your customer base would expand. So said, you would get new consumers while keeping your existing ones.
On the other hand, you will have to pay wholesalers less. How?
You can buy supermarket products in bulk to expand your reach to new clients. Understand that the more you buy from the wholesaler, the more significant your discounts are.
6. Always be one step ahead of the competition
With the emergence of new technologies, the market is constantly updated. Surprisingly, grocery stores will undergo significant changes as the Internet of Things becomes more critical in our daily lives.
And to implement any technology in your grocery shop, you'll need an app to manage the operations. So, if you digitize your grocery shop now, you can add functionality as your needs change in the future.
We hope you now see how grocery delivery applications can help you increase your profitability. So, what's the next logical step? Begin developing your app to see how much money you can make from the advantages of grocery delivery applications.
Step into the Digital World
Customers may easily browse the selections and add things to the cart using a White-label grocery delivery app, making delivery quick and straightforward.
Grocery delivery apps were in high demand during the epidemic, and the business has continued to grow since then. The majority of grocery retailers have developed grocery demand apps. As a result, creating an online grocery delivery app appears to be a pressing need.
There are three applications in the grocery delivery app: a consumer app, a grocery owner app, and a driver-partner app. The grocery store owner app gives them the ability to add or remove categories based on their needs. As a result, the user receives a seamless experience when using the app to purchase things.
Build an App to Grow Your Grocery Delivery Business
Grocery delivery apps have numerous advantages. You might even begin your digital presence by establishing a grocery delivery app.
Appicial is a leading grocery app development company that offers the best grocery delivery app development services by building an efficient, robust, and scalable to attract your target audience and turn them into your potential customers.