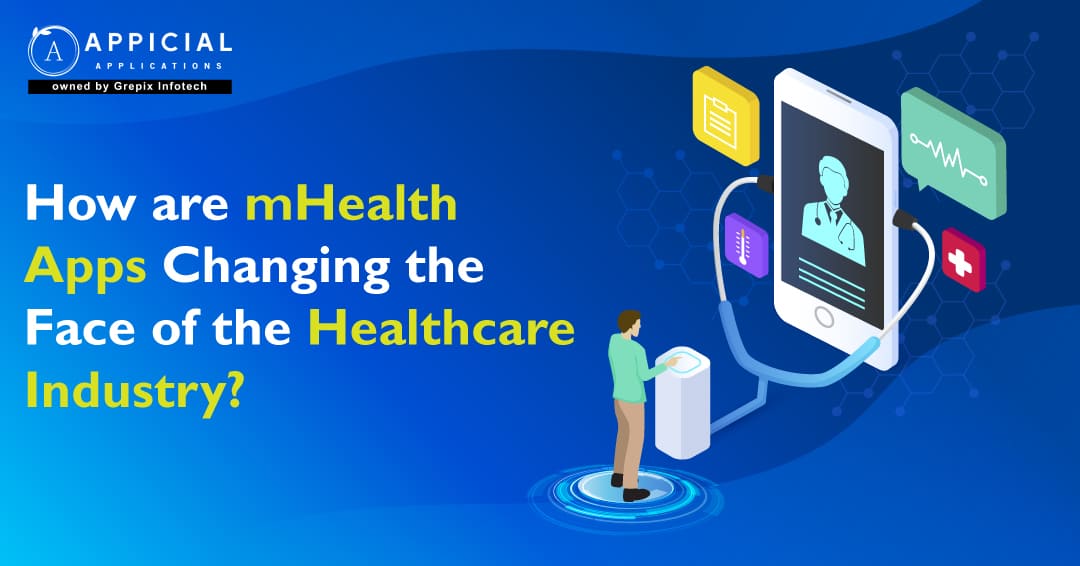 The term "mobile health," or "mHealth," refers to the use of mobile devices, including tablets, laptops, cellphones, wireless infrastructure, and digital aid, in the areas of public health, medications, and patient care. Multimedia and communication technologies are included in mHealth. Nowadays, smartphone apps are the main method of access. These apps are utilized not only by clients or patients but also by doctors and healthcare facilities to digitally monitor their patients. In reality, there is a noticeable increase in the number of hospitals and clinics employing mHealth apps. The market for mobile health devices generated US$37 billion in revenue in 2019 and is expected to increase over the next few years. Now Ambulance Apps, On-Demand Doctor Apps, Medicine Delivery Apps, and On-Demand Physiotherapy Apps are also trending these days.
Evolution of mHealth
The results of the world's transition to digitality are also evident in the healthcare industry. People who use mobile devices are becoming more prevalent every day. Among the major advancements in the field of mHealth are:
Increasing focus on disease management and preventive care, as well as increased investments by healthcare stakeholders. This encourages patients and physicians to participate actively in and outside of the hospital and in medical care.
Cloud computing is now used to store patient data for future reference and additional diagnosis. This technology has greatly aided the sector as the number of patients has increased.
The growth of mobile healthcare has reduced many costs. With the help of mHealth apps, it is possible to monitor timely mobile notifications and updates, patients who frequently forget to take their medication, or physical activities like walking, drinking water, etc. By doing this, the patient avoids paying for hospitalization when their condition worsens. The more sophisticated version of this also allows the patient and doctor to communicate directly so that the patient can discuss symptoms and receive basic medical care before seeing a doctor.
The reimbursement system is currently moving away from fees for services and toward paying for services. This is a veiled reference to the significance of successful outcomes. Now, reimbursement for medical expenses is possible through mHealth applications.
Additionally, as more healthcare professionals are needed to serve patients promptly, healthcare services are getting better and better more quickly. Through mHealth apps, it is also simple to contact these staff members.
Additionally, this offers a range of data analysis, client interaction, current information on healthcare and its services, and precise diagnostic support.
Importance of mHealth Apps in the Market
As we know, the healthcare sector has a lot to offer, and app development firms are exploring its potential through mobile healthcare applications. Let us discuss some of the key benefits of mHealth apps in the healthcare sector:
1. Increasing Awareness Among People
The expansion of the healthcare sector has made it possible for more people to seek quicker medical assistance. In addition, people are more aware of their health than ever before, which has increased the significance of having a convenient way to monitor it. Mobile healthcare apps are a common option for people in this situation of increasing awareness.
2. Personalized Treatment Methods
Nowadays, people seek out individually tailored treatment options that focus on their unique needs and produce precise results. A fitness enthusiast might, for instance, desire a fitness app with features like a heart-rate monitor, blood pressure monitor, activity tracker, number of steps taken, sleep quality, and, in some cases, a timer.
3. Tracking and Reaching the Patients is Much Easier
Through push notifications, SMS, and alerts, mobile apps can leverage users' attention. Additionally, it tracks the location to assist healthcare professionals in getting to patients as quickly as possible. This means that using health apps to track users or patients is much simpler.
4. Convenience to Use Mobile Devices
According to a survey, over 3 billion people are using smartphones. These mHealth apps are a practical way to keep tabs on a user's health because more and more people are using mobile devices every day.
5. Improved Patient Experience Due to Rising Internet
A better experience for patients mHealth apps is known to improve patient experiences due to better internet connectivity and instant access to basic healthcare resources. With the help of these mobile healthcare apps, patients can communicate directly with medical professionals who can regularly monitor their health. When a patient receives the appropriate care at the appropriate time, their confidence in the healthcare system increases, and patient-doctor interactions improve.
Challenges During Development of mHealth Apps
The mHealth app is a fantastic area for exploration and innovation, but some difficulties must be taken into account during the app development cycle. Look at them, shall we:
1. Incomplete Knowledge About Supply and Demand
The entire balance between supply and demand is upset if a mobile healthcare app development company is unable to comprehend the current needs and the type of solution people are seeking. The product's failure to achieve its goal causes a loss in business and a lack of acceptance among the general public. Therefore, a thorough market analysis is required, taking into account factors such as demographics, the most common patient types in the area, current competitors, ROI, consumer demands at the time, and so forth.
2. Data Security of mHealth Apps
Every day, mHealth apps collect a ton of data. This information must be safeguarded to prevent hackers' access and misuse. Thus, one of the main issues and challenges that mHealth app development companies face is data security.
3. Compatibility With Legacy Medical Systems
The newest technologies and apps are not always compatible with outdated enterprise systems. As a result, the outdated system misses out on being compatible with mHealth apps and the cutting-edge medical system. The primary cause of this incompatibility is the continued use of outdated technology in many legacy systems around the world.
4. Not Considering Usability and Interoperability
The best and most appropriate features must be designed and offered. However, focusing on the app's usability is more crucial. The fact that people use a variety of mobile phones and operating systems is another factor. As a result, creating apps that are both well-integrated and compatible with the device is very difficult.
5. Failed Patient Engagement
Due to the investments made by numerous businesses in the development of mobile healthcare apps, users have many options. However, it also depends on the apps that hospitals and clinics use. In this situation, it's important to engage the patient with the app so they return and use it frequently, in addition to having smooth monitoring and updating of the patient's health status.
6. Bad User Experience
Every app fails to meet the user experience standard because it does not take user convenience into account. Sometimes, the apps don't work well with hospitals and doctors, delaying treatment and defeating the purpose of mobile healthcare. Additionally, if the app is linked to a wearable device, seamless integration between the mobile device and the wearable is crucial for the mHealth app's smooth operation.
Benefits of Mobile Healthcare Apps
However, the exceptional benefits listed below are what make this industry worthwhile for investment:
1. Better Decision-Making/Improved Diagnostic Accuracy
mHealth apps offer the benefits of better decision-making and diagnostic effectiveness. The mHealth app allows doctors and patients to communicate remotely, making it simpler for the doctors to comprehend the patient's medical condition and tailor their treatment accordingly. Since the process of tracking symptoms and health metrics is largely automated in mHealth, there is more opportunity for accurate diagnosis and less room for mistakes.
2. Real-time Communication
Through text messages, chats, video calls, and other means, mHealth enables patients and healthcare professionals to stay in touch constantly. This instantaneous correspondence. This factor also improves the relationship between the two parties. Additionally, this real-time communication option eliminates the need for doctor visits for patients.
3. Higher Accuracy
It is simpler to access the patient's medical information from personal devices, including mobile phones, since it is all kept in one location. This expedites medical care at any stage. Additionally, it assists doctors in avoiding pitfalls and reducing incorrect diagnoses.
4. Improved Efficiency
As a result of mHealth apps, doctors and other healthcare professionals are working more efficiently because they have a lot less paperwork to manage and can instead concentrate on providing better patient care. Artificial intelligence and machine learning algorithms were combined in this automation.
5. Easier For the Patient's Family and Caregivers
Caregivers and patient families now have much easier lives thanks to mobile healthcare apps. There is less room for error because the app allows for direct communication with the healthcare provider and continuously logs and monitors symptoms and progress reports.
Additionally, by examining the reports and symptoms, the patient's family and caregivers can use the data to analyze the potential health risk. This prevents the hassle of rushing to the hospital at the last minute and may even save a life in dire circumstances.
6. Helpful in Remote Locations
In remote locations that are far from hospitals and clinics, mHealth apps are more practical. In these situations, the app is used to continuously monitor key health metrics. Additionally, it eliminates the need for constant ER visits and allows the patient or caregiver to administer basic medical care. In essence, it regulates extreme conditions and gives people time to get ready for medical care.
7. Opportunities For New Business
The mobile healthcare app creates new investment opportunities for app development companies. These businesses have enormous potential in the upcoming years due to the increasing population around the world. Additionally, current businesses have the opportunity to modify their business models to meet the demands of the mHealth sector at this time.
8. Reduced Healthcare Expenses
Due to their spontaneity, connectedness, accuracy, and advancement, mHealth apps have another significant advantage in that they significantly reduce healthcare costs. As a result, it lowers the rate of readmission to hospitals as well as hospital care in general, saving money on healthcare costs.
Market Scenario of mHealth Apps
Contributing Factors: The potential for mHealth apps to grow is enormous given the significant increase in the adoption of mobile technology in the healthcare sector. The mHealth app industry is anticipated to grow steadily, even though the healthcare sector as a whole is expanding somewhat slowly. This is because the digital sector is expanding rapidly. Nowadays, with more people becoming health-conscious, healthy eating and fitness apps are dominating the market in the US alone. Additionally, 84% of these apps can be downloaded for free without any additional in-app charges. The widespread use of mobile phones is the main factor influencing these statistics.
The users are displaying a strong preference for the use of digital healthcare technology. It is becoming clear that mHealth can be very useful for managing health virtually. Other significant factors that are having a big impact on the market include wearable technology, the growing acceptance of virtual healthcare, the use of electronic health record systems in hospitals and other healthcare facilities, and online forums and communities.
Competitive Scenario: To gain a competitive edge, over 84K mHealth app companies have released apps for personal care and fitness. The stakeholders are also using mHealth apps as extensions of their current businesses to take on the existing digital healthcare providers. Considering the growth potential, new businesses also intend to invest in this industry. Another objective that many IT businesses, market research agencies, and app development companies share is keeping mHealth as one of their main focuses.
Conclusion
Appicial Applications is a leading iPhone app development company that works on custom healthcare app development. We can confidently assert that the mHealth industry has a sizable future. Mobile healthcare apps are being embraced globally on a larger scale as a result of expanding technological innovations. Additionally, as a result of increased health consciousness, more people are becoming aware of the benefits of mHealth apps. Additionally, physicians and patients are making use of this innovation to enhance outcomes and deliver care that is more patient-centered.