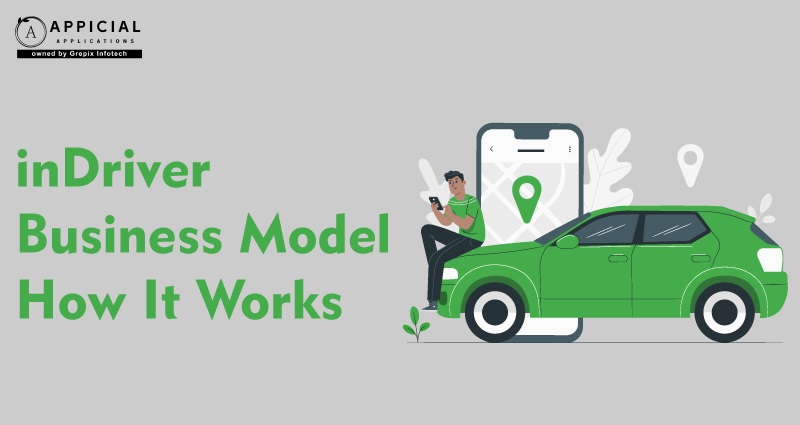 Over the past few years, there has been a substantial increase in demand for on-demand services all around the world. Many business owners have taken advantage of this chance to launch prosperous enterprises. One of those prosperous companies is InDriver, an app that specializes in on-demand deliveries and taxi services.
If we discuss the taxi business, we can see that it has had tremendous expansion in recent years. Anyone can hire a cab by browsing applications, now that it's not a difficult undertaking to do so. In 2023, it is expected that the taxi industry and the ride-hailing business will generate $332.50 billion in income.
The market for ride-booking services is already somewhat crowded, with a small number of well-established competitors and emerging players. To keep their market share, major businesses are progressively concentrating on this expanding trend. Grab Taxi, Lyft, Uber Clone and InDriver are just a few of the enormous taxicab titans that have significantly impacted the growth pace.
Due to the recent increase in demand for on-demand cab and delivery services, InDriver has grown to be one of the most successful apps in this field. This article will outline the inDriver app's business model, including how it functions and, most crucially, how it generates revenue.
What Is The InDriver App?
One of the most popular ride-hailing app worldwide is InDriver. Because it provides a trustworthy and complexion-free ride-hailing experience, the app is highly liked by customers. One of the easiest-to-use applications for on-demand cab and delivery services is this one because you can easily negotiate your fare with the driver.
An Overview Of The Success Of The InDriver App:
More than 150 million downloads of InDriver have been made worldwide.
The app is available in more than 700 cities and 47 countries.
In terms of downloads, InDrivers is the second-largest ridesharing and taxi app globally.
InDriver has provided over 1 billion rides.
InDriver's Business Model
InDriver has disrupted the traditional ridesharing industry with its unique and innovative business model. Unlike other ride-hailing services, inDriver allows passengers to negotiate the price of their rides directly with drivers, giving them more control and transparency. This approach has resonated with users worldwide and has even inspired the development of inDriver clone apps.
The inDriver business model is based on connecting passengers with drivers in a decentralized manner. Instead of setting fixed prices for rides, inDriver allows passengers to input their desired price for a trip and nearby drivers have the option to accept or decline the offer. This dynamic pricing model benefits both passengers and drivers, as it ensures fair compensation for drivers while providing passengers with more affordable options.
To develop a similar ridesharing app like inDriver, businesses can opt for an inDriver clone app. These clone apps replicate the features and functionality of inDriver, allowing businesses to quickly enter the market with a ready-to-use solution. Taxi app development companies can customize these clone apps to suit their branding and requirements, making it an accessible option for startups with limited budgets and technical expertise.
Overall, inDriver's business model revolutionizes the ridesharing industry by empowering both passengers and drivers. Its decentralized pricing system and innovative approach have set a new standard in the industry, inspiring others to follow suit with their clone apps. With its success and popularity, it is clear that inDriver's business model has the potential to reshape the way we book and experience transportation.
How The inDriver App Works
The inDriver app is incredibly user-friendly and simple to navigate, making it easy for both passengers and drivers to use. To get started, passengers need to download the inDriver app from their respective app stores and create an account. Once logged in, they can input their desired pickup location and destination, as well as the price they are willing to pay for the ride.
On the other hand, drivers also need to download the inDriver app and create an account. Once they are logged in, they can view available ride requests in their area, including the desired price offered by the passenger. Drivers have the freedom to accept or decline the ride based on their preference. If they choose to accept the ride, they will be connected with the passenger and can proceed with the trip.
The inDriver app is built on advanced technology and algorithms that enable efficient matching between passengers and drivers, resulting in quick and reliable ride bookings. With its intuitive interface and robust features, it has become a go-to ridesharing app for many, offering a convenient and cost-effective alternative to traditional transportation options.
Keychecks of InDrive Development
The international launch of InDriver took place in Astana, Kazakhstan, on December 1, 2014.
InDriver's app was used to book 100 million rides, and in February 2017, 5 million riders had signed up for the service.
InDriver decided to expand its services to Africa and Arusha, Tanzania, in November 2018.
The business opened a temporary office in New York City in 2018 before establishing Mountain View, California, as the official home of its headquarters.
The business opened a temporary office in New York City in 2018 before establishing Mountain View, California, as the official home of its headquarters.
It began providing rides in Pakistan in 2021, and over the following year, it developed into the most widely used taxi booking app in the country.
It became a unicorn and had a $150 million investment at the beginning of 2021.
InDriver grew the business by establishing its service centers across the Americas, Asia, the Middle East, and Africa by the end of March 2022.
Its name was changed from "InDriver" to "InDrive" by the company on October 20, 2022.
How Does The InDriver App Work?
Arsen Tomsky launched the InDriver app in 2012. The app has always placed a priority on providing users, both drivers and riders, with a high-quality experience. InDriver is now the industry pioneer for on-demand taxi services. Let's go over the InDriver app's functionality.
For Riders
Users must first download the software from the Play Store or Software Store. After downloading the app, users must register by entering information like their name and phone number. When the user grants the InDriver app permission to access their location, a pop-up window displaying information about drivers nearby will appear. The passenger must input both his destination and the quoted fare. Once the passenger enters, the driver has the option of accepting the passenger's initial offer or requesting an alternative fare. After the ride is over, the passenger can rate and review the driver.
For Drivers
IDrivers have two registration options: they can first register as riders and then switch to driver accounts. The switch option is simple and very quick to use. Riders will submit offers to drivers that include information about the location and fee. The driver can readily accept that rider's offer if he is interested in it.
However, the driver has the option to make a counteroffer if the fare is not acceptable to him. The driver will go and pick up the passenger to send him off at the specified destination if the rider accepts the counteroffer. After the ride is over, the passenger will use the app to pay the pre-set fare to the driver.
Also Read: How to Start Your Taxi Business with Indriver Clone
How Does the InDriver App Make Money?
While many on-demand taxi applications, including Uber, OLA, and many more, use a variety of revenue models to operate their businesses, InDriver uses a straightforward but successful method of generating income.
Each transaction on InDriver's platform carries a set commission fee that generates income for the company. One of InDriver's most intriguing characteristics is that for the first six months after a new city's opening, all commissions are waived. They only charge 5%–10% of the ticket after the initial 6-month period of free travel.
But how did InDriver achieve this kind of success with just a 5%–10% commission? The answer is no; they have controlled their spending to maintain a healthy revenue.
Users enjoy services at a lesser cost, and drivers make a comfortable living thanks to the company's low commission rates ranging from 5% to 10%, depending on the area they serve. In comparison to InDriver's other available competitors, this "lower cost" is extremely low.
This reduced cost characteristic gave InDriver the boost it needed to expand at such a rapid rate. Additionally, InDriver has embraced the "grow by word-of-mouth" strategy. They have never chosen to invest heavily in marketing, and this has greatly reduced their costs. Any business that has lower expenses sees an increase in revenue, and InDriver is no exception.
Features That Led InDriver To Its Success
Fare Negotiation: It is the most intriguing element that has helped InDriver succeed. Riders can offer the driver money for the specified distance using this option. Drivers can agree to that or even counter it with a different offer.
This feature is presently exclusively available in InDrivers and is not present in any rival apps.
On the Way: This function was just added to the InDriver app as On The Way. Drivers can use this function to input their destination and select "On The Way" to start receiving trip requests from riders in the area.
Riders Have a Driver Choice: When reserving an on-demand taxi service, there are numerous worries regarding safety and security. The InDriver app includes this function where riders can quickly choose the driver they want from the app to make the order feel more comfortable and safe.
Drivers Can Select Their Trips: InDriver gives drivers the freedom to select their trips. The driver will have three choices when a rider makes an offer: accept, reject, or bid higher. Drivers can quickly accept, reject, or even increase the bid price with the help of this tool, according to their needs.
Top Competitors Of InDriver App
Although InDriver has taken a significant lead in on-demand taxi and delivery services, few alternatives can be counted as top competitors of InDriver:
Uber
Lyft
Bolt
DiDi
Gett
Grab
Purchase a ready-made InDriver Clone
Appicial Applications can assist you if you're thinking about creating or purchasing an InDriver clone. You can choose from the features we can offer, or you can get in touch with us to share your needs. We'll help you choose the best ready-made InDriver clone for your company.
If you intend to create a personalized InDriver clone, Appicial Applications can assist you with that as well. To get the sorted list of InDriver clone development features you need for your taxi booking app, all you have to do is discuss your requirements with our specialists.