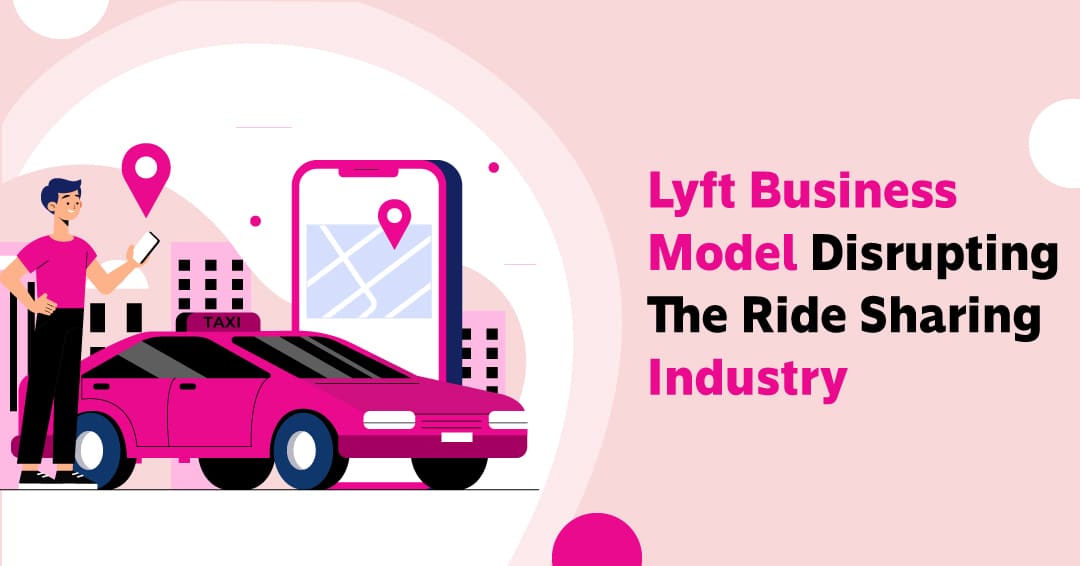 What is Lyft?
In just a few short years, ride-sharing has revolutionized the way people get around. With the help of a few taps on their smartphone, users can hail a cab using the Lyft on-demand transportation service platform. Lyft and Uber share a similar business model, which is why Lyft is frequently referred to as an alternative to Uber. With a $5.5 billion valuation, Lyft is a fierce competitor to Uber in the on-demand taxi market and has 200 U.S. cities under its belt.
One of the USA's fastest-growing companies, Lyft was established in 2012, three years after Uber. In US cities like Austin and San Francisco, Lyft has already seized 40% of the overall market. In this blog, I have explained how Lyft works, some unique features of its business, and its revenue model.
But what makes Lyft's business model so disruptive? In this blog, we'll explore how Lyft has disrupted the ride-sharing industry with its unique and innovative approach to transportation. We'll look at how their app works, how they've been able to differentiate themselves from competitors, and what factors make them so successful.
Some Facts & Timeline of Lyft
Founders : John Zimmer, Matt Van Horn, Logan Green, and Marcus Cohn
Year founded : In 2009 as Zimride, it changed its name to Lyft in 2012
Headquarter : San Francisco, California, USA
Annual Revenue : US$4.10 billion (2022)
Number of Employees : 4,419 (December 2022)
Lyft Logo : A pink mustache on the front grill of the car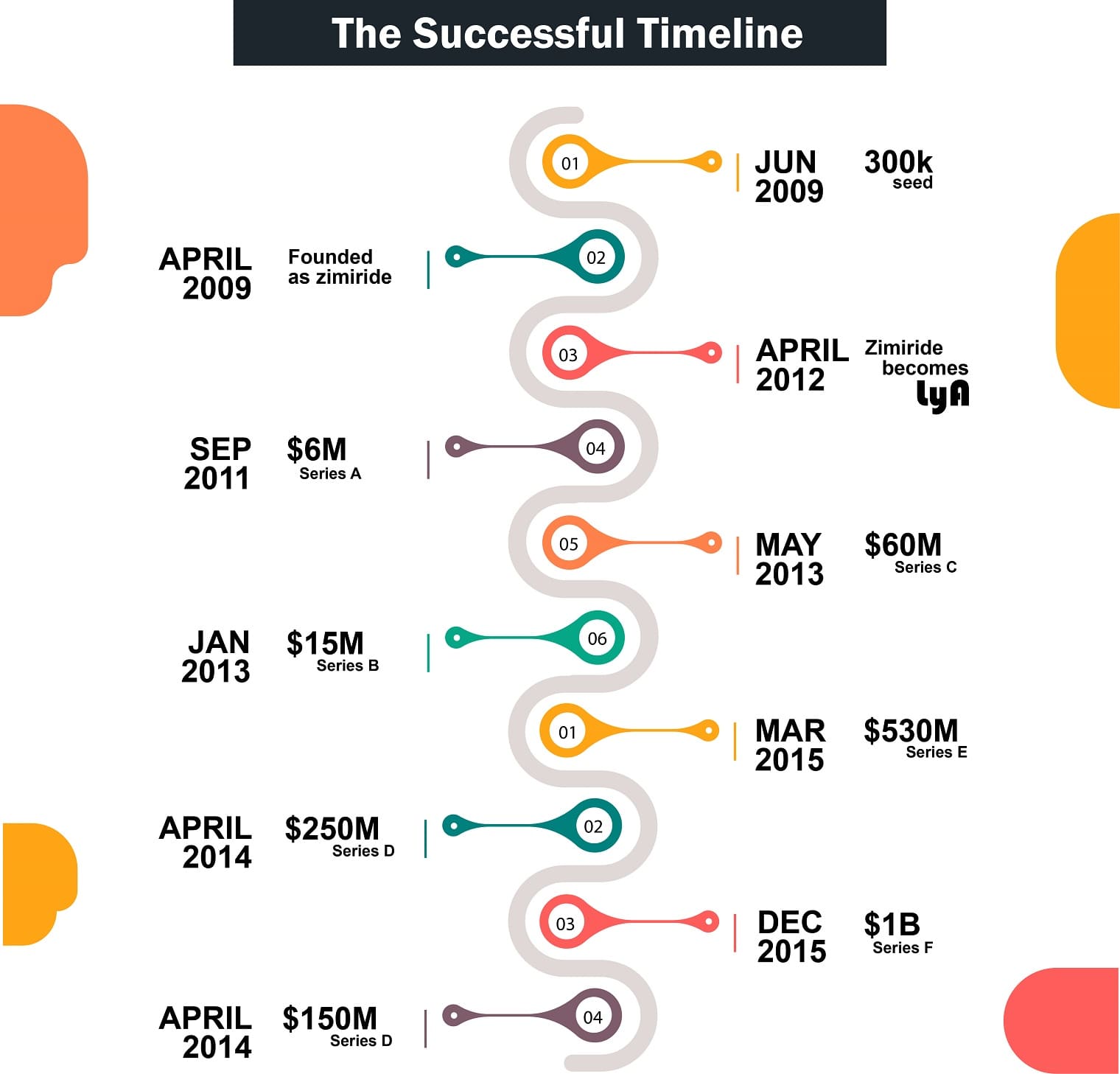 In 2009, Zimride the company that would later become Lyft was established with a ride-sharing business model. Zimride was relaunched as Lyft in 2012 with a new business model. Here is Lyft's complete timeline, which includes significant funding turning points.
Salient Features of Lyft
Although Lyft is similar to Uber in many ways, it has always distinguished itself and followed a strategy where it could disrupt Uber in any way possible. Here are a few salient features of Lyft's model.
Lyft connects people looking for a ride with the closest available drivers.
Finding a new friend every day is their motto.
There is a noticeable pink mustache on the front of every Lyft vehicle.
When a passenger requests a ride, the driver's information, including ETA, is made available.
The location of the customer who requested the ride is revealed to the driver via the live tracking.
Lyft manages the payment process directly from the app.
20% of each ride's commission is retained by Lyft, with the remaining 80% going to the driver.
The business model of Lyft includes a rating system where both customers and drivers can rate each other.
Lyft, in contrast to Uber, only offers the Lyft and Lyft Plus car options.
Heat maps are the name of the surge pricing model used by Lyft.
For Customers
There's no need to wait for a cab. You can use the Lyft app to find a nearby, available car.
On occasion, Lyft provides free rides, and users can occasionally take advantage of discounted rides.
Instead of taking a traditional cab, Lyft gives its users the impression that they are riding with a friend.
Prices are frequently less than standard taxi fares.
The slogan of Lyft is "Your friend with a car." It allows clients to make friends with drivers.
For Drivers
It results in an additional source of income.
flexibility in working hours. Drivers can work whenever and for however long they want.
Simple payments. 20% of the total fare is what Lyft pays its drivers.
Those who enjoy driving can do so while meeting new people and making money.
Lyft Business Model
The idea of ride-hailing, which has taken the world by storm, is the first step to understanding Lyft's business model. Simply put, Lyft is an app-based transportation network company (TNC) that connects passengers looking for rides to drivers who can provide them. It's simple, convenient, accessible, and most importantly, disruptive.
The Lyft business model enables a cost-efficient solution for both riders and drivers. Riders get reliable access to transportation at any time at competitive rates; meanwhile, drivers keep more of their earnings and have flexible working hours. Furthermore, the presence of incentives encourages riders and drivers to continue using the service.
What makes Lyft so disruptive? By cutting out middlemen such as taxi companies, they can maximize efficiency while reducing costs. This has enabled them to operate in over 644 cities in the US, Canada, and various other countries worldwide. Passengers also benefit from an app that is easy to use and lets them pay directly through it. A convenience factor that traditional cab companies struggle to match up with.
Are you looking for a Lyft clone to create a white-label taxi booking app. An Lyft clone app solution allows you to deploy an application like Lyft in seconds. Sow the seed of investment in a Lyft app solution and enjoy the rewards of making a profit in the long run.
How does Lyft operate
Lyft is a technology company built on a two-sided marketplace platform. The first side of the marketplace comprises the passengers who use Lyft's app to book a ride and pay for it. On the other side, we have drivers who offer rides and receive payment from Lyft as independent contractors.
After a passenger requests a ride through the app, they are given an estimate of when the driver will arrive and how much it will cost. Next, Lyft matches them with nearby drivers who can offer them the requested ride. When a passenger types in their destination, Lyft's algorithm figures out the estimated fare and gives them a choice. Each driver must also be approved before they can take part in the marketplace.
Lyft not only gives rides to people, but it also acts as a sort of employer for its drivers. As was already said, all of its drivers are independent contractors. This means they pay their taxes, insurance, vehicle costs, and other costs related to giving rides. But since employees get access to special benefits like discounted car maintenance services and insurance packages that cover both ridesharing and delivery services offered by Lyft's partners, many people prefer being part of this platform to working for a regular ride-sharing company as an employee or on their terms.
Also Read: Uber Business Model | How Uber Makes Money
What Makes Lyft's Business Model Unique
The competitive landscape for ride-share companies is no exception to the tech world's ever-changing landscape, and Lyft has been at the forefront of shaking things up with its unique business model. So what makes Lyft's model stand out from the competition?
Focus on Experience
The core of Lyft's business philosophy is to provide its customers with an experience rather than just a service. The company cares a lot about making sure its customers feel safe and comfortable during their rides. So, Lyft makes its drivers go through background checks and lets both riders and drivers rate each other. This constant feedback loop helps build a community of people who can be trusted and encourages travelers to use Lyft every time they need a ride.
Emphasis on Autonomy
Lyft also recognizes that its drivers should have autonomy over their working hours, giving them the flexibility to choose when they are available or take time off when needed. Lyft drivers do not have to sign contracts or make long-term commitments, which is different from other ride-sharing companies. This freedom makes it easy for new drivers to join the group without much trouble, which makes it a good choice for anyone who wants to make more money.
These two unique aspects of Lyft business model have made it a disruptive force in the ride-share industry, pushing other companies to focus more on the customer experience and provide better working conditions for their employees.
Benefits of the Lyft Taxi App
Lyft has a lot of benefits. Some of them may be obvious, but others may come as a surprise.
To begin, the platform is designed for convenience, allowing passengers to hail a ride with the tap of a button. Lyft does this by leveraging the collective power of its network of drivers and connecting them with passengers who need a ride. This makes it easier for people to get rides quickly. With traditional taxi services, people usually have to wait in line or call ahead to set up a pickup.
Customer Loyalty Program
Lyft has also developed an innovative loyalty program that provides further incentives for customers. Through their loyalty program, customers can earn points for every ride they take and redeem those points for discounts on future rides. This helps keep customers coming back by giving them a reason to use Lyft instead of other services.
Expansion and Partnerships
Lastly, Lyft has made it easy for the company to quickly move into new markets and make deals with big companies like General Motors and Walmart. With the help of these strategic partnerships, the company has been able to reach more customers and grow quickly across North America and beyond.
Challenges Faced by the Company
Lyft has been both a blessing and a curse for the company because it has disrupted the ride-sharing industry. Their new business model has changed the market, but it has also given rise to several problems that the company must solve if it wants to keep doing well.
1. Regulatory and legal challenges
The biggest problem Lyft has is figuring out how to work with the different rules and laws in different countries, states, and cities. In particular, they have had to address issues related to labor law, insurance regulations, driver pay, and more. This has often led to disagreements between state and local governments, which makes it harder for the company to run.
2. Competition
Competition from other ride-sharing businesses like Uber is another difficulty that Lyft faces. While Lyft may have had a head start in the space, Uber is now catching up with its innovative business model and continuing to raise significant funds for expansion into new markets. This means that Lyft will have to continue innovating if it wants to stay ahead of its competition.
3. Scaling Business
Finally, Lyft also faces challenges related to scaling its business model into larger markets. This requires significant resources in terms of personnel, technology infrastructure, partnerships with suppliers, and more, which can be difficult for a growing company like Lyft to manage.
Learnings from the Lyft Business Model
Lyft is changing the way we think of transportation. It has disrupted traditional ride-share companies as well as upended our ideas of what a successful transportation business model looks like. Here are some lessons we can take from Lyft's success:
1. Leveraging technology
Technologies such as GPS and digital payment systems have enabled Lyft to offer sweet deals to riders and drivers, making it easier than ever to catch a ride.
2. Connect Drivers Quickly
Lyft's platform links riders and drivers in real-time, creating an efficient network where people can find rides quickly and easily. This has helped Lyft meet the unmet demand for ridesharing services by giving both drivers and riders an easy way to get around.
3. Flexibility
Unlike traditional taxi companies, Lyft allows its drivers to set their hours, making it easy for drivers to fit ridesharing into their everyday lives. It also makes it possible for drivers to work part-time or full-time depending on their needs and individual situation.
These are just some of the ways that Lyft is disrupting the ride-sharing industry. By leveraging technology, connecting the dots between riders and drivers, and offering flexibility to its users, Lyft is revolutionizing how we get around town, for better or for worse!
Conclusion
Lyft business model, which combines an on-demand transportation service with a peer-to-peer business model and a user-friendly platform for customers, has altered conventional ride-sharing services. It has set the standard for the industry and is poised to remain a key player in the ride-sharing market. As more companies try to copy Lyft's success, consumers can expect to see more convenience, affordability, and safety and security features. By pushing the limits of innovation, Lyft and its rivals are making sure that the future of ride-sharing services will be bright and full of promise.