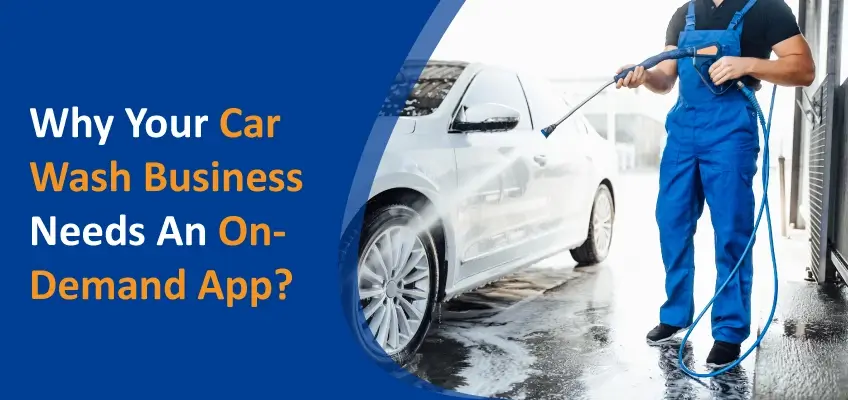 Car Wash Market Size
In the United States exclusively, up to 60% of individuals utilize car wash services. As a result, these services produce a large amount of income. The car wash market peaked at $800 million in 2017 and has been growing dramatically. Since its release, the wash app, which offers on-demand car wash services, has produced more than $3.3 million. With an annual growth of 25%, it has emerged as one of the economy's fastest-growing sectors.
The number of automobile owners cleaning their vehicles at home has decreased, as per the International Carwash Association (ICA), as customers are more concerned with car management and accessibility.
Due to time restrictions and hectic schedules, car owners are also turning to on-demand mobile car wash app services and employing applications for auto cleaning and detailing, helping to grow the sector.
Look at the graph showing the development of car wash applications in the US from 2008 to 2020.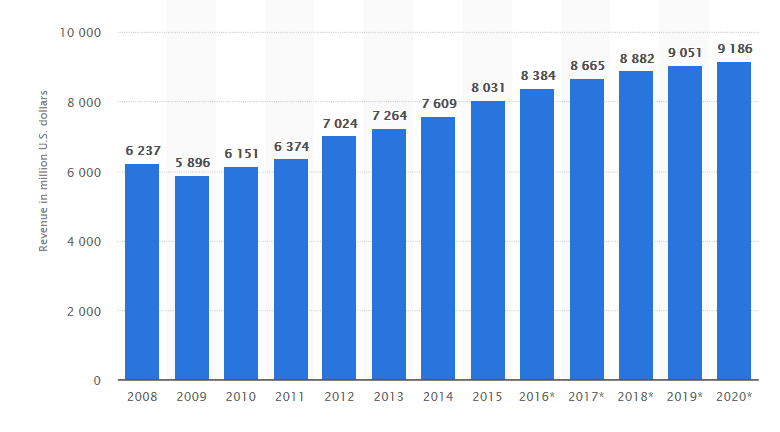 The online car wash booking app's main goal is to speed up the manual vehicle preparation process and advance car wash technology, which will leave cars cleaner and healthier in less time.
Days are gone when the laundry industry was completely unorganized.
The latest trend, such as the On-demand car wash app will be a business opportunity for many as more major players enter the field.
Car owners immediately adopted the trend as their preferred method of car washing. Furthermore, because the industry is still in its early stages of development, there is the little rivalry.
According to a Harvard Business Review poll, the on-demand market attracts 22.4 million customers who spend $57.6 billion each year.
When it comes to the on-demand car wash platform, it will increase business income since individuals will purchase car wash services more frequently. In addition, people can save time by having the service delivered to their homes, and they can save money in the long run by using an on-demand car wash platform.
Why Car Wash Business Needs An On-demand App
Are you looking to incorporate car wash app development? If so, it's time for you to look at the benefits of the app. So let's discuss them in detail!
1. Increases Your Visibility
According to statistics, the average person spends 162 minutes every day on his smartphone. And an app accounts for more than 90% of the time spent.
The figures themselves tell the story.
Are you willing to put your company's visibility at risk among these users?
Not!
We focused on developing an app for your auto service company. Having an app will allow these smartphone users to become familiar with your services and utilize them whenever they are needed.
The rapid adoption of these app platforms by other firms has increased the necessity to make a speedy choice to proceed with these app structures.
2. Make Your Label
You can think about using the car wash app to create a unique brand identification for your auto servicing business and generate visitors to it.
How?
Customers will know you and use your services according to their needs as soon as you have an app.
Because of the effective app of your business, you have gained more popularity and recognition for your presence.
And you're still bewildered as to why you need car wash management software for your auto repair shop?
3. Marketing Channel as a Whole
You can do everything with an app, from sending push notifications to suggesting new car service services.
There are no additional costs associated with developing a marketing campaign or promoting your services. All you have to do now is make the most of this channel and continue to promote your services creatively.
An app also allows you to save some pre-recorded documentation, which will aid new customers in familiarizing themselves with your zone of services.
4. Retain Your Clients
Another significant benefit of having a car wash development app is that you will retain more of your old consumers with simplicity.
An app will operate as a carrier, connecting you to many customers. Retaining consumers is one of the best methods for achieving your future revenue in a shorter amount of time.
5. Making money
Every company must demonstrate its ability to stay competitive. And You must update this potential regularly to maintain contact with your customers.
A powerful app for the auto servicing business will make a more consistent and significant profit.
Also Read: How You Can Increase Your Profit Margins with a Car Wash App
Features You Can't Miss in Your Cash Wash App
Here are the features that you must include in your on-demand car wash app services:
1. Book A Slot: With your on-demand car wash app, users should be able to book their preferred service at their preferred time. It can also be scheduled in the future or made accessible on demand.
2. Wash Packages: You can offer different packages of car washes to your customers. So users can choose from various options you give based on their budget, the type of car they own, or their desires.
3. Real-time Tracking: The user can track the progress of the car wash. If users have a scheduled pick-up and drop option, you should inform them once the car wash is complete and the vehicle is ready to be dropped.
4. Cost Calculation: When your users choose a specific type of service, they will almost certainly expect a pricing estimate for your services.
5. Payments: The app must accept various payment methods, including credit/debit cards, net banking, wallet, etc.
6. Feedback and Ratings: Users can give reviews and ratings at the end of the service as per their experience.
Popular Car Wash Applications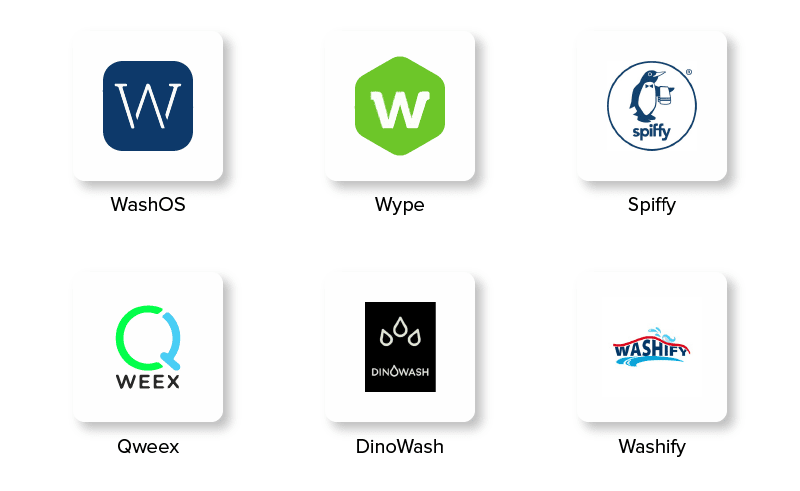 How Do You Pick Best App Development Company?
Numerous firms offer on-demand car wash apps, but it's essential to understand a few critical criteria before selecting one for your organization. Before making a final decision, you should consult the organization on the following points.
1. The Company's Portfolio
It is critical to inquire about the organization's portfolio you are considering for services. The portfolio allows you to learn more about the items and services they have provided in the past. You may also see if they've worked on a product before.
2. Reviews on the Internet
Check the company's internet reviews and ratings before hiring them to design your car wash app. In this manner, you'll be sure to select the ideal firm for you. In addition, client testimonials provide a good image of the services' quality. You can check client testimonials on the development company's website.
Conclusion
With the introduction of smartphone apps in various industries, technology has altered the way people do business. With its benefits for both owners and customers, car wash app development has been a godsend to the sector.
If you are looking to develop an on-demand car wash app, look no further than Appicial!
We have a team of specialists with years of expertise designing on-demand apps as a leading car wash app development company. Our professionals can create an excellent on-demand car wash app based on your specifications, making us the best car wash app development company in the industry.