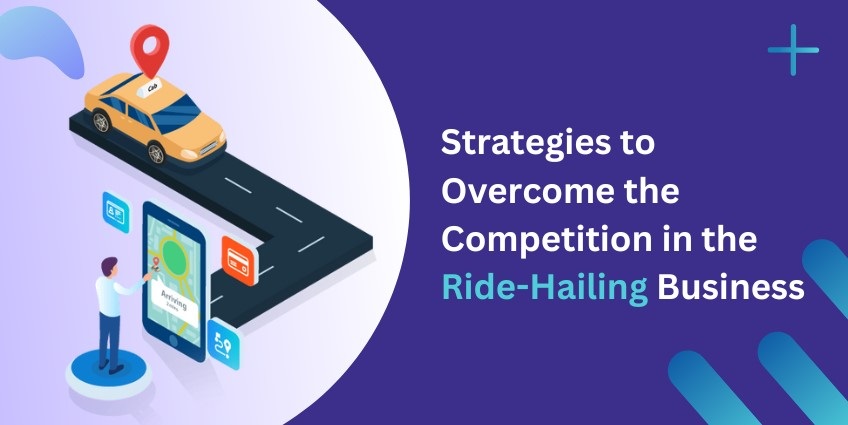 The ride-hailing market around the world is growing again after lockdowns and pandemic bursts. The mobility industry is trying to lose money to make a name for itself in the market.
Taxi businesses often fail because they don't have a good plan or way to market themselves. A market that already has a lot of similar services won't accept another one, and direct competition with the most popular ride-hailing services requires a lot of money.
Can you beat your competitors and run a sustainable ride-hailing business?
In the ride-hailing market, there are many big players, such as Uber, Lyft, Ola, Indriver, Didi, Careem, Grab, and BlaBlaCar.
Do newbies still have a chance? Of course, they do! Before you begin, do some research and establish a clear direction.
If you're a mobility startup, you might need to work harder to come up with effective and powerful strategies to become the next unicorn on the market and beat out the competition in the ride-hailing business.
Before discussing the strategies, let's understand how to run your business in different situations.
When Market for ride-hailing becomes compet
This would mean that the market is growing, that many people are buying similar services, that competition is fierce, and that one company controls between 40 and 75 percent of the market.
This means that one to three market leaders are sharing the market, have established service standards, and have reached sophisticated audiences that demand high-quality services from taxi companies. So rather than wait 15 minutes, they would choose to cancel a ride.
If this is the case, do you believe there is a market for your new ride-hailing company?
Let us assure you that every time you dig deep and conduct a study, there is always a hidden potential that needs to be investigated. There are always those market sectors and geographical areas that these major firms underserve. You need to identify them and work toward targeting them.
We'll help you with two strategies that might help you beat the high competition and build a profitable ride-hailing business.
Focus on specialized market sectors that larger businesses generally overlook.
Focusing on certain regions or cities and lowering your advertising and incentive costs will help you compete less with bigger companies.
Find a niche or area where taxi businesses are not so competitive, and you can easily become number one. Attract a smaller number of customers who are searching for something the large players don't provide. As they tell their friends about their experiences, these customers will advocate for you.
Do you need any examples to help you comprehend this?
In Los Angeles, Hop Skip Drive has introduced "Uber for kids." Customers in a crowded city needed reliable transportation for their kids every day to and from school. Hop Skip Drive spotted an opportunity in this and started a company that let clients book rides in advance with drivers who had been thoroughly vetted and had met their parents.
Interested in the outcomes? Hop Skip Drive currently holds a sizable market share, has made investments of $10 million, and intends to grow by adding services for various social groups. Children are safe, which pleases the parents.
Let's discuss Ola, the dominant ride-hailing startup in India. Even Uber's innovative strategy couldn't defeat them. The main factor in this success is that Ola offers a special service that is still highly popular in India: three-wheelers (autorickshaws).
Users can pay with cash was another savvy move by Ola. For two years after entering the Indian ride-hailing service industry, Uber's platform did not offer this capability. Even though Uber is in the market, Ola is still the market leader because it focuses on narrow market segments (people who are willing to pay in cash and people who prefer the mobility of three-wheelers to a traditional cab).
Some other ideas to overcome the competition
You can offer a full woman-driver service.
Focus on electric vehicles.
Offer pet-friendly taxi services.
Make partnerships with hotels, airports, restaurants, and shopping malls.
When the ride-hailing service market is unstable
We are talking about an unstable market if there are no firms with at least a 26% market share. Customers are used to ride-hailing apps and know what to expect from them, but there may be many ride-hailing companies and no clear leader.
If you start something unique, customers will immediately notice. In contrast to a market for ride-hailing services that are highly competitive, beginning a taxi business is quite advantageous. Your success will depend on whether or not your differentiation relates to the needs of the customer.
Let us give you an example. InDriver is a global ride-hailing company that operates in 45 countries. This app has amazing features and offers the best fares to its customers. Unlike Ola, Uber provides the feature of fare negotiation. InDriver allows consumers to specify the amount they are ready to pay based on an average price that is less than the rate supplied by other firms, unlike big brands that have fixed pricing for every trip. Additional options include designating whether a child seat is required, adding more destinations, etc.
Also Read: Marketing Strategies for Your Taxi App Before Launching
Strategies to overcome the tough competition
Know your competitors
Before competing with them, it is important to get inside and outside information about the competitors. You can map the competition and plan strategies accordingly in a variety of ways. Some examples of typical behaviours are:
1. Conduct intensive market research
Before entering the market, it is crucial to ensure you have all the in-depth knowledge you need about your rivals and other industry participants. This will help you make sure you are guided to the proper techniques and can fill in any gaps. This is a crucial step that can help you achieve your goals and give your procedures the authority they need to provide the best outcomes.
This can be done with either primary or secondary research methods, which can help make the business roadmap even better.
2. Map the functional capabilities of your competitors
Another on the list could be the potential activity of mapping the functional capabilities of your competitors. It means getting a clear picture of the technological maturity, processes, and other SOPs of your competitors.
It will also help in understanding the technical strengths and gaps in the competitor's processes. Knowing how your competitor uses technology enables you to plan your processes accordingly.
3. Perform the SWOT Analysis
This is a widespread practice that usually helps new and emerging businesses learn more about strengths, opportunities, weaknesses, and threats in the market. If you are looking to establish your presence in the market, you need to get started with a thorough understanding. It will help lay a strong foundation for your processes.
4. Keep an eye on their funding and plans
The next step is to keep an eye on the funding and plan for the business. It will ensure that you are kept informed about their growth, scalability, and finances. It also gives you a general idea of how to move forward with your fundraising.
You can decide your next actions for expansion once you have comprehensive and current knowledge about the rivals. The vision goals can be separated into short-term and long-term objectives. and monitor them by being aware of the milestones and completing them all at once.
5. Keep your tech strong
In the ride-hailing business, your business needs to have a strong hold over the tech part of the operations. The online booking system, online ride requests, and payment collection are a few key elements of any ride system that should be taken into consideration.
Below is the list of must-have features in your ride-hailing app:
1. Booking app
This feature allows the drivers and riders to get connected and get ride services. The customers can look out for nearby ride options, and based on their requirements, they can raise the request. Similarly to this, every request is communicated to the drivers via the app. They have the option of accepting or rejecting the request depending on their preferences and suitability.
2. Navigation
Having accurate navigation for the location where drivers must pick up and drop off passengers is essential for your business to run well. The navigation maps not only help customers choose the best route, but they also provide a real-time ETA so they know how long it will take their driver to arrive at their location.
3. Communication
This feature has a lot of power, and it makes it easy for drivers, customers, and admins to talk to each other. This two-way communication allows information to be shared and moved from one side to the other as needed. It also helps in getting accurate instructions from customers to drivers in real time in case of any change in the plan.
4. Payment Gateway
This feature allows the drivers as well as riders to make payments easily via the gateway. The payment gateway enables you to collect payments and begin the process immediately. For more diversity, there are a variety of payment gateways that can be well integrated into the existing apps.
5. Feedback and Reviews
Again, having a dedicated review collection space allows the riders to leave feedback and rate their experience. This can be very helpful for the people involved in making sure that reviews are well-written and can be used in a lot of ways.
6. Keep your stakeholders happy
If you are opting for effective strategies that can help make sure that you stay one step ahead of the competition, you need to gain the trust and confidence of your stakeholders.
If you can make your stakeholders happy, you can plan your success accordingly.
The fate of your company may be determined by these two key contributing stakeholders. Let's assess them:
Drivers
Offer them a work balance: To ensure that your drivers stay in business with you, you need to make sure you are offering a perfect work-life balance to them. This will help in reducing the driver attrition rate and making sure that they are happy with the daily tasks and want to stay connected with you in the long run.
Incentivize them: Another good way to keep your stakeholders close to your business is to incentivize them based on their performance. It is a smart way to find out who is doing the best work, show them appreciation, and encourage others to do the same.
Allow sick days and holidays: Show your drivers you care by letting them take sick days when they need to and replacing them with the next available one.
Tech to save their time and efforts: Lastly, there is a need to keep your processes evolving with the technology. With the help of renowned tech support, anything can be resolved. It can help with automating processes and task allocation. If done accurately, it can help save time and effort for the drivers as well as the admin.
Customers
Offer discounts regularly: Customers need to stay connected with your services. By providing customers with promo coupons and ongoing discounts, you can get their attention.
Provision for adding feedback: Once again, if you start empowering your customers by allowing them to express their feedback and opinions about the specific ride, it will help in making sure you are entertaining the customers and addressing their concerns precisely.
Ace your marketing game: Strategies to win your customers
We have talked about practical strategies that will play a significant role in ensuring the proper growth of your business. Going ahead, in this section, we will talk about marketing strategies that might be useful in bringing about the desired result for your business.
1. Outreach to your potential customers:
It's critical to position your company, brand, and product so that people will start looking for your services. It will enable your company to gather a sizable database without spending a lot of money.
2. Shout out paid campaigns:
It's crucial to move forward with a variety of paid advertisements if you want results quickly. These campaigns can be quite helpful in making sure that your target market is effectively targeted and catered to.
3. Launch discount coupons:
It is advisable to constantly offer discount coupons to the audience if you want to get their attention. It will contribute to increasing customer interest in using your services.
And many more!
Final Thoughts
You should consult a taxi app development company to create a taxi-booking app. An Uber clone solution allows you to deploy an application like Uber in seconds. Sow the seed of investment in an Uber app solution and enjoy the rewards of making a profit in the long run.