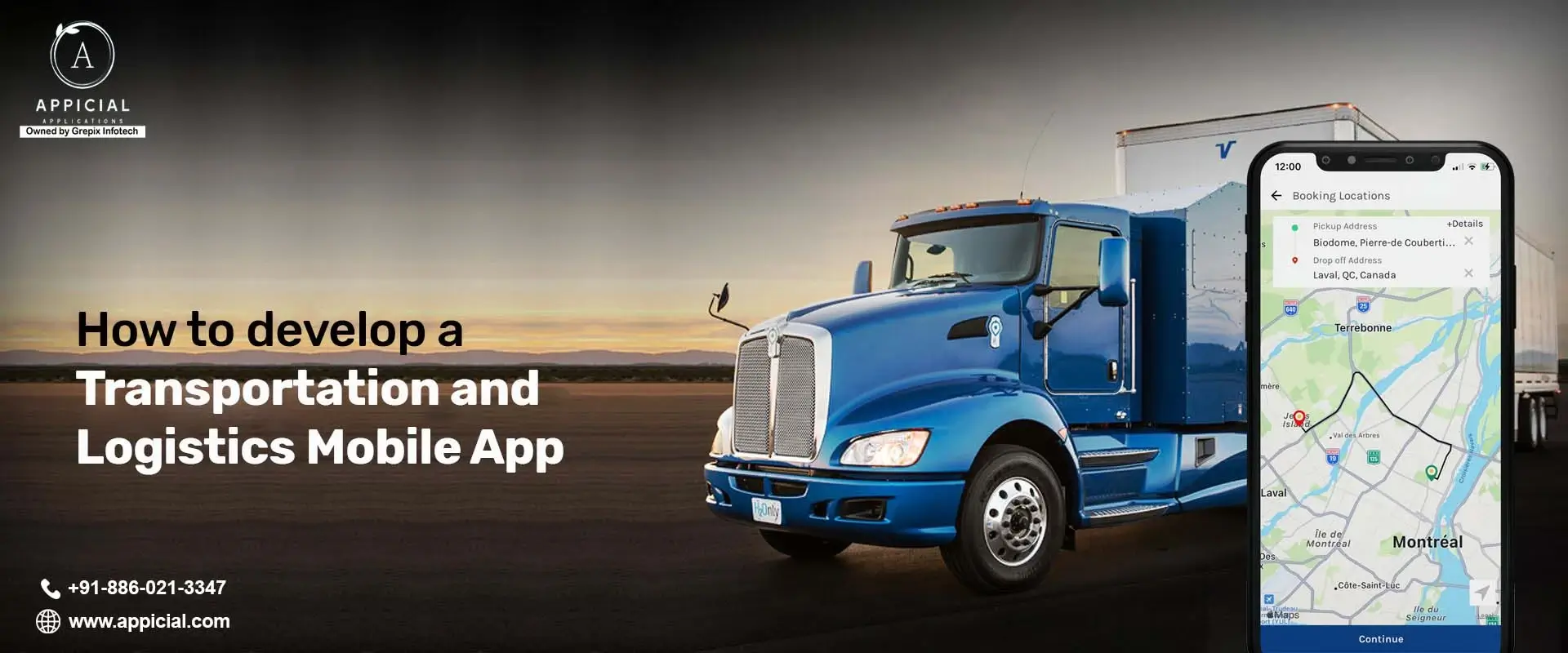 Have you ever had a situation where some truck drivers make empty runs, your freight brokers take too long to check the load board, and your driver's truck breaks down halfway to a warehouse?
It appears to be a nightmare for any logistics business owner. However, such situations occur due to the logistics industry's extensive split into sectors, including delivery management, fleet management, and warehouse management. Additionally, empty miles brought on by a lack of coordination between logistical departments are expensive.
To make sure the cycle is followed properly by your logistics app development company. Managing the warehouse, ensuring proper delivery, monitoring fleet positions, ensuring driver safety, and performing fleet maintenance are all part of the logistics business cycle. But what would be the most effective way for you to handle logistics management?
You need to develop a mobile logistics app to solve this problem and ensure faultless execution of your work across all departments. As a result, we've thoroughly investigated and gathered all the information required to create a logistics app.
How Does a Logistics App Works?
The retail industries benefit substantially from using logistics apps since they can manage their daily operations effectively. In addition, these apps may effectively assist the industries in carrying out their company operations because they can manage various tasks like fleet tracking, transportation, cargo management, real-time monitoring, analysis, and much more.
Market Statistics Regarding Logistics Industry
According to MarketWatch research, the global logistics market will increase by $287.1 million from 2020 to 2024. The CAGR will therefore rise by 5% as a result. By the end of the prediction period, even the annual growth rate is projected to be 4.13% for 2020. It is believed that the CAGR will be highest from 2019 to 2023.
The logistics sector is expected to be worth $15.5 trillion by 2023, according to a different Transparency Market Research estimate, which says a lot about the promising future of the on-demand logistics sector.
Size Of The Global Logistics Market
Different Types of Logistics Companies
1. Fleet Management
This logistics app class helps track fleet and vehicle-related data and information. As a result, these apps help manage, coordinate, and organize vehicles from a centralized information system. As a result, these apps make it possible to manage the complete fleet operations without difficulty while lowering expenses, boosting performance, and ensuring compliance with legal requirements.
2. Logistics On-Demand
Applications created for this category deal with the distribution of items following user needs. These apps not only quickly satisfy users' demands, but they also let people connect.
3. Warehouse Apps
These app categories help keep a ton of information on the goods in the warehouse. In addition, the app makes it possible to streamline the procedure, making it simple to get the required information whenever you need it.
4. Apps for tracking and forwarding
These apps help provide real-time information about routes and the delivery of goods & items. One of the app's key benefits is showing even the drivers' locations for this purpose.
5. Reputable Logistics Apps & Companies
UPS Mobile, DHL Express, Drive XPO, Cargomatic, Navisphere Carrier, Carrier 360 by J.B. Hunt, Flexe, and Uber Freight are some well-known logistics services and apps.
Benefits of a Logistics App
Therefore, purchasing a mobile logistics app is advantageous, but how exactly? Therefore, we are illuminating some of the advantages here:
I) Control The Fleet and The Warehouse
Any logistics company's ability to effectively manage its fleets and warehouses is crucial because doing so leads to higher functioning and productivity. In addition, there are almost no chances of data loss or misplacing because these apps make it possible to save data much more effectively than with a manual procedure. In the end, these apps are quite helpful in preventing errors and inaccuracies caused by manual operations.
II) Track Vehicle
As the Logistics app works with delivering goods at the proper time and location, accuracy is one of its most important components. It is made possible with geolocation capability, which allows admins and users to keep track of a vehicle's current location while also alerting consumers. GPS is useful in emergency scenarios as well.
III) Confirmations
The delivery process is confirmed in real-time by the logistical apps. Therefore, customers and logistics companies can validate the product delivery in real time.
IV) No Paperwork
Keeping up with a tonne of paperwork, especially the kind that comes with the logistics industry, is not at all simple. Thus, you can resolve this problem with everything being streamlined by establishing a mobile logistics app.
V) Simple Online Reservation
These apps can give consumers the convenience of doing much of their work on their phones, which is how most people manage their businesses. For example, on their mobile device, they can easily book a courier or a shipment this way.
How To Monetize the Logistics Apps?
1. Commission
By working with a variety of drivers looking for mobile logistics services, app owners can directly make money in this situation. In this manner, you can make the commission from the revenues, and in return, the drivers are granted access to the platform. In this way, it benefits both parties.
2. Advertisement
One of the most popular and simple ways to make money is by showing users of your app's free version relevant advertising.
3. Model Freemium
Users are drawn to this monetization model. Users must pay a premium for additional features because the fundamental features are free to use.
4. Paid Apps
The user can buy the software using this monetization model and pay a one-time charge for a perpetual license to use it.
5. Premium Model
Users will pay to download your software and the offered premium features if it is really useful and has a strong USP.
Also Read: Logistics App Development: How To Create Uber-Like App For Trucks
Major Trends to follow
Mobile app development for logistics is a dynamic sector. Even though evaluating all the new apps released daily could be challenging, we can identify the hottest trends to keep your app relevant.
A. Artificial intelligence (AI)
Many logistics companies use AI in their logistics apps. Robots and autonomous vehicles are already a component of the supply chain. Additionally, several businesses are developing smart road initiatives. Generally speaking, AI can improve inventory procedures and accuracy through predictive analysis, which can be helpful in shipping and storing.
B. Blockchain
Blockchain has quickly taken off in the digital world and has significantly impacted several commercial sectors, including financial and data security. The logistics industry can also use blockchain tools. This technology can offer businesses secured transactions, secure contracts, and transparency.
C. Cloud Integration
Although cloud technologies are not new, they are nevertheless quite well-liked. In reality, practically all business sectors, including logistics, are seeing an increase in the use of cloud solutions. Traditional logistics software can't compete with the speed and flexibility of cloud-based ones. Additionally, cloud services greatly lower maintenance expenses and improve the security of your data.
How Does It Cost to Develop a Logistics App
The price for on-demand logistics app depends on several factors, including:
1. Selection Of Platform
In this case, developing the app for a single platform will be less expensive than designing it for multiple platforms. Again, it's because an app would need one team to design it for a single platform, but two teams would be required to develop it for two platforms, which would quadruple the cost.
2. Choice of Outsourcing Country
In this regard, the logistics app development cost will vary depending on the nation in which you decide to create the app. The hourly app development rate varies from country to country; for example, it is much greater in the USA and Europe than in Asian nations. You must thus choose where to invest in app development because the difference is typically very large.
3. Options & Design
It is yet another essential element in determining price, as an app with minimal functions and straightforward design would cost less than one with extensive features and intricate design.
A logistics app with minimal capabilities and for a single platform should cost between $5000 and $10000 when developed in the Asian region. However, an app with sophisticated features for both the Android and iOS platforms would undoubtedly cost between $10000 and $20000.
Final Thoughts
A well-designed logistics app can grow into a powerful asset for your company. It helps you reduce the workload on your managers by giving you and your staff prompt, dependable assistance. Contact the experts at Yellow if you want our assistance in turning your vision for a profitable logistics app into a reality.
Are you looking a for logistics app development company for your business? If so, your search ends here!
Appicial is a global mobile app and web development company with proven expertise in delivering customized mobility solutions for over 7+ years. We have served 400+ clients and reached out to more than 30 countries.