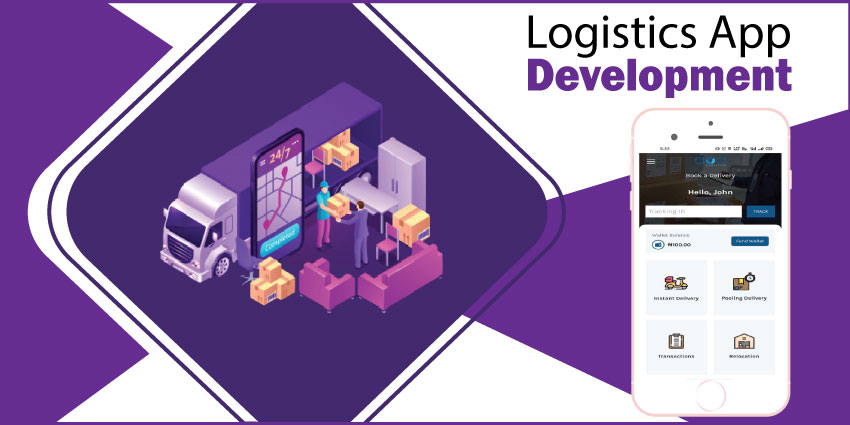 The logistics industry greatly benefits with uber-like apps as it makes tracking and recording a wide array of business operations easy. You can choose an uber clone app to know the features and technical specifications you need to build a logistical app for trucks. It reduces your manual effort in tracking shipments, schedule bookings, and many other operations that are easy to manage with logistic app development. You can customize a lot of features when you contact a logistics app development company to pick the features you are looking for.
Benefits of logistics app development
Freight and logistics companies can be greatly benefitted from this app. It is easy to make calls, track, and get complete information about shipping using this app. It helps you keep all of your operations run smoothly and allows to expand your business. These apps let you easily find vendors and customers in the vicinity.
These models developed by uber for trucking are different than most of the logistics apps you would find. You can easily grow your network of carriers with logistics app development. It is easy to streamline various operations and store important information. With app development, you can cut out the use of paperwork and store huge amount of data which is accessible within a few clicks.
You can make the entire operation of shipment a reliable process. It is essential to validate your app. You must be able to screen the vehicles of carriers and drivers and be able to validate them through the app. It is essential to pre-screen them to ensure you have reliable and licensed drivers who have a good reputation from their previous drivers.
Customized features
A logistics app is different from a transportation app. This is an integrated system of package management, customer service, tracking, specifying a pick-up and drop locations, etc. It can locate your devices as well as track trucks at any time to get location information. It is easy to notify various people in the process of shipment and get information about various stages of shipment with an app.
It can be integrated with a payment gateway. This is an essential choice to make from a list of payment gateways as it is not easy to choose one. You can monitor drivers, vehicles, and get all the information you need to be displayed on the dashboard.
Various panels
You could have a shipment app with features like registration for clients, vehicles or fleet lists which clients can choose from, booking, notifications, alerts, reminders, and tracking. You can also develop a carrier app for shipment or cargo details like dimensions, weight, drop-off and pick up location, filters for specific search, cancellation and requests, delivery reports, route tracking, etc.
The admin panel can have all the information on the dashboard such as monitoring, bills, receipts, and vehicle monitoring. You can a logistics app which supports multiple languages, with an in-built QR code reader to easily read cargo and eliminate cargo mix up during the process of shipment. It makes it easier for the carriers to send information and fill up inventory with this feature.
You can also check the credibility of the carriers before choosing one for the shipment. Build security features so all the data related to cargo and shipment is well protected. The logistics app development company must be able to provide a robust security layer to protect and back up data.
Unclutter information and process
Paperwork can bring in a lot of clutter and confusion to business processes. A logistics app development can unclutter many of the business processes and provide clarity and solutions at any stage. It saves time and effort to collect, retain, and secure data making access easy and quick. You can arrange a shipment as well as many other processes eliminating calling, texting, emailing, etc once you have an app developed to manage various business operations.
Testing app
You need to test the app for various technical aspects and run it through real user experience to look for pitfalls and improvisation. You can check for hidden flaws like double booking, calculation errors, and run the algorithm through all kinds of tests for features and services provided in the app. You can build credibility and reliability using building a logistics app and provide the best customer service to developing this app. All the business processes are synchronized with this app development.
An estimate of logistics app development
The approximate cost of developing a logistic app starts from $5000 depending on the features and security layers you want to add. The cost includes a budget for the development team in iOS and Android compatibility, list of front-end and back-end developers, UX designers, launching and marketing cost, duration to complete the development as well as transportation costs.
Conclusion
The Uber-freight app lets the carriers and shippers connect directly losing the middlemen and a lot of paperwork. It simplifies logistics management for local and international shipments. It saves time, efforts, eliminates communication errors, cuts down cost and paperwork. It lets you provide a reliable service and select reliable service providers for carriers and shippers. You can easily develop an uber-like app for trucks using the uber clone app with the source code.