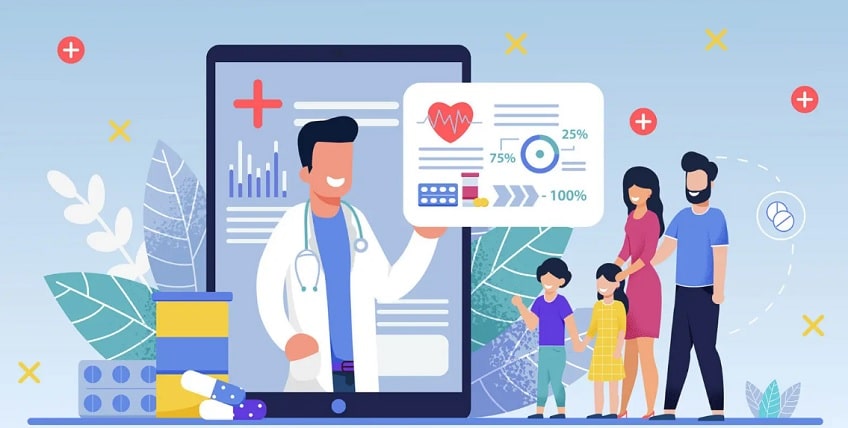 The time has paved the way for the upbringing of significant technological advancement. Just tap the button, and you're into the new digital era in a fraction of seconds.
It does sound revolutionary!!
That's what is being promised by mushrooming on-demand doctor app development solutions in the global healthcare IT sector.
The tech-driven world is significantly revolutionizing the health care segment to an unprecedented scale. This digital-dominant business model not only serves patients but doctors, too.
What do you do when you get sick?
Exactly, you go to the doctor. Even a little health issue requires professional medical assistance. And there are tens of hundreds of health ailments that are mushrooming.
With so many diseases and an immense population, it becomes potentially difficult for doctors and medical practitioners to treat each of them.
This is where the importance of the on-demand doctor app comes into play!
Important Facts About Trending Doctor Apps
Nearly 75% of the doctors using mobile app devices to store patients' information data are more efficient than those that don't.
Nearly 70% of patients say it would be easy for their specialists to have access to the health data captured by their mobile app.
There are more than 300k healthcare apps available on the "Play Store".
In today's world, as you could see, how important a role does these online doc apps play!
With these apps, doctors may provide patients with the fastest, convenient, and optimum healthcare assistance just from the comfort of their homes.
Before aggressively rushing to the main course, let's understand more about the app.
How Does On-Demand Doctor App Work?
These on-demand mobile apps are significantly improving the services of medical experts by offering Android and iOS mobile app support.
The application is time-saving and highly interactive, which makes it easy to use and allows the patients to consult with doctors and medical practitioners as per their unique medical requirements.
Register and Make Profiles: Through effective email or social media integration, patients can easily register them on the app.
Search for Doctors Online: When patients are looking for a reliable solution to their health problem, they may search for doctors online through the app.
Book an Appointment: After choosing the doctor, ahead with booking an appointment with them.
Get Reliable Services: Once your appointment is fixed, you may get the desired medical assistance virtually.
Make Payments: Patients can make the desired payments through the secure payment gateway of the app.
What are the Features of On-Demand Doctor Apps?
Here are the features of using the doctor app development solution.
Swift Notifications and Alerts: It allows users to send real-time alerts and notifications to each other about appointments, cancelations, and promotional offers (to get discounts).
Information Caching: It can store a large amount of information concerning patients and doctors (history, payment, recommendations).
Ratings and Reviews: Patients can easily rate and review the doctors upon receiving services.
Ease of Scheduling: Patients can easily schedule an appointment with the preferred doctor.
Ease of Online Payment: Hassle-free payments can be made using the secure payment gateway.
Analytics: An in-depth analytics and reports, including patient appointments, medications advised, earnings, and a lot more.
Why Medical Professionals Need Doctor App Development Solution?
In this post, we'll discuss the important features of a medical app for doctors and why you should have one.
Proper Time management: As the saying goes- Time is Money. There are some countries where the number of medical professionals can't cope with the increasing number of patients each day.
With the time tracking feature, mobile medical app developers can create on-demand doctor app that can help doctors to manage their work schedules efficiently. Most importantly, the app would notify about the meeting, appointments with patients, surgeries, or any urgent task.
Track of Patients: As a doctor, it becomes a real pain to store the data of each patient on a paper.
This is where the on-demand doctor app lends a helping hand!
It notifies about the on-going medications and upcoming treatment cycles of those patients. If a person has diabetes, and the doctor has prescribed medications to the patient and asked him to come back after a month. The app will notify the doctor about the upcoming treatment cycle of each patient.
Track Record: Because a doctor attends many patients in a day, they might forget the name and details of every patient. It's incredibly imperative to have a track record.
By choosing a mobile medical app developer for the doctor's app development solution, they would infuse the app with a cloud database that stores the details of every patient, such as their name, age, address, disease, medicines, allergies, etc.
Before treating the patient, this data is necessary to analyze effectively.
Convenient: This is nothing but the biggest pain point of every doctor and medical representative.
There are still many areas, mainly local and remote ones, deprived of basic medical services. And therefore, they do travel miles to visit a doctor.
A remote doctor consulting application, in this case, comes to the rescue by allowing patients to connect with the doctors and professionals in real-time. This would give them the convenience of getting the best assistance with just a few taps.
Instant Messaging Option: This feature allows patients and doctors to interact with each other through an instant messaging platform. It can save a lot of time for doctors and patients. Since medical queries can be solved in messages, it can save a lot of time for both doctors and patients.
How can Appicial Applications help?
Technology is significantly disrupting the health care industry and led to the high-end demand for doctor app development solutions.
Looking for a reliable medical app development company? If so, you've reached the correct destination.
Appicial Applications is a leading app development company that develops highly intuitive and functional on-demand doctor app to help medical professionals across the globe.