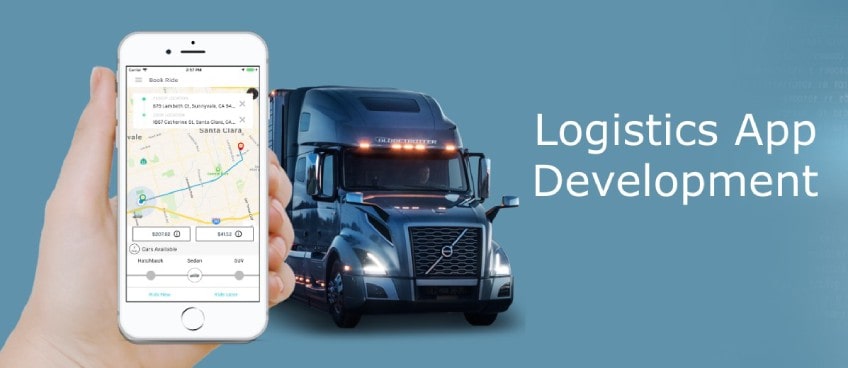 With digitization, mobile apps have become an integral part of our daily lives. From ordering your food to booking a cab- you can get everything to your doorstep.
Convenient…isn't it?
And because of their accessibility, simplicity, time-saving, and convenience, many enterprises started employing freelance labor, and the transport industry is not an exception.
Nearly a decade ago, this sector used to face manifold problems like poor time management, paperwork, manual intervention, and whatnot. But the emergence of logistics app development has taken the industry by storm and now offering ample benefits that businesses had expected 10 years ago.
Importance of a Mobile App Development
Whether you're looking to deliver convenient logistic service or track your drivers/vehicles, and the on-demand logistic app is the solution.
Because the logistics and transport business entirely depends on inventories at the warehouse, tracking their arrival/departure time and checking their quality would drain your time.
This is where the importance of a "Logistic App" comes in.
For those who don't know, a mobile app could do wonders and effortlessly manage all transportation and logistics-related problems. Also, the paperwork hassle, the proof of deliveries, and manual intervention will be minimized.
In today's fast-paced environment, it becomes imperative for logistics businesses to have an app as the customers would be expecting apps for services they want. And if you don't have any app, you'll end up losing your customers in the long run.
You might have understood the need for developing an app! Now the question is how can you create an app? Or what are the steps involved in logistics app development?
Let's discuss them!
How to Create an On Demand Logistics App?
The following are the steps to build a feature-rich and beautiful app for your logistics business.
1. Clear Your Goal
Firstly, you need to understand why you need to build a transport app and for whom you are doing so! There could be two possible reasons behind it- either you want an app for your own transportation business, so you can track vehicle/driver and allow customers to track their cargo/shipment.
2. Know Your Target Audience
When you don't know who your audience is, the effort you're putting in developing a logistics app may go in vain.
If you're a business person, your audience should be transport companies. And you should list down your features that can attract them to become your prospective consumer.
3. Check Important Features
When you're creating an app, ensure it consists of multiple features that can be categorized into three different panels:
Admin Panel that includes tracking of fleet and driver while managing inventory, order, and payments.
ACustomer Panel that includes tracking orders and booking vehicles.
ADriver Panel that includes verifying order details, identifying the real-time location, etc.
4. Don't Overlook Technology
Building a mobile app ensures that it must run well on different tech platforms. This includes:
Operating Systems: Android, iOS
Types of apps: Native, Hybrid, Web
Cloud Storage: AWS or Google Cloud
Payments: Credit/Debit Card, Paypal, Stripe, Mobile Wallet, COD etc.
5. Choose Professional Partner
When it comes to logistics app development, you need a professional mobile app development company that's credible, experienced, and can get the job done without breaking your bank. Don't go with freelancers as that would drain both your money and time.
Make sure you check the company's track record that you're choosing. This will make your investment a lucrative one.
Features of an On-Demand Logistic App
Here are the important features that need to be kept in mind while developing a logistic app.
Designing a Dashboard to Inspect
To keep an eye on different activities such as incoming orders, dispatched orders, and delivered orders.
Fleet & Vehicle Management
To get the real-time location of their fleet and guide the best possible route.
Push Notifications
To let customers know about the orders dispatched and to let drivers know about assigned orders, a message from a customer, and change in scheduled orders.
Payment and Invoice Feature
An on-demand logistics app can be integrated with AI-technology to improve and automate the accounting analysis.
In-app chat for communication
To get in touch with drivers and customers. If anyone has a doubt, the chat feature would resolve it in real-time.
Tracking & Monitoring
To let the customer know about the driver location and the estimated time of delivery.
So, you've understood how to build a logistic app and its essential features. But if you want to make your app stand tall above the rest, you need to know a few important tips.
Tips to Consider While Developing a Logistic App for your Business
When it comes to logistic app development, you need to consider these tips. Let's discuss them!
1. Easy to Use & Customize
If you think putting multiple things at once on your app will make it beautiful, you're probably mistaken.
Your customers will download your app to get service and if it takes a longer time than usual, it's a huge loss.
If you're developing a logistic app, ensure that
Your app should be 100% customizable as per the client's unique needs.
Fewer queries and quick delivery of service
Don't pull out updates too often
Accept customers' suggestions
To ensure your users can easily navigate the app, make it simple and attractive. This would help users to download and use it without additional permission.
2. Loading Time
To make your logistic app development successful, ensure it loads quickly. If it does take more than 5 seconds to load, you're going to lose your customers.
Because the transport business requires quick action, you need a logistic app that loads faster.
Note: Before releasing an app, don't forget to test ads, analytics, fields, connection, and images.
3. Prioritize the App Design
It's incredibly important as the design of your app can make or break your business. Because different smart devices come with different screen resolutions, you should create your app according to that.
If you're new to the world of app development, consider outsourcing your work to a leading mobile app development company that can do the task with ease.
4. Multilingual Support
To make your business grow across every corner of this world, you have to integrate multilingual support in your on-demand logistic app.
One of the biggest advantages of the support is that your app will be available in multiple languages and your user can choose their preferred language and access your app. This would certainly give a boost to your business and even people from other countries likely to connect with you and avail your services.
How is Appicial Applications an Ideal Solution to Your Logistic App Development?
No matter what you think but the transportation sector has been building an on demand logistics app to earn a significant return on investment (ROI).
As the industry is growing like a wildfire, you have to have an on-demand logistic app to stay ahead of your competitor.
Don't know what to do? No worry, leave everything to us!!
Appicial Applications is a leading mobile app development company that has been designing and developing apps for years and has helped multiple businesses to gain a market foothold. With a fervent crew of goal-oriented professionals, we harness state-of-the-art technology to build feature-rich, functional, beautiful, and future-ready apps that perfectly cater to your needs and budget.