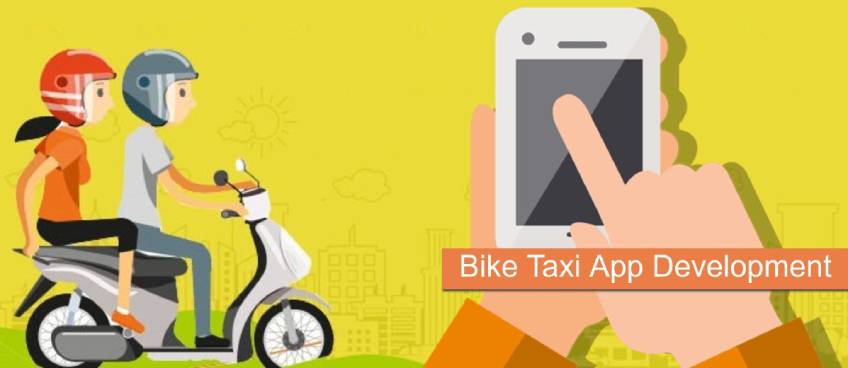 Bike taxi app are the next step in the evolution of travel from one place to another. It's cheap, fast, fuel-efficient and the best part, you won't get stuck in traffic! They are eco-friendly and the travelling time is less compared to a car. Bike taxi app is trending rapidly in Asian countries like Veitnam, Cambodia, India, Indonesia, Thailand, etc. Several taxi booking apps like Uber and Ola are providing extended services for bike along with car.
Working Principle of a Bike Taxi App:
It is similar to booking for a car, but a bike comes at your service instead of a car. Steps include-
Request For Ride With Fare Estimates – Details of the pickup and drop off of the customer has to be provided, wherein a bike from immediate vicinity is allocated.
Ride & Safety – Helmet maybe provided on request or according to the company's policy and the customer is dropped at the requested destination safely.
Payment – Payment options can be done via online or cash similar to cab payment.
Feedback – Customers can give their feedback by rating the whole ride experience which gives developers room for improvement.
Selecting a driver and training that driver is one of the crucial steps for a bike taxi. The service provided by the driver is important since it helps in creating further market for the company. Besides a driving test, psychometric tests should also be conducted extensively to pool drivers for work. In addition to that, training drivers for defensive driving with safety is essential as well. Benefit should be provided to the driver as incentives, appraisal, which helps in maintaining a good employee-manager atmosphere.
Bike taxi apps are a boon in more populous and congested cities where traveling from one place to another place would be tough for a layman. Start-up bike taxi apps can tap into this problem and find convenient solutions to this problem. Some poplar bike taxi apps implemented in Asian countries right now are Go-Jek, Grab, Baxi, Rapido, uberMoto, Ola Bike, Safeboda, Bikxie.
Bike taxi apps are trending right now because of the less time taken to travel and besides the operational expenditures for a bike is far less compared to the one involving a car. Thus the charges of travel are cheaper too. There are many investors for such start-ups. Gokada, a motorcycle taxi app based in Nigeria, Africa has raised $3.5 million by Rise Capital and according to TechCrunch, this investment was joined by Adventure Capital, IC Global Partners, and Illinois-based First Midwest Group too.
Aspects of a Bike Taxi App
Our bike taxi app comprises of 4 applications within it:
Customer App - For booking, tracking and making payments for the ride.
Driver App - To get live requests from customers and to reach the pickup location.
Admin Panel - A control panel for admins to manage the bike taxi service.
Website - Customers can book rides for them or others using the website (web app).
Customer App
This should be similar to the one like a cab bookings. The prototype for the app should have features like-
Easy bookings
Vehicle and Route Tracking
Seamless Payments
Ratings System
Trip History
Real-Time Notifications
Help & Support
Driver App
The prototype of this app should also be similar to the cab bookings with features like-
Easy Registration
Go Online/Offline Button
Trip Bookings
GPS Navigation
Start/End Ride
Track Earnings
Customer Ratings
Driver Dashboard
Admin Panel
Admin Dashboard
Manage Drivers
Manage Customers
Manage Bikes
Fleet Tracking
Manage Fares
Manage Notifications
Managing a bike taxi app requires thorough market study, the pros and cons of a setting up the service in a particular city, etc. Stakeholders should be pooled to increase the quality of the services provided. Understanding regulatory policies and legal procedures for particular city involved is important as well. A platform for bike pooling similar to car pooling helps in boosting the development of the app.
Expenditure involved for a Bike Taxi App
It depends upon the features incorporated into the app. The mobile app interface cost is different for Android and iOS, with Android apps costing less than iOS one. The size of the application is another factor which decides the expenditure of the app. Bike Taxi App Development cost may differ according to the location as well since the cost of living and taxes differ from place to place. Advanced features like real-time tracking, payment getaway and maps increase the expense involved for the app.
Continuous research for incorporating developments in software and to fix bugs regularly is of utmost importance. There are several consultancy services available which provide great Bike Taxi app according to the startup's requirements. Thus selecting a trusted consultancy service is equally essential.
Website
Customers can book rides for them or others using the website (web app).
Login / Registration
Create Profile
Ride Booking Requests
Booking History
User Wallet
Fare Estimates
Export Data