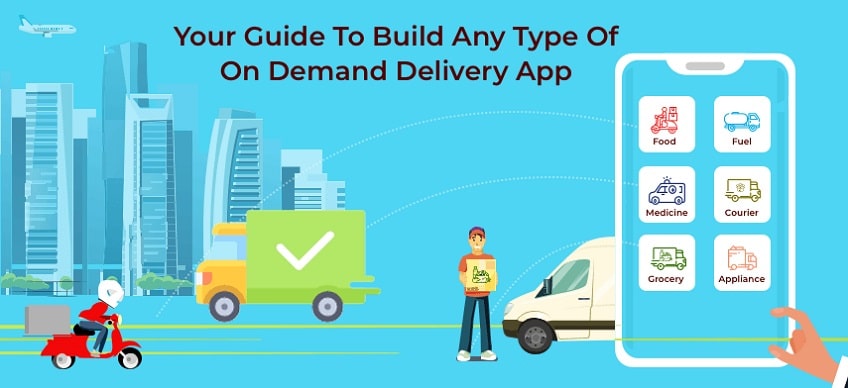 The nationwide lockdown that has declared as a measure to curb the spread of coronavirus has completely changed the way people use to live their everyday life. Millions of people in different parts of the world are fighting for their lives while others are fighting for their square time meal. The onset of this pandemic has left public places like restaurants, markets, malls, empty. Several eateries have arranged for taking away deliveries to provide food for people in need. In the current situation, people are trying to avoid stepping out of their home's food packages, and other daily essentials are to be delivered to their doorstep with the help of the On-Demand Delivery App.
The Quarantine period has increased the demand for such applications by several folds; existing on-demand applications are collaborating with local restaurants and grocery stores alike. It must be noted that these ventures are also witnessing a significant rise in the revenues, and some are hiring a new workforce to meet the current demands.
Amidst all the negativity, the growth of delivery app businesses, which is also creating job opportunities for thousands of people, is giving some amount of positivity. If you own a business, then this is the right time to consider an on-demand delivery app for boosting the performance and sustainability of your venture.
Doorstep delivery of daily essentials
With social distancing being the mantra to stay safe and healthy this quarantine season, people are finding it challenging to arrange essential commodities for their survival. Our country, like many other nations of the world, has also witnessed a panic buying situation during the initial days of the lockdown. This contributed to an acute shortage of supplies people left searching for grocery items. Now people are gradually switching over to on-demand grocery delivery applications that provide doorstep delivery. These applications are convenient and affordable; also, people do not require stepping out of their houses with the fear of getting infected. Over the last few weeks, grocery delivery apps have started making huge profits due to unexpected searches in demand in this pandemic season.
Some of the largest and most popular grocery delivery apps are even finding it difficult to keep up with the demands of their customers. Lockdown has also affected the supply chains to some extent, which is another major reason that these apps are struggling to serve their customers. In an estimate, that apps have increased as much as five times during this quarantine period.
Business owners looking to grab this opportunity must consider investing in a grocery delivery app development given the current situation. The market growth like never before, and with the lockdown extension, there are huge chances of these applications to reach new heights.
Benefits of using the on-demand delivery app
On-demand delivery applications have proved to be highly beneficial for the customers and the owners during this tough time. Following are some of the notable advantages.
Customer Satisfaction
These applications avail out the people to purchase all their daily essentials and medicines from the comfort of their homes. Quick and reliable doorstep services have further increased satisfaction among customers. Another notable advantage that customers get to browse uses a variety of products in a single place without having to visit multiple stores.
Delivery using latest technologies
Given the current scenario, companies are also fast adopting to latest technologies for delivering services to their customers. Many companies have started using bots for delivery of packaged food and other items. It not only eliminates the requirement of delivery professional but also promotes contactless delivery.
Better revenue-earning scopes for business owners
The huge demand for doorstep delivery applications has created opportunities for entrepreneurs, the Anna earning large sums of revenue due to this great demand. At the same time, the customers are satisfied with the services. Revenue from the apps increases never likes before, which is also encouraging others to have their delivery apps.
Medicine delivery app
As medical facilities and hospitals all around the world are fighting all odds to treat patients with symptoms of this illness, people take monthly medicines finding it hard to source them from their local suppliers. The outbreak of this pandemic has limited access to people to pharmaceuticals, and in most places, shops have run out of their stock. Many of the retailers have a complaint that the lockdown has dramatically affected the supply chain and is preventing the steady availability of essential medicines. As a result, more and more people are now using online medicine delivery app for procuring their monthly medication. Customers need to pick the medicine of the tribes to upload their print prescriptions, and it will be delivered to their doorstep.
How to develop an on-demand delivery app for your business?
If you are looking for effective ways of having your on-demand delivery application then following are the ways you can choose.
Developing an application from scratch
Like all other types of mobile applications, on-demand service applications can also be created from scratch after conducting comprehensive market research. The expenses involved in the development process of an application are considerably high and hence is always recommended to appoint a technically sound app development team for developing Delivery App Development. It typically takes around 4 to 6 months from start to finish.
Considering clone apps with the growing demand for demand service apps.
Several development agencies are now creating clone apps that take comparatively less time to launch. It allows the business to jump into the market right away and deserve a much more economical option if you are on a tight budget. Looking at the current demands, clone apps considered a suitable option for investment.
Including multiple delivery options into a single app
The present market has opened up several opportunities for business owners, looking forward to delivering food grocery and pharmacy a single app can be a great advantage over others in the market. With the help of such an application, business owners will be able to cater to a large audience. Buyers will also find made as they will no longer have to switch between apps for different essentials.
To be successful, one has to meet the expectations of the target customers. In current time's people are searching for quick and reliable services at their doorstep. If all the necessary features can be bundled into one single delivery app, it will surely attract more users than anything else in the market.
Delivery App Development has become the savior in this hour of need people during the warranty period are trying to keep them into as much as possible and avoid going out for purchasing groceries, food items, and medicine. The emergence of this technology has helped a large portion of the population in this tough time with a constant supply of medicines and other essentials.
Companies are now focusing upon creating multi niche delivery applications that will be more users friendly and time-saving. Appicials White-labeled ready on-demand apps are one-stop solutions for all necessities of people; presently, the market is experiencing exponential growth due to the huge demands of the customers. Business owners will never find a more appropriate time to venture into this sector. Technology has responded well in this hour of need entrepreneurs must take a deep insight into the scope of the business at the time of investing.