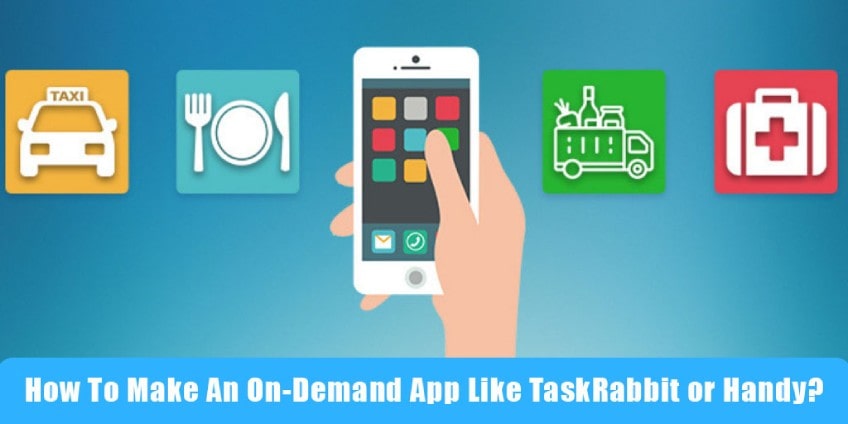 In the last few years, we have seen a different kind of business model that has outraged everything we have not seen earlier. This on-demand business app model gained popularity with the success of Uber and Spike. After that, many on-demand app development companies for courier, food delivery, health care, and field service. As per the record, more than 70% of Americans use the on-demand service through the App. This on-demand service has been seen on a large scale, and there might be a huge change to increase over time. The on-demand app market is increasing over the period, and it will boom in the coming period.
What are the on-demand app solutions
The concept of the on-demand app solution is quite simple. In this concept, to provide the product and service at the time when you are required to have it and at the tip of the finger. The on-demand app aggregates the demand for the product or service online. This acts as a platform where the supplier could come to contact to provide the service when the customer is required for any particular service. This on-demand app can reduce the time and energy in the meeting for both parties.
There are some on-demand services app are Uber, Airbnb, zomato, etc.
Before the existence of the on-demand app solution, people had to look out for these services manually. Meet up with the people, fix the rate, and compare it with the others, which was time-consuming. In the on-demand app, you can see the services charge listed and compare them with others at your home, saving your time and energy.
So we would like to say that the on-demand service app clone is going to become handy in the coming days.
Various kinds of on-demand app services
There is the following kind of on-demand app services are offering nowadays through a mobile app which:
Personal Transportation
The on-demand service topic is incomplete without discussing personal transportation without mentioning Uber. This company is the biggest example of how the on-demand app has transferred the personal information industry. This uber clone is used to find the taxi on an on-demand basis, which enables you to grab the taxi service at your doorstep and payment is quite easier and there are so many options that are there to check out the payments.
Food Delivery
This app has made it easier to grab your favorite food at your doorstep at your desired time. You can see many cuisines sitting at your home and can also compare. This app makes sure to confirm food delivery on time.
Housekeeping Service
Services like cleaning the house, cleaning the dishes, laundry service and sometimes need assistance. One of the important things is that you can not ask someone for housekeeping services and you can not hire any person permanently for cleaning services. The housekeeping app makes it easier for you to find someone who could help you out with these.
Handyman Service
Sometimes, something has been broken in your home, like the kitchen sink, room window, etc. Then you need to find a handyman who could help you fix these issues and have the right skill and tools to fix them. There are a few apps that help find the handyman.
Delivery Service
It is just like an on-demand app courier service in really cheap and fast since anyone can enroll in the service and courier. This delivery service can include a wide range of articles.
Beauty Service
You can get beauty service by using an on-demand app service. This will save your time. Suppose you will be a bride, so you can get this beauty service by using an on-demand service at your doorstep.
Rental Property And Lounging
This app makes it easy for anyone to put your property on rent. You can even put your single room on rent by using this service.
How To Make An App Like Handy or TaskRabbit
There are so many phases which are required to develop an on-demand app like handy or TaskRabbit:
1. Idea
This is the first phase, which is required to develop an on-demand app, so first, you need to find the service which is in demand and that service is operating manually at the current time. Finding the idea is quite important to developing an on-demand app or you can come up with some extraordinary features with the already existing idea, which are enough to succeed in the on-demand app market.
For this, you need to study the existing app's working model and find out what you can do more in the existing on-demand service.
2. Characteristic Of On-Demand App Service
Service should be effortless for the user means the signup process will be quite simple. You can allow the consumer with the single sign-on methodology. You can allow them to access the service with their existing Google and Facebook accounts.
This same goes to the service provider.
You are required to provide flexibility for both parties. You have to put a simple button that will give more flexibility and allow them more choice.
3. Design And Development
For the design and development of the on-demand app, you need to hire a On-Demand App Development Company. Before hiring the on-demand app development company, you must ensure the company's experience in on-demand app development or on-demand service app clone development.
Basic Features Required In An On-Demand App
Push Notification
This is the main feature that ensures that notification should be sent to both parties like consumer and service provider. This will also enable you to add the new service to the app. you can also set a reminder to help your consumer to know about the service they had requested and also you need to notify them to change the status of the service.
Tracking
The tracking feature has become important in-demand service. This will aware of the consumer regarding progress in the delivery of the service.
Activity Logger
Your app should provide information related to order, previous search results,s and other similar information.
Favorite And Wishlists
Allow users to add their favorite services, and products and shop their favorite list of services. This feature is quite important in the on-demand service.
Payment System
You should allow the consumer with various kinds of payment gateway. The consumer should also be flexible in making payments through credit cards, debit cards, cash, and wallet.
Feedback And Rating
You should allow the consumer to give feedback on the service through the app and that feedback will also send to the service provider to improve their services in the future.
Reschedule And Cancel A Booking
You should give the option to reschedule the service and cancel the booking feature in case of urgency.
Multiple Bookings
You have to enable the option of multiple bookings so that they can get the number of services, you have to provide the option to store the address in the app so that the booking does not take long after the first time.
Good Customer Service
This is the key to every business and in on-demand app service, there is no exception to it. Give enough customer details to reach users near you without any convenience.
How does it work and which technologies are used in on-demand app development
Any on demand app clone needs a lot of cutting-edge technology to work well. Here is the list of technologies that are used in the development of the on-demand app:
Push notification: twillio
SMS and voice and phone verification: twillio
Database: MongoDB, Postgres or Cassandra
Payment Option: Stripe, Braintree or Paypal
Cloud service: Google, AWS
Analytics: Apache Flink, Cisco
How much app demand app cost
This is the most obvious thing that level of technologies and complexity level are the factors to determine the cost of the on-demand app. there is the following cost of on-demand app in general ways.
Technical documentation: $1000 to $2000
UI/UX Design: $1000 to $2000
Front-end and back-end development: $5000 to $10,000
Testing: $1000 to $2000
The cost of the development of any on-demand app clone is dependent on the per-hour development rate of the developer. This can be around $25 to $100 per hour.
If you think and calculate the total development cost of an on-demand app clone, it will be around $8000 to $15000. This amount is pretty small compared to the previously developed on-demand app, which costs around millions of dollars.
How We helped you in on-demand app development
We are Appicial having a group of mobile app developers, designers, and testers who have experience in on-demand app development. Our teams are experts in their modules and delivered one of the best on-demand apps for the current market.
Case study of TaskRabbit
Task rabbit allows the user to outsource small jobs and tasks to the contractors. Task rabbit is the company that left Boston for San Francisco and the company received $37.5 million in venture funding. It is available in 20 cities and it reportedly has around 1.25 million users and over 25000 taskers.
TaskRabbit History
Task rabbit was founded in February 2008 by Leah Busque in Boston. One day they plan to go out for a drink at their friend's home. After some time, they released that they had run out of dog food for their lab. Instead of returning, they got an idea for this kind of service auction online. They have auctioned this task on the internet and wish to avail of this kind of service. People with money to spare but no time to post this odd job. The company's core mission resolved the idea of neighbors helping neighbors which was the theme of the company evolutions. Bosque meets Scott with this idea and discusses his idea. Scott became highly impressed with the idea and started working together to develop this kind of portal which comes under the on-demand app category where any neighbor will be ready to help neighbors on a service basis. Bosque was working as a software engineer at IBM. He left the job and started working on this kind of portal.
On developing this portal, they received and the month was very successful, with the company raising approximately $150,000 in an early round of angles.
Despite the initial success, this company was failing to gain the transaction which Busque and Scott had been hoping for. When Task rabbit had chosen to participate in FB Fund REV, this changed the direction of the company and this company was chosen as one of the 20 young companies in the USA. This ten-week development program promises to all the startups that plugin into Facebook. During the Fb fund development program, Busque met Tim, the investor and tech entrepreneur who agreed to join the board. In 2009, this company introduced various venture capitalists and silicon valley industry insiders. In 2009, this company raised one million dollars in venture funding from the two-way area venture capital firm. Now the company has spread over throughout the USA by contacting some valuable investors and it is known as one of the best on-demand apps in the USA.