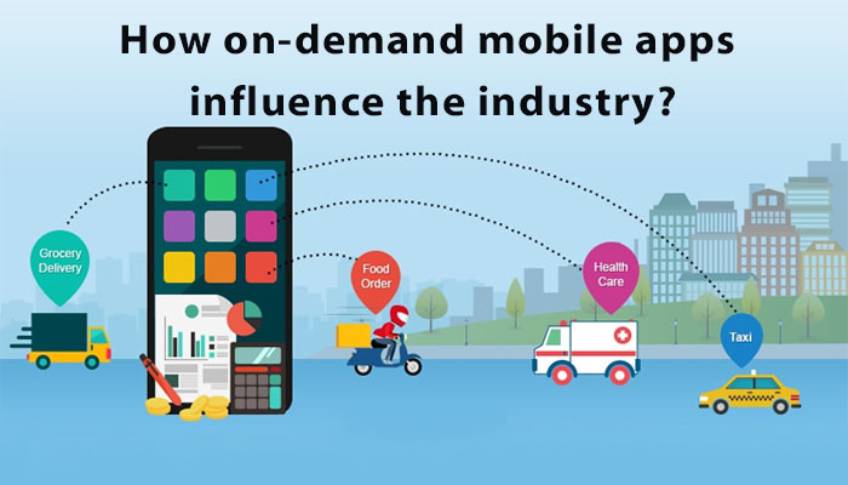 In today's time, everything is managed pretty easily from your Smartphone. You can manage each and everything through your Smartphone like ordering lunch, booking a deep house cleaning, booking a cab. Everything is very easy and managed with the help of the mobile app. All of the users have to install the mobile app and go.
Transformation of Business Using Mobile App
The mobile app is in demand which has changed the scenario of a business significantly. It cannot be denied that on-demand services providers bring average revenue of around $57.6 billion annually. As per the Harvard report on the on-demand services attracts around 22.4 million annual customers. On demand app clone consists of home service, food and grocery, transportation, health service, maid booking, freelance service and other kinds of services.
Annual On-demand Economy Spending as per the US
As per the US report, approximate 49% of the on-demand service app development users are millennials whereas 30% of the consumers lies between in the age of 35 to 54 age. Now if you go with the figures, you will see that growth is just going high because of the on-demand app and it will be rise more due to this on-demand app. There will surely increase activity in this industry.
On-Demand App Future as per the recent research
There are some few points on the basis we can reveal that the on-demand service app clone has a very bright future in the coming era. There are some core features of on-demand industries on the basis we can reveal that it has a very secure and bright future in the coming time.
Complementary Resource
Payment Satus
Cloud Service
CRM Platform
Core On-Demand Service
Logistic Management
Offline Services
Move Online
Vendor Management
Interface Layer
Consumer Behavior
Convenience
Efficiency
Simplicity
Instant Gratification
Consumer Technology
Connectivity is everywhere
Mobile Adoption
Application market place
On-demand service is going to be more personalize and customize.
This on-demand app will enable the seller to interact with another seller directly. This app will remove any kind of intermediate app or person which charge on a very high rate for this kind of communication and transaction.
The on-demand app is very beneficial to generate more revenue or demand of the products or service online.
This on-demand app is also a helpful millennial to monetize all assets, time and skill.
This app will facilitate the service provider in meeting the needs instantly anywhere.
Other Statistical Disclosure
Approximate 45% of mobile users have a degree of higher than that.
Around 68% of the users have an annual income of around $50000
Around 59% of the on-demand app users are males
The age group of 25-45 years is using this on-demand app
How on-demand mobile app influence the industry
In this section we are explaining some industries who have influenced by the on-demand mobile app:
Fitness
In today's world, most of the people like to use a mobile app rather than a website. So most businesses in the fitness sector like fitness coaches are ready to deliver his service through the On-demand mobile app and acquire new clients via an On-demand mobile app. People use this app to sell fitness equipment online also.
Maintenance
In the earlier time, most of the companies faced these kinds of challenges to hiring maintenance Provider Company. By using the On-demand mobile app, this task has been so easy by using the On-Demand mobile app. This On-demand mobile app is very useful at the time of emergency or any other kind of vehicle break down. Service time has been reduced after adopting this mobile app.
Cab Service
This on-demand app is handy in the field of cab service. People can book can from anywhere to anywhere on any time by using this on-demand mobile app.
Laundry
In the current time, the laundry service company offers its services to the client is a faraway area. This On-demand app increases the chance to set up laundry service in multiple regions and providing more employment opportunities.
House Cleaning
House cleaning service or maid service is now popular in urban areas. Every person wants these services due to workload. This on-demand app is very useful to find maid and cleaning services. Finding a maid or cleaning service is very difficult in searching out manually. This on-demand app has made this very easy.
Wine and Alcohol
This on-demand app is handy in the liquor industry. This app helps people to order their drink and delivered at any time and any place.
Logistic
The on-demand app is very efficient in the logistic industry. You can track your order by using this application.
Tutor / Coaching
Online tutoring service is run through the on-demand app. Now a day, people provide tutoring services by using the on-demand app. Selection of tutor is very easy by using this kind of on-demand application.
Some other area on-demand service is useful like doctor on demand, food ordering, beauty services etc.
Few tips to increasing reach of their app and attain a higher return on investment (ROI)
Flexibility
The on-demand app should be flexible and should be ready for customization with the functionality by the time. The app should be equipped with 24x7 assistance along with it.
Pricing Strategy
Pricing is a very important factor in the on-demand mobile application. The on-demand app provides door-step service so they might little bit of charge for it. But deciding the same things it is required to keep all the competitor's strategy in term of pricing. So always make pricing strategy.
Technology Integration
The on-demand application offers a pleasant user experience with a simple interface and seamless performance. These things can be achieved by simple technology integration in the on-demand app.
Cost of the development of On-demand app
The cost of an on demand app clone depends on the features and hourly rate. Cost also depends on the region like in the USA and UK the cost of development is very high while this cost is slight low in India for the same on-demand app development. You can contact any On-demand app development company for developing an on-demand mobile app.
Critical Features of On-Demand Mobile App
Booking Reservation
Push Notification
Navigation
List of Orders
Fare Calculator
Order and Delivery Confirmation
This is the detailed information about how on-demand mobile apps influence the industry.