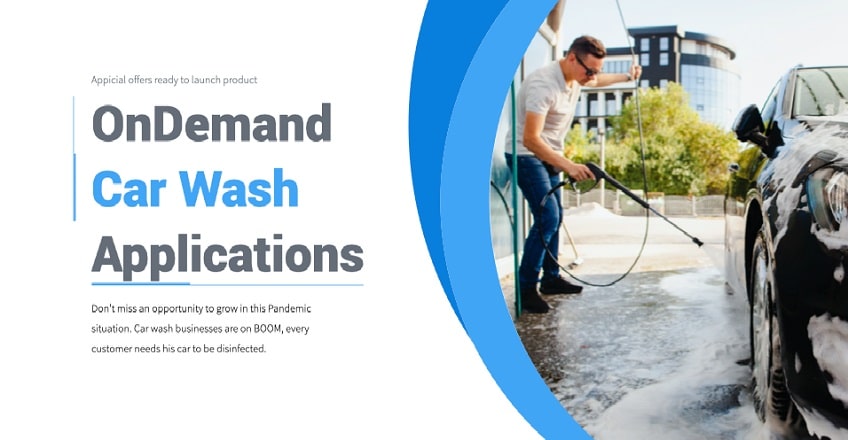 Technology has been significantly revolutionizing the way people do business. With smartphones predominately consumed by end-users, the demand for mobile apps has increased to an unprecedented scale.
Small businesses are keeping abreast of the latest technology trends to establish a foothold on the market. That's the reason why on-demand mobile apps have been gaining traction with every passing day.
"More than 50% of the businesses that came with on-demand service have gained significant profit".
With on-demand services becoming an insanely important part of our routine, a car wash app is essential that most users look forward to.
Why Car Wash App Solution is Important?
When you think about car washing, you need to plan it at least before a day. And then things don't end here only; you may even need to stand in a queue waiting for your turn. It could be potentially daunting, and hence many car washing companies came up with the right tech solution. When it comes to car washing, an on-demand car wash app has become a preferred choice among the users.
The car wash business is experiencing incredible growth, and it is expected to grow by nearly 10% every year.
Here are some of the major facts on the car wash industry that you should know.
More than 75% of the car wash is owned by small businesses; hence it does not require massive investment.
More than 60% of the total car wash comes from heavy users.
Car wash activities usually carried out in the winter season.
Nearly 40% of the users can pay extra bucks if they get high-quality eco-friendly service.
How Does an On-Demand Car Wash App Benefit Your Company?
The following are the benefits of using an on-demand car wash app development solution for your company.
1. Maximizes Efficiency: With such a mobile car wash system, you can keep users engaged. And this would help to generate the interest of users when you are providing services at their doorstep. This will ultimately result in maximizing your business's efficiency to the fullest.
2. Convenience: Talk about today's car wash system; one of the main inconveniences faced by people is that they have to wait for long hours standing in a queue to get services. However, with the help of a cash wash app, you can provide significant convenience to the users.
3. Provide Robust Solutions: The best reason for the success of on-demand is nothing but a rich experience that it provides to B2C and B2B. Both businesses and consumers will get multiple benefits from it. However, if you want to get more visibility for your business, you must create a car app for B2B as well as B2C.
What Are The Features of an On-Demand Car Wash App?
Here are the incredible features of an on-demand car wash app.
1. Place A Request: Users can choose the package they want to opt and can place the order accordingly.
2. Location Service and Map: By using Map and GPS, a user can choose the location and can avail of the service at their preferred location.
3. Notification: Whenever an order is placed or canceled, the service provider will get notified through a notification.
4. Tracking Booking Request: App users can check the status of the booking request, Estimated time of arrival, request accepted etc.
5. Payment Integration: Various payment modes can be implemented like Cash, Credit card, Payment gateways integration.
How Does On-Demand Car Wash App Work?
Let's take a walk through how the mobile car wash app works.
Log in or signup required for both user and car washer to use the on-demand car wash app.
Customers will select the car wash service and send a booking request to the service provider.
The service provider will get the details of location, date, and time for the service.
Customers can review the work done via pictures.
Customers can make the payment via cash, card, or payment gateways.
Customers and service providers can Review each other.
Why Choose Appicial to Develop On-demand Car Wash App Development?
There's no denying that on-demand car wash apps are the future of app technology, and businesses need to embrace it soon.
If you want a professional app development company, we can help you out!!
Appicial is a leading on-demand car wash app development company that has a dexterous team of talented developers and creative designers to turn your concept into a worth using the app.
Exceptional customer service
Affordable price
Happiest customers
Team of experienced app developers
Continuous improvement
Our app developers have successfully made many apps and delivered more than expected. Contact us to get the best on-demand car wash app development that may significantly grow your business without breaking the bank.