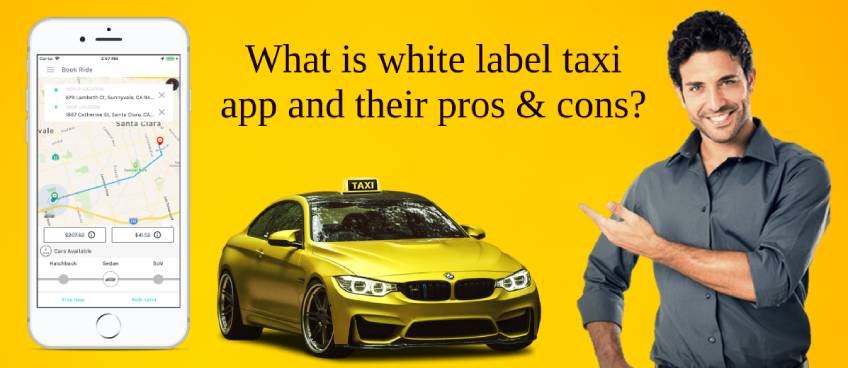 There is so many taxi service provider who is looking to enhance their business through internet technology like developing a mobile application. Even Uber has won already many of the countries in terms of taxi service through the software application and is conquering new countries and region. High demand in the regional market motivates a person to invest money in taxi booking business. Software application promise to quick development and finally the end of the resulting journey ends on the software development agency which sold out of the box solution is known as label app.
First, we need to know what white label app is and what is its use as compare to the traditional app. The white-label product meaning in today's world is a product is developed by the company and rebranded it and thereafter sold that product to another company but in the digital world, white label refers a software application which is developed already and thereafter customized as per the branding of the seller. For example suppose any food delivery company developed software and after customizing that product as per client desire, Software Company delivers that product to the local restaurant and local restaurant use that application as the software.
Different Ways Of Building White Label Product
By using back end code and make changes in front end code which cause a different type of appearance and look and feel as per the reseller criteria.
By creating a multi-tenant application which means app instance will be the same and each tenant will use that instance for their purpose with a different set of features. This model is known as software as a service but this model is quite complex to develop and maintain.
Common Features Of White Label Taxi Application
This kind of application comes in a category which includes an app for driver, app for customer, and admin app. Here we have listed all the common feature which are included in the white label application
Google map integration for driver and customer app both.
Web interface for voice over internet protocol integration.
The automated payout for the driver which means the driver will get his share automatically and credited in their account.
Support for credit card or debit card payment which is a very good feature for getting payment from the customer. Carrying cash in not easy to everyone at every time.
Data archive refers that customer old data will be archived at the safe place.
You can customize front end as per your need.
Analytics and reporting feature enables to understand the overall revenue of your business which is very helpful to take necessary steps to forward taxi business in a positive direction.
Ability to scale the app by adding more cars to the fleet.
The Common Business Model For White Label Taxi App
In most of the cases, SAAS product developer rented out this application by using a subscription model. Subscription model consists of two fees, one is setup fee and another one is a monthly fee which you have to pay to the Saas developer to use their services.
Appicial Applications is the mobile app development company which provides white label taxi app. Appicial charges one-time development fee with monthly maintenance charges. Some companies' works with Appicial based on the number of drivers are registered on the app or number of the trip.
HireMe Taxi is the white label taxi app which provides services on the subscription basis
Advantage Of White Label Taxi App
Smaller Initial Investment And Customization
Developing and software application from scratch is never easy and cheap. So to avoid this kind of unnecessary investment in software development first you need to hire business analyst which will analyze your code need and find white label app service provider who will customize their app as per your need and finally you will get your product design and branding at a very low-cost price.
Short Time To Market
Suppose if you have regional taxi booking service business and you want to move one steps above by adopting new internet technology by going with a software application. If you develop it from scratch, it will take time to release and the market might be gone. In white label app, if you subscribe to the service, you can start to use the app immediately and adopt the business model and planning and designing of the user interface through branding, testing and software development.
Disadvantage Of White Label Taxi App
No Control Over Code Quality
This refers that if you purchase a white label app, they will not provide your back end code. You will be unaware of what is going on code behind only you can customize at the front end, so you cannot evaluate code quality. The only thing you have to keep trust on the white label service provider.
Limited Customization
White label app will give assign authority to customize your app in a very limited manner. White label app will try to cover most of the things but sometimes you need to change the setting by going out of the box, which is the drawback of this white label app.
Vendor lock solution is white label service provider will ensure you that server will be up most of the time, but this is not real.
Some time app might be deleted from the app store if they are not found trustworthy.
How To Ensure That A Service Provider Is Trustworthy
There are some questions and answers on the basis we can make sure that the provider is trustworthy or not:
Do you guarantee for data backup, if yes then how?
Do you provide free disaster recovery support?
How easy to import and export data from the server end?
How do you perform testing?
How often you update app on which duration?
If you want this kind of white label taxi app development, than you can contact us for developing your taxi app.