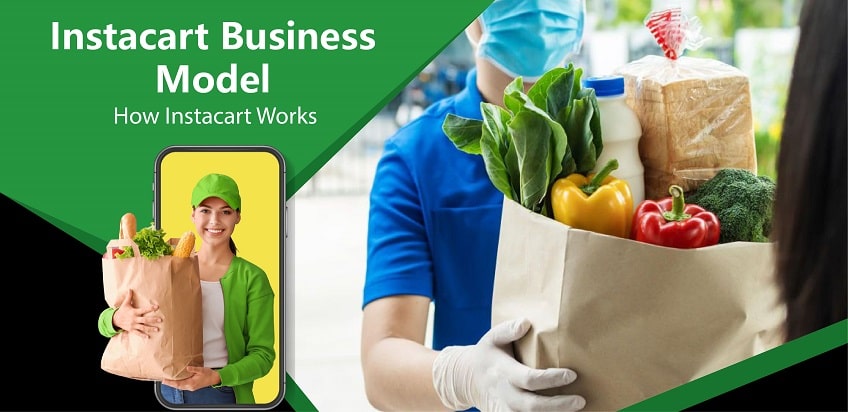 What is Instacart?
Like other online platforms, Instacart is a leading on-demand grocery delivery app platform that delivers groceries and other home essentials in major cities of the USA. The business model of the platform is based on new-age technology as it delivers customers' requirements within just 1 hour of ordering.
Backed by state-of-the-art technology, the Instacart delivery app is mushrooming as one ofInstacart Business Model: How Instacart Works the best grocery delivery platforms in the USA. And consequently, more and more professionals are looking to gain knowledge about Instacart's business model and understand its overall work to develop the next big thing in the sharing economy.
In this post, we'll discuss how the platform works, interesting facts, how it makes money, and why you need an app like Instacart.
Here we go!!
Facts & Timeline of Instacart
Here are the facts and timeline of Instacart. Let's take a look at them!
Headquarters: San Francisco, California, USA.
Founded by: Apoorva Mehta (CEO / Founder) and Max Mullen (Co-Founder)
Funding received: $275 million
Company Valuation: $2 Billion.
Revenue: $100 million
Instacart Successful Timeline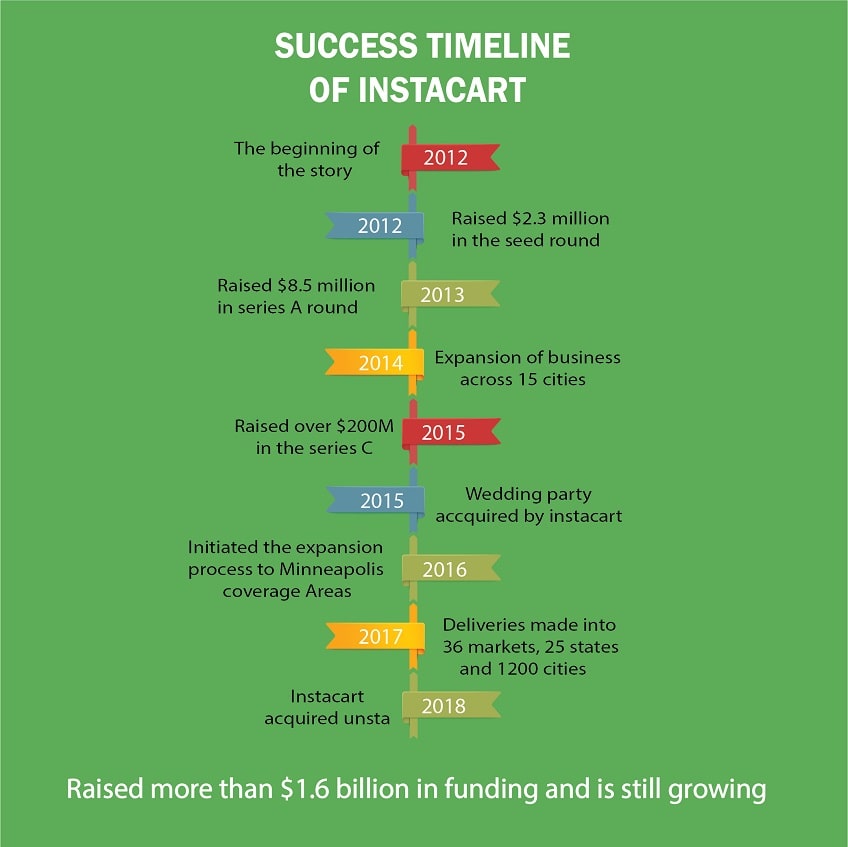 Instacart: 3 Customer Segments
Here are the three different segments of Instacart;
1. Users
Users can have an app where they can order their essentials and get right to their doorstep.
Users can order groceries using their smartphone, laptop, or any device with a web-based interface.
During checkout, users have an option to pay online for their order and even tip their order.
A user can place an order on any specific day or time.
2. Vendors
Vendors can easily receive orders on their smartphones.
Vendors are located near the stores to deliver the product and save time.
They pick up the items ordered by the users and then deliver them right to their doorstep.
Vendors often get a tip from users apart from the commission they receive.
3. Stores
Instacart is in collaboration with major superstores in different cities.
And these stores have significantly increased their revenue through online sales via Instacart.
Common features in an app like Instacart
Here are the features that you must include in your Instacart grocery delivery app.
1. Login & Registration
Easy registration through Social media like Google, Facebook, Or by using email ID/Phone number.
2. User profile
After login, users can add/view basic information such as username, mobile number, email address, profile picture, and physical address for delivery.
3. Easy Search and Filters
Help them find what they're looking for in the fastest and easiest way. Add a search bar for keyword-based search and add product category, restaurant, and grocery store filters so Users can find what they want.
4. Notifications
Send promotionally, offers notifications to the users. You must also notify users about the status of delivery, new restaurants connecting to the platform, and new features or updates.
5. Multi-language
We provide multi-language support to the application as per the client's requirements
6. Multiple Payment Options
We provide a facility to integrate any payment gateway option into your application, it can be any of your local payment gateways. Multiple payment options to pay for the users via Cards, Net banking, e-Wallets, Cash on delivery.
7. Promo, Discounts and Offers
Facility to send Promos/discounts to your users. As Users are always looking for discounts and offers. To keep Users busy with your grocery app, reward them with points or cashback for each bill purchased. You can send them notifications to any contest so that they can collect reward points and use them later.
8. Easy Ordering and Cancellation
Users can easily order their favorite groceries. If they want to cancel the delivery then they can easily cancel the order.
9. Real-time Tracking
Track your delivery partner in real-time, you will get notified every time when your order accepts and out for delivery.
10. Call masking with driver (VoIP)
Call masking is a technology that is used to protect User privacy, without revealing their real phone number to their driver.
11. Order History
To make ordering more flexible, create an order history from previous orders. Gather information about completed orders, allow users to pick up items from their order history with a single click, and add a reordering feature to shopper profiles.
12. Reviews and Ratings
Allow users to share reviews and ratings about each order. Upgrade shoppers' profiles with rating systems to increase trustworthiness and transparency on your platform.
How Instacart Works?
Let's discuss how the Instacart delivery app works: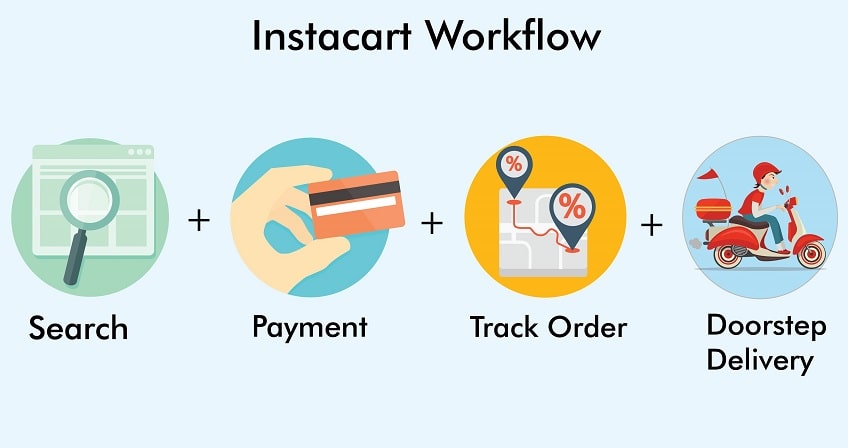 Step 1: Search
Users simply need to go to the app, choose their current location, and buy groceries at the right price.
Step 2: Payment
Once users add groceries to their shopping cart, they then need to make the payment. The platform is 100% safe and secure and ensures your details are protected.
Step 3: Track Your order
You must provide the updated information to your users to keep them engaged and happy. Make sure you consider sending SMS updates to make it easier for your users to track their orders.
Step 4: Doorstep Delivery
The vendor then goes to deliver the groceries to the user according to the address specified in the order.
Instacart Revenue Model - How Instacart Makes Money?
1. Delivery Fee
When an order is processed by Instacart that goes beyond the value of $35, it attracts a standard delivery of $3.99. If there's an order that is below $35, it attracts a standard delivery charge of $7.99.
2. Membership Fee (Instacart Express)
Instacart may give you an opportunity of annual membership under "Instacart Express" which is valued at $99. When any of your users have this membership, they can get free delivery of groceries for a full 1 year with few terms and conditions.
3. Mark-up Prices (15%+ more)
Some stores are selling their products on Instacart, offering the same prices as their in-store prices but there are a few stores listed on the platform that has a margin of more than 15% from their in-store prices. The revenue generated from these prices goes up to Instacart.
Why Create Your Own Grocery App like Instacart?
The following are the reasons to create your grocery app like Instacart.
1. Apps Make More Sales)
There's no arguing with the fact that retail apps make three times more sales than mobile websites and the trend is continuing to rise. Once your app is on your customers' smartphone, its icon will remind them of lip-smacking dishes even when they scroll for something.
This would ignite their decision to buy something, after some time or maybe instantly.
2. We won't take a Slice of Your Sales
When it comes to making your app, you must choose a credible platform. While creating the app, make sure you choose the platform that won't charge extra charges or additional fees. This would ultimately reduce the cost of the Instacart app.
3. Collect Valuable Data
It couldn't be wrong to say that online marketplaces won't give you access to your users' insights. Unlike other monthly subscriptions, you can host it anywhere you like. And when you have your users' data, it will grow your grocery business to an unprecedented scale.
4. Increase brand loyalty
If you want to increase brand loyalty, you must harness the valuable data to send notifications about promos your users can make use of. You can use a multitude of techniques like rewards, a thank you letter, and reviews. This will increase your brand loyalty and subsequently, it will encourage other visitors, too.
5. Sell ​​yourself
You must sell yourself if you want to run your grocery business and grow it to a significant level. You also get Builder Cloud (cloud capacity to run your app) and Builder Care (our aftercare service).
Conclusion
So, that's a wrap-up to the Instacart delivery app and its working!
The grocery delivery business, as you could see, has a great future as more people want the easiest and convenient way to buy grocery items. And with mushrooming business, Instacart is all set to become a robust solution provider in the US with whopping funding of $275 million.
According to Forbes, "Instacart stands at No.1 position among the list of most promising companies in America".
And it is all set to strengthen its footprints across the globe and become a global grocery delivery service provider.
Well, this technology can be used to create a similar business model.
Looking to build an app like Instacart? Are you worried about how much does an Instacart cost? If so, then it's time to take the right action!
Get in touch with us, leave us everything, and get the best on-demand app solutions without breaking your bank!
Looking out to start your own venture like Instacart? Try Grocery Delivery App, the easiest way to kick-start your grocery delivery business.