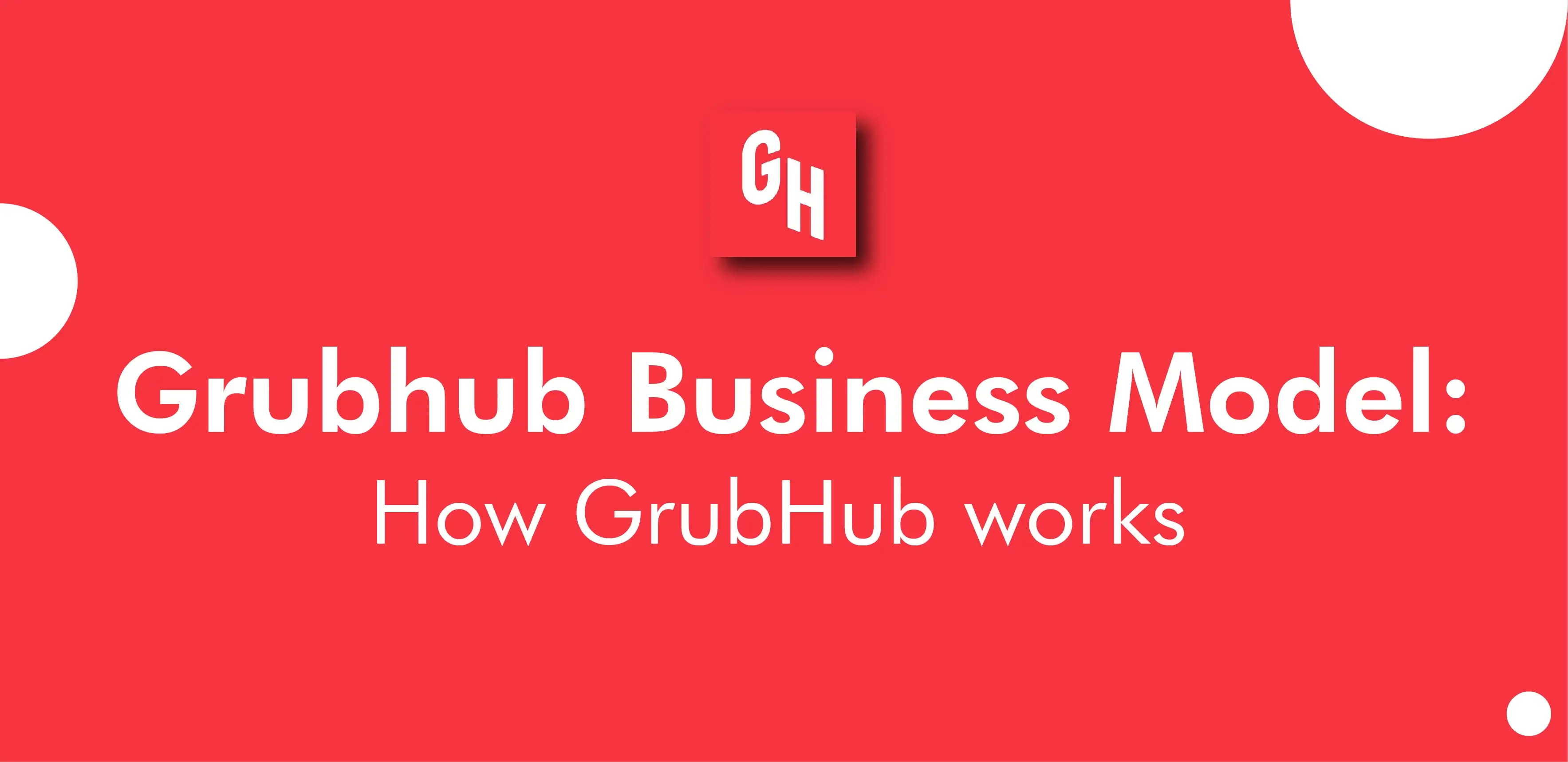 What is GrubHub?
Launched in 2004, GrubHub is an on-demand platform for food pick-up and delivery orders. The GrubHub business model has made it possible for people to place online food orders and get them delivered at their doorsteps.
In the year 2018, the company has recorded to connect with 95,000 restaurants across London and around 1,700 U.S. cities. Moreover, the company's business model consists of the portfolio of topmost brands such as Eat24, Seamless, MenuPages, LevelUp, and Tapingo. GrubHub business model has not only made the process of online food delivery easier but is also helping a plethora of restaurants to reach a larger audience.
In this post, we will discuss the salient features of GrubHub, the key partners, the value proposition provided by the company, GrubHub's business model, how GrubHub works, and much more! But before we move on to them, let's have a look at some of the facts about the company.
Facts & Timeline of GrubHub
Founders: Michael Evans & Matt Maloney.
Founded In: Year 2004
Headquarters: Chicago, IL
GrubHub IPO Date: 7 April, 2014.
Publicly Listed: At New York Stock Exchange (NYSE) as GRUB
Average Number Of Processed Orders Daily: 234,700
Locations: GrubHub is located in more than 900 areas across the USA.
Partnership: More than 35,000 restaurants are in partnership with GrubHub.
Owner & Manager Of 4 Different Brands Of The Same Industry: MenuPages, AllMenus, Seamless, and GrubHub.
GrubHub Successful Timeline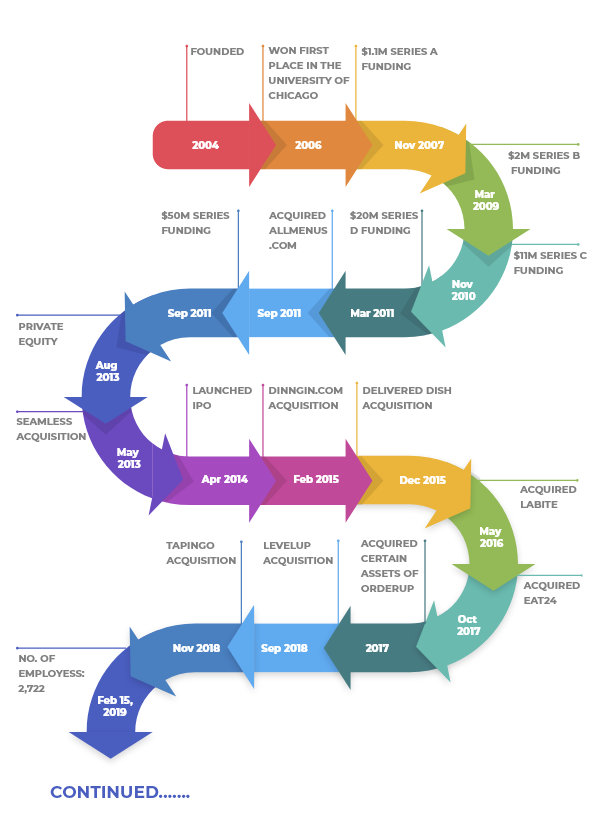 Salient Features of GrubHub
1. Selecting The Restaurant
GrubHub offers users an opportunity to choose from a wide range of restaurants listed on the platform. Various filter options and some deals and discounts are provided to the customers as per the relevancy and type of relationship of GrubHub with the restaurant.
2. Reviewing & Rating
GrubHub also allows the customers to leave reviews and rate as per their experiences regarding the recent orders. This helps other users to select the best restaurants.
3. Transparent Pricing Knowledge
It is very important to make customers understand the pricing of every restaurant because it helps in maintaining transparency. Therefore, GrubHub displays transparent pricing to its users before they place an order.
4. Restaurant's Location
Thanks to the integrated Google maps in GrubHub, customers can have a more precise detail of where exactly the restaurant is located and how one can reach there.
4. Estimated Delivery Time
Based on the calculations done by the software regarding the distance and traffic conditions, the GrubHub platform gives a more precise estimated delivery time to its customers.
5. Delivery Fee
Based on the distance between the pickup and drop-off point, the customers are charged with delivery fees. A limit is also set for the minimum orders on GrubHub.
Key Partners
As GrubHub is a two-sided platform, it has two key partners in its business model. They are:
1. Restaurants
Restaurants that are willing to gain a large customer base.
Restaurants or food joints that want more online branding.
Restaurants or food joints that do not have any delivery guy. GrubHub gives them a beautiful opportunity to fulfill their customers' orders at home.
Restaurants or food corners that wish to serve people residing nearby.
1. Diners/Customers
Diners or customers are the people who want food to be delivered at their doorsteps.
They could be the people who love to eat outside
People who do not want to waste time and money on going outside and buying food.
People who do not like to or who do not know how to cook.
Employees or corporate people who prefer to order food online during their lunchtime.
Value Propositions
If we talk about the best thing about GrubHub business model, it is its excellent value propositions for both the diners as well as the restaurants. Let's have a look at them one by one!
For Customers
24/7 customer service.
Customers can order food online to save time as well as money.
Customers are provided with the option to choose the restaurant from where they wish to order.
The tracking option allows the customers to track their food packages after placing an order.
For Restaurants:

GrubHub aids restaurants in extending their customer base.
The company provides restaurants a software for managing their deliveries efficiently and seamlessly.
The company has its delivery persons who are primarily responsible for executing the entire delivery process.

How GrubHub Works: The 3-Steps Business Model
Let's have a look at how GrubHub works with a cutting-edge 3-step business model!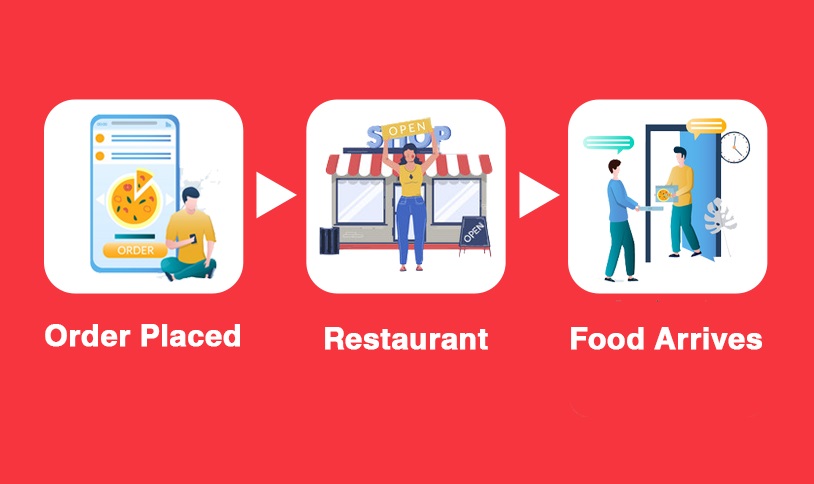 Step 2: Order Placement
Once the food item is selected, the user can order it online and pay for the same.
Step 2: Food Preparing & Packaging
Once GrubHub receives the order, it immediately forwards it to the respective restaurant. After receiving the order, the restaurant starts preparing the food and then finally packs it for delivery.
Step 3: Delivery
A delivery person of GrubHub is assigned the duty to pick up the customer's food from the restaurant and deliver it to the customer within time.
So, that's How GrubHub Works!
GrubHub Revenue Model: How GrubHub Generates Money?
If you wish to know how GrubHub generates its revenue, then you need to understand some of the aspects of its business model. Let's have a look at them!
Less Ownership Business Framework
GrubHub business model follows a simple yet effective approach to serving the customers. Without taking any kind of ownership of any restaurant, GrubHub just provides a golden platform for them to serve their hungry customers with ultra-ease. Having said that, GrubHub receives a certain percentage of the bill amount from the restaurant. This adds up to the revenue of the company.
Commission On Every Order
GrubHub gets a certain percentage of the fee generated by each order after the delivery. The commission percentage normally ranges from 5% to 15%, and it keeps on fluctuating as per the order. However, the standard commission for each order is 13.5%.
Acting As An Advertisement Platform
In addition to getting commission from every order, GrubHub also gets its revenue by channeling the restaurants or advertising them on its platform. This simply means that restaurants or food joints connected with GrubHub can market their presence to achieve a better customer base.

Why You Should Create An App Like GrubHub
You will give simple and flexible food delivery services that your customers will count on.
With the help of GrubHub Clone, you can easily avoid mistakes in addresses and orders.
You will be able to increase your online presence..
You will be able to save a lot of cash due to the competitive development cost of such applications.
You can easily expand your customer base.
You can easily earn customer's trust and loyalty.
Such a platform will help you to delight your customer with some deals, offers, or discounts.
Why Choose Appicial To Develop GrubHub Clone App?
There's no denying that on-demand grubhub colne apps are the future of app technology, and businesses need to embrace it soon.
If you need a professional application development company, we can help you out!!
Appicial Application is a leading on-demand GrubHub Clone App Development Company with an expert team of talented developers and creative designers to turn your concept into a worth using an app.
Team of experienced app developers
Continuous improvement
Exceptional customer service
Affordable price
Happiest customers
Our app developers have successfully made many apps and delivered more than expected. Contact us to get the best on-demand GrubHub clone app development that may significantly grow your business without breaking the bank.
Conclusion
So, that's it for the GrubHub business model and how does it work!
Undoubtedly, the food delivery business has tremendous opportunities for the future. Moreover, with the increasing digitalization, food delivery applications are becoming immensely popular among people.
If you are also looking to building such an application for your business, then feel free to contact us. We endeavor to provide top-notch on-demand food delivery app solutions, that too, without burning holes in your pocket.