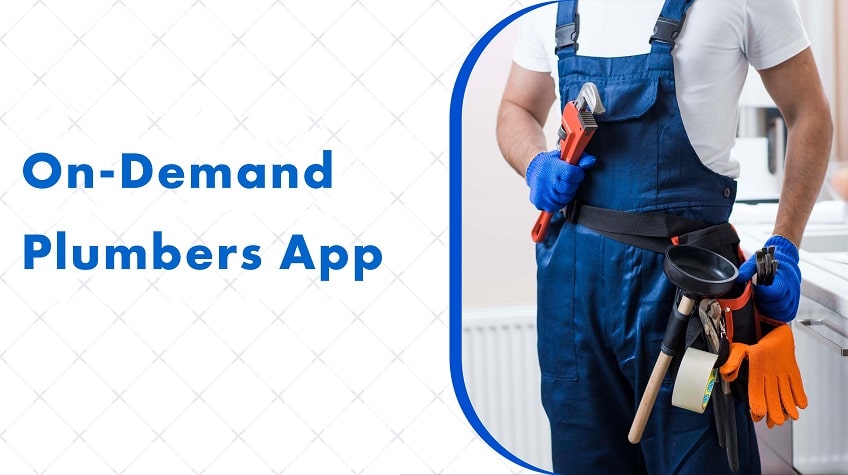 With the significant growth of on-demand marketplaces, more entrepreneurs are aggressively looking for a market to grow their business.
The on-demand apps, over the past few years, have gained a strong market foothold by offering a wide range of services, including grocery delivery, cab booking, food delivery, home cleaning services, and whatnot.
And plumber services are not an exception anymore!!
Yes, you heard it right!!
No matter what, the need for a good plumber is not going to end. Customers are bound to face problems related to drain chokes or loose screws in their homes.
So what as a plumbing business you can do is, develop an on-demand plumber app that can help grow your business.
But now the question arises.
Why Do You Need an On-Demand Plumber App?
One of the prime reasons to consider plumber app development for your business is the convenience that you'll provide to your customers.
It's a great idea to grow your business online and let your customers know about you. If you are looking for a steady flow of revenue for your business and expand your business with minimal to no hassle, nothing could beat a plumber app.
Choosing an on-demand plumber app can offer unlimited business opportunities as customers can contact you anytime. When your customers can rest assured that you'll always be there, the credibility of your business will increase exponentially. Make sure you offer the best of your services so your clients can get an amazing experience.
With a feature-rich, functional, and intuitive app, you can:
Record the number of customers who had made a booking.
Have consistent revenue that can easily meet your expected ROI by offering ample opportunities to meet the expectations of end-users.
Increases your brand visibility and reputation.
Key Features of On-Demand Plumber App
If you've already decided to opt for plumber app development, make sure your app should have the following features:
1. Location Based
Ensure that your plumber app should be based on specific demography, language, and currency.
2. Notifications
Notifications via Push, SMS, and email for alerts related to service confirmation, plumber location, in-app chat/call, and others.
3. 24*7 Feature
Ensure that your app should allow your user to avail plumbers round-the-clock and 365 days.
4. Rate & Review Feature
After plumbing service, customers can rate the professional and the overall experience and provide their feedback on the service provided if necessary.
5. In App/ Chat Feature
Users (customers and plumbers) communicate important information or get in touch via an in-app chat/call feature.
6. Multiple payment Options
Enables various payment options to choose from – credit card, debit card, cash, or mobile wallets.
What Makes Your Plumber App Stand Tall Above the Rest?
When it comes down to plumber app development, you need to adhere to tips that can make your plumber app a great one. Let's discuss them.
1. Don't Overload Your App with Features
Remember that your plumber app should focus on providing services within a stipulated time.
With time, you can start adding other features, too.
Let's take an example to understand.
Without any dedication, Uber wouldn't have grown as it's now. Once they have achieved the level of offering the right services at the right time, they are now emphasizing on other features like safety toolkit and fare splitting. This would help them stand tall above the rest.
Note: Start with a focus, execute it well, and then move ahead by focusing on extra features in the further stage of plumber app development.
2. Know Your Target Audience
Besides providing the services, your plumber app should know and understand your target audience. Ensure that the on-demand plumber app should be appealing to those who are looking for services like change in leaky valves, fitting tiles, chocking drainage pipes, bathroom installations, to name a few.
Though the services provided by you and your customers are pretty the same, when you say it via your plumber app, you're likely going to make an impact.
3. Your App should be Fast
Imagine.
A user downloads your app, install, and start using it. And just after a few seconds, they realize your app is taking much longer time than usual to open or navigation.
Would you think the respective going to use your app again?
Well, absolutely not!
And as a matter of fact, your app would not be recommended to other people looking for plumbing services.
Faster response time is incredibly important in plumber app development.
Ensure that your plumber app should be snappy and offers faster response time. This would help users to easily find what they want, get in and out of the app, and take required actions in a fraction of seconds.
Tip: The speed of your app can make or break your business. So when you're choosing the right on-demand plumber app development company, ask them to make it more responsive.
Why Appicial is an Ideal Solution for Your On-Demand Plumber App Development?
There's no denying the fact that on-demand apps are now the talk of the town and we know how important it is to be on the top.
Looking to grow your plumbing business but don't have time to invest in developing a plumber app? If so, don't worry, we'd love to do it for you.
Appicial applications is a leading web and mobile app development company that's known for designing and developing apps for different businesses related to plumbing, travel, food, cleaning, grocery, and whatnot. Our fervent crew of purpose-driven app developers harnesses the state-of-the-art technologies to ensure your plumber app is responsive, beautiful, and functional.
If you are planning to get your on demand plumbers app to be built by professionals, then look no further than us. Get in touch with any of our experts & get the best plumber app development services without breaking your bank.