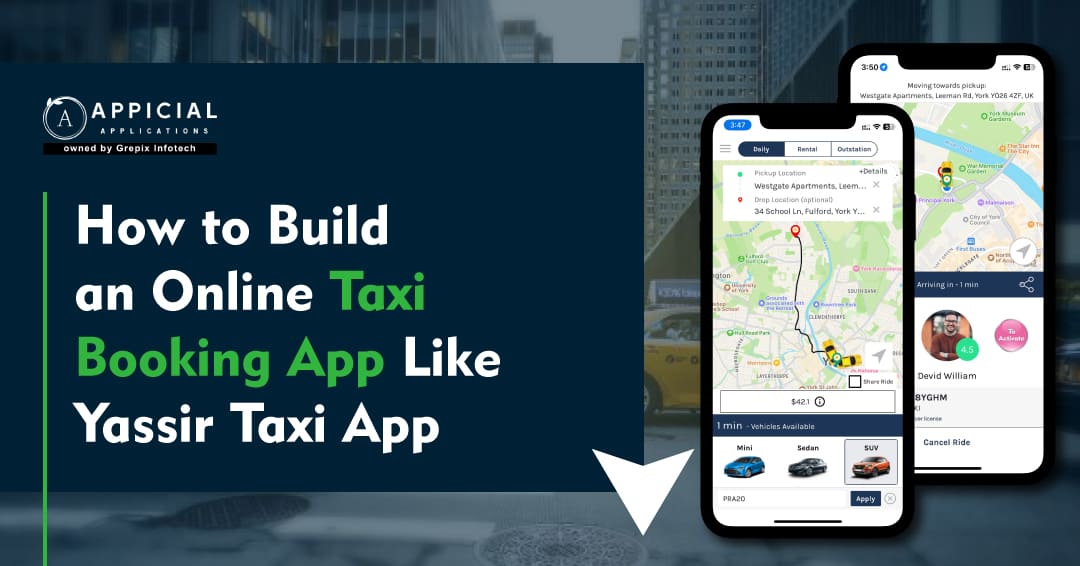 Ever dreamed of starting your own online taxi business? Well, now you can. Building a taxi booking app is easier than ever, and it's a great way to tap into the growing on-demand economy. In this article, we'll show you exactly how to build an app like Yassir from scratch.
What Is the Yassir Taxi App?
Yassir is the main mega app in the Maghreb region and is expected to transform how daily services are delivered. With support (about $200 million in capital) from VCs from Silicon Valley, Europe, and other parts of the world, we currently operate in 45 cities across Algeria, Morocco, and Tunisia, with recent expansions into France, Canada, and Sub-Saharan Africa. We provide on-demand services, including last-mile delivery and ride-hailing.
To become the most valuable company in North Africa and one of the highest-valued firms in the MENA region, Yassir raised a significant $150 million Series B round of funding in November 2022 from well-known international investors.
Yassir Business Model
Like other Super Apps around the world, Yassir provides a wide range of services, such as ridesharing, food and grocery delivery, and banking services that allow users to pay, save, and borrow money online.The primary items produced by Yassir are:
Yassir Go is a ride-hailing app similar to Uber and Careem.
Yassir Express is a food and shopping delivery service that strives to reach customers in under 30 minutes..
Yassir Market is a Tokopedia-like online marketplace that connects buyers and sellers.
Yassir Business provides commercial transportation services and tests fleet management products.
Growth Opportunities
Yassir has been able to build a network of 8 million subscribers in around five years and has become one of the most well-funded businesses in Africa and the MENA region. After its $30M Series B financing, the company quickly expanded geographically after focusing first on Algeria. Yassir revealed its plans to establish a technology base in Europe and expand into West African nations in March 2022. The corporation wants to attract the top people from across the world to this technology cluster (located in Germany) to get a competitive edge.
Key Features Of Yassir Ride-Hailing App
To build a successful ride-hailing app, you need to include some key features that customers expect.
1. Easy Registration And Booking
The sign-up process should be quick and simple. Once registered, booking a ride should only take a few taps. Offer options to schedule rides in advance or book immediately for a pickup.
2. GPS Integration
Integrate with GPS to pinpoint a rider's pickup location, estimate fares, and track the vehicle as it approaches for a smooth pickup experience. Riders will appreciate an estimated arrival time so they know when to head outside.
3. Payment Options
Offer multiple ways to pay including credit cards, debit cards, prepaid cards, cash, and mobile wallets. The payment process should be secure and seamless. Consider offering promo codes or membership plans for frequent riders.
4. Ratings And Reviews
An integral part of any ride-sharing app, ratings and reviews allow riders and drivers to provide feedback about their experience. Monitor reviews and take action if needed to resolve any issues. High ratings lead to more business for good drivers.
5. Safety Features
Include emergency alert features for riders and drivers. Allow either party to instantly contact emergency services if needed. Require vehicle information, license, and insurance details from drivers before allowing them to operate on your platform. Conduct background checks when possible.
Also Read: Uber Business Model | How Uber Makes Money
Choosing The Right Tech Stack For Your Taxi App
To build your taxi booking app, you'll need to decide on an effective tech stack. The tech stack refers to the collection of software and tools you'll use to develop and operate your app. Choosing the right tech stack is crucial to building an app that meets your needs and budget.
Mobile Platform
Do you want to build apps for Android, iOS, or both? Building for both platforms allows you to reach the largest number of potential customers. However, developing multiple platforms also costs more and requires specialized engineering skills. If budget is a concern, you may need to choose one platform to start. Android tends to be slightly more affordable to develop.
Backend Framework
The backend framework handles data storage, API creation, push notifications, and more. Popular options for taxi apps include Node.js and PHP. Node.js is a good, lightweight, and scalable option if you have a smaller budget.
Database
You'll need a database to store information like customer accounts, driver profiles, vehicle details, and ride histories. MySQL and PostgreSQL are popular open-source options. MongoDB is a good NoSQL choice if you need a highly scalable database.
Build A Driver Network
To build a successful driver network, you need an efficient onboarding process. Start by creating an online application where drivers can submit information like their name, contact details, vehicle details, license number, and availability.
Background Checks
Once you receive applications, conduct background and reference checks to verify the information and ensure you're recruiting safe, qualified drivers. Check their driving records and criminal histories. Contact former employers and character references. Only proceed with drivers who pass the screening.
Documentation
Require approved drivers to submit necessary documentation before they start accepting rides, like a valid driver's license, vehicle registration, and insurance. This protects both your company and passengers by confirming that drivers and vehicles meet all legal requirements to operate.
Following these steps to properly screen, train, and equip your drivers will help you build a network of qualified, competent professionals and an onboarding process that sets the right tone. The result will be a five-star taxi service that keeps riders and drivers happy.
Marketing Your New Online Taxi Business
Once you've built your online taxi booking app and have drivers signed up, it's time to start getting customers! An effective marketing strategy is key to gaining new users and growing your business.
Spread The Word
Tell family, friends, and local businesses about your new app. Offer promotional free or discounted rides so they can try it out. Their word-of-mouth marketing and reviews will help raise awareness. You should also build a website to provide details about your service and app download links.
Social Media Presence
Create business profiles on popular social networks like Facebook, Instagram, and Twitter. Post updates, photos, and engage with your followers. Run social media contests and giveaways to increase likes and shares. Pay for targeted social media ads to reach potential new customers.
SEO Optimization
Search engine optimization helps people find your business online. Choose keywords like "taxi booking app" and "ridesharing service" and add them to your website content, page titles, image names, and alt text. Build links from other sites back to your website. The higher you rank in search results, the more people will discover your app.
Paid Advertising
Once you start gaining traction, invest in online ads to accelerate growth. Google Ads and Facebook Ads are affordable ways to promote your app to local users. You can target ads by location, interests, and more. Consider radio, print, and outdoor advertising for extra visibility. Sponsor local events or sports teams to raise brand awareness in your community.
Customer Loyalty
Launch a loyalty or referral program to keep customers engaged. Offer ride credits, discounts, or other perks for frequent users and those who refer new members. Send regular email newsletters with company updates and exclusive deals. Personalized communication and rewards will turn new users into lifelong customers.
With the right marketing mix, you'll be well on your way to building a successful online taxi business in no time. Keep optimizing and adjusting your strategy based on what's working to ensure you achieve maximum growth.
Conclusion
So there you have it, the basic steps to building your own online taxi booking app. It may seem like a complex process, but by breaking it down into manageable chunks, you'll be well on your way to launching your taxi business in no time. Remember, start by mapping out how the app will work and the key features you want to include. Then find a reputable developer to help bring your vision to life. Don't forget to spread the word about your new app to attract drivers and riders. If you provide great customer service, competitive rates, and an easy-to-use app, you'll build a loyal customer base in no time. The taxi industry is ripe for innovation, so take advantage of the opportunity and get started building your app today! You've got this. Now go disrupt the taxi market!.