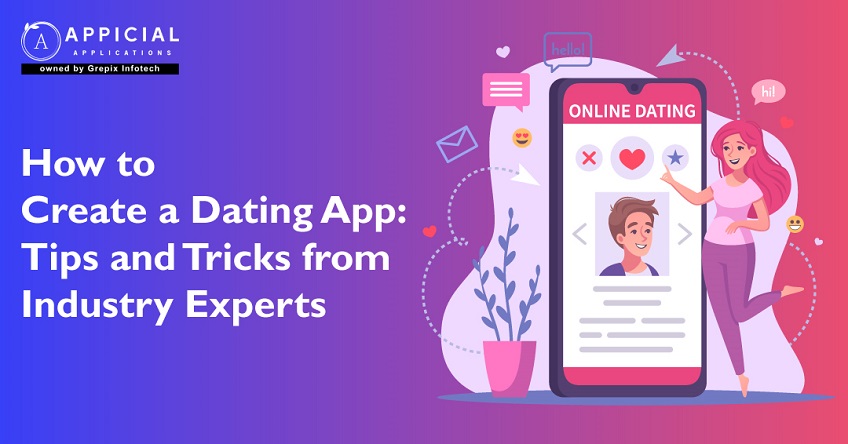 With the rise of online dating, creating a dating app can be a lucrative business opportunity. However, it's important to understand the market and competition before diving in. This guide will provide tips and advice on how to create a successful dating app, from developing a unique concept to marketing and monetizing your app. Humans naturally want to love and be loved. However, 75% of Americans claim that it is now harder to find a date than it was ten years ago.
The same source claims that nearly half of both men and women have trouble approaching individuals. It's understandable why dating apps became so popular so rapidly and why they're still spreading throughout the globe and altering how we develop our love relationships.
In light of this, it is a wonderful time to take advantage of the circumstances and develop a dating app that will benefit both businesses and users. So let's look at some things to think about before starting to design dating apps.
Motives For Creating A Dating App
There were simply mail-order bride services at first. In the 1990s, dating websites also debuted. Now that we spend so much time on our phones, dating apps are more popular than ever. They enable users to connect, communicate, and, if they both desire more interaction, go on a first date.
People can browse images, message each other, and make video chats using apps like Tinder, Bumble, or Plenty of Fish. Additionally, dating apps with gamification features make finding a partner enjoyable and stress-free. It contributes to the popularity of these apps.
But why exactly are consumers drawn to the online dating scene? Here is a list of advantages that attract users from around the world to install and use dating software. These are them:
A diverse user base
Less work is required to form connections
For those who are busy
Available always
No unwelcome contacts
A location-based search option
However, if you're unsure about creating a dating app and require additional justifications, let's look at the statistics. In the upcoming years, it is anticipated that the revenue of the worldwide dating app industry will increase steadily.
This industry is anticipated to grow to $5.71 billion in revenue by 2025 as more consumers from North America and Europe open accounts.
Hopefully, this has given you additional motivation to invest in creating a dating app solution. Now that we know what kinds of dating apps are available, we can go on to the next section.
Types Of Dating Apps
1. Geolocation
As the name implies, this type of matching connects people based on their geographic proximity to one another. For instance, Tinder lets you specify how close a potential match should be to you. Go global to see people from all around the world; another option is now available in the app.
2. Questionnaire-based
A matching algorithm that is based on questionnaires is part of the architecture of several dating applications. In other words, they initially ask customers to respond to a series of inquiries regarding their preferences and expectations. The program then links people with shared personal values and objectives based on their comments. eHarmony is a great example of this kind of dating service.
3. Traditional
In addition to a website platform that resembles an online directory of individuals is a conventional dating app. A good illustration of this type of site is OkCupid. Their application duplicates the website's key features and complements them.
4. Niche-based
With the help of these dating apps, potential partners are matched based on shared interests. There are many possibilities to pick from, and you can discover your niche, whether it be among pet owners, joggers, vegetarians, or even others who share the same dislikes. Check out Veggly if you're seeking an illustration.
Also Read: What Makes A Successful Ride-Sharing App?
Tips For Creating A Dating App
1. Conduct Market Research And Identify Your Target Audience
Before creating a dating app, it's important to conduct market research and identify your target audience. This will help you understand the needs and preferences of your potential users, as well as the competition in the market. You can use online surveys, focus groups, and social media analytics to gather information about your target audience. Once you have a clear understanding of your target audience, you can tailor your app's features and marketing strategy to meet their needs and stand out from the competition.
2. Choose The Right Features And Functionality
When creating a dating app, it's important to choose the right features and functionality that will appeal to your target audience. Some popular features include swiping, messaging, location-based matching, and video profiles. However, it's important to also consider unique features that will set your app apart from the competition. For example, Bumble allows women to make the first move, while Hinge focuses on creating meaningful connections through shared interests. By offering unique features and functionality, you can attract and retain users in the competitive dating app market.
3. Design A User-friendly Interface
A user-friendly interface is crucial for the success of any dating app. Your app should be easy to navigate and use, with clear and intuitive features. Consider the layout and design of your app, making sure it is visually appealing and consistent throughout. Use clear and concise language in your app's instructions and prompts, and make sure all buttons and features are easily accessible. Conduct user testing to ensure that your app is easy to use and understand for your target audience. A user-friendly interface will help attract and retain users, leading to the success of your dating app.
4. Implement Strong Security Measures
When it comes to dating apps, security is a top priority for users. Implementing strong security measures can help build trust with your users and protect their personal information. This includes using encryption to protect user data, implementing two-factor authentication for login, and regularly updating your app to address any security vulnerabilities. It's also important to have a clear and transparent privacy policy that outlines how user data is collected, stored, and used. By prioritizing security, you can help ensure the success and longevity of your dating app.
5. Launch And Promote Your App Effectively
Once your dating app is ready to launch, it's important to have a solid marketing strategy in place to promote it effectively. This can include social media advertising, influencer partnerships, and targeted email campaigns. It's also important to optimize your app store listing with relevant keywords and eye-catching visuals to attract potential users. Consider offering a free trial or promotional pricing to incentivize users to download and try your app. By investing in effective promotion, you can increase visibility and attract a larger user base for your dating app.
Key Features Of Your Dating App
Here, we highlight the most essential characteristics a dating app needs to have to remain competitive.
1. Register
It doesn't seem like a very smart idea to require users to complete a lengthy form to sign up. It's laborious and takes a long time. Instead, social login guarantees a quick and simple signup process that only requires a few clicks. Another easy option to sign in to your app, in addition to using your Facebook or Google accounts, is by using a verified phone number.
Additionally, provide new users with a quick yet efficient onboarding process before asking them to create a profile. Making important features available will make using your software for the first time transparent and simple. You'll be able to attract and keep users using it.
2. User Profile
An extensive user profile is more than simply a bio summary pulled from an active social media account. A user must provide more information about their dating tastes, hobbies, lifestyle, and values for the matching process to be precise, easy, and rapid. As a result, give users the option to add this information when creating a user profile. Furthermore, it's difficult to think of online dating without profile images. An essential feature of a dating app is the capability for users to select photos from Instagram or upload photos from their devices.
3. Geopositioning
Numerous dating apps employ geolocation as their primary method of displaying and matching users. Naturally, if someone is close to us, we are more likely to choose them and meet them. Give your potential users the ability to choose the city, area, or radius within which they want to locate a match.
4. Matching Method
No match means no date. Users can only choose to talk and determine whether they want to communicate offline after matching. Dating applications can utilize a wide range of matching algorithms. It is a crucial differentiator for your app, so it needs to be carefully developed and integrated into the architecture of the app.
5. Algorithms in Mathematics
The methods for finding matches often depend on the kind of app you decide to build. For instance, mathematical algorithms link individuals based on shared values, interests, and preferences.
a) Matching Based on Behavio
A different choice is behavior-based matching. In this situation, big data and artificial intelligence (AI) technologies assist in identifying and analyzing patterns in user behavior and activity outside of the app, such as on social networks and music applications.
b) Place-Based Regulations
Location-based criteria are frequently used in dating applications to match users. Since most individuals look for matches nearby, it's usual practice to mix this algorithm with the others.
c) Tap-tap
In digital dating, one of the most common ways to express your interest in someone or show indifference is by swiping. This gamification feature is implemented in many dating apps and enhances the user experience and engagement. Users swipe to the right or left by whether they like or dislike a potential match's profile.
6. In-App Messaging
An essential component of a dating app is this. After all, how else can people who have been matched communicate to get to know one another better?
In-app chat enables users to send text messages or stickers and share videos and other content they like. With more options to diversify conversations, your mobile app will have more opportunities to keep users engaged and help them express their intentions.
7. Voice And Video Calling
It's natural to feel nervous or uncomfortable before going on a date. It's even more intense when you've never met a person in real life. Yet, voice and video calling features can help eliminate this awkwardness and prepare users for what to expect.
On top of that, if people live in different countries, they can leverage this option to know each other better and get close to real-life experiences.
8. Push Notifications
Push notifications should be used if you want to increase user retention and engagement on your dating app. It's a great way to notify users when they have a match or new messages. After all, you can just remind them to check the app or stay up-to-date with the latest news.
9. Settings
This feature allows users to change various settings and adjust their personal preferences. Generally, the options include upgrading subscription plans, controlling data usage, and managing notifications and payments. Also, there should be a possibility to alter discovery settings related to age, gender, distance, etc.
10. Admin Panel
As the name suggests, an admin panel is a hub to administer your application. So it's impossible to skip this feature because it allows you to control what's going on with and within your app — from user analytics and payments to technical issues and content management.
11. Data Security
It would be reckless to leave out security. Users should feel safe sharing their data and be sure the app is well protected against malicious attacks. Double-check that your mobile solution complies with all security standards and protocols, especially if it has in-app purchases and processes financial data.
Conclusion
More and more people are turning to digital dating on their mobile devices as they look for love using the most recent technologies. Despite the fierce competition in the dating app business, there are still many options to take advantages.
The world of mobile dating apps has completely changed how we look for love by erasing age, distance, and time restrictions. The potential for finding love has never been more thrilling because of developments in technology like artificial intelligence and machine learning, as well as the emergence of specialized dating applications.
In this blog, we've highlighted the most recent dating app development and trends while exploring the creative and unique mobile dating app development industry. A dating app can assist people in the digital era in finding love and lasting connections by putting an emphasis on the user experience and adopting the proper strategy. Mobile dating offers countless opportunities for establishing and fostering connections in the contemporary world, whether you're a single person looking for love or a developer thinking about developing a dating app.