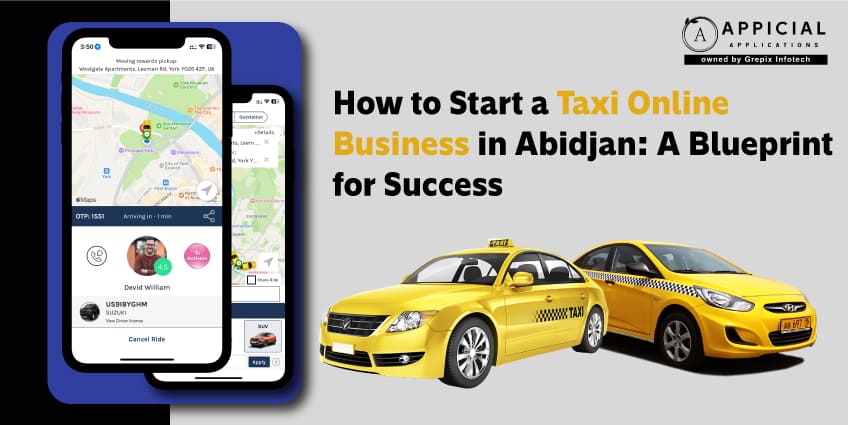 So you want to start a taxi business in Abidjan, do you? Well, you've come to the right place. In this article, we'll give you a step-by-step blueprint for how to launch your own taxi app service in the bustling capital of Ivory Coast. Forget waving down cabs or dealing with grumpy taxi drivers - your customers will be able to request rides right from their smartphones. Building a taxi app is easier than ever these days. With some seed funding, the right technology partners, and a whole lot of hustle, you'll be well on your way to disrupting Abidjan's outdated taxi industry. Picture this - opening up your app to find the nearest driver just a tap away, watching your fleet of branded taxis navigate the city, and money from each fare deposited directly into your account. Sounds pretty good, doesn't it?
Follow our guide and soon you'll have happy customers, a growing team of drivers, and a taxi business poised to scale across the country. The opportunities in Africa's ride-sharing market are huge. Why not take the wheel, put the pedal to the metal, and build the taxi service Abidjan deserves? The road ahead may not always be smooth, but the rewards for your ambition and vision will make the journey worthwhile.
The Growing Demand for Taxi Apps in Abidjan
The demand for taxi apps is growing rapidly in Abidjan. With increasing smartphone penetration, fast-paced urbanization, and a booming economy, Abidjanais are embracing the convenience of e-hailing. According to recent surveys, over 60% of Abidjanais have used taxi apps, and over 80% would if the fares were more affordable. The numbers show immense potential for taxi startups.
To tap into this demand, focus on competitive pricing, top-notch service, and robust marketing. Price your fares 10-15% lower than traditional taxis to gain customers. Invest in driver training to ensure safe, courteous service. Run promotions on social media and radio to raise brand awareness.
You'll also need a user-friendly app for customers to hail, track and pay for rides. Build an app that lets riders enter their pickup and drop-off points, estimated fare, driver and vehicle details. Include options to rate drivers and provide feedback. Integrate a digital wallet so riders can pay in-app.
Recruiting good drivers is key. Offer attractive commissions, incentives and training. Market your service to existing taxi drivers and new recruits. Require vehicle inspections and background checks to ensure quality and safety.
With the right approach, an affordable service, solid marketing and a feature-rich app, a taxi startup can gain significant market share in Abidjan. The demand is there, so get started and stake your claim in this booming industry! Success will come to those who can provide fast, safe and affordable rides to Abidjanais with the click of a button.
Also Read: Uber Business Model | How Uber Makes Money
Key Features You Need in Your Taxi App
To give your uber clone taxi app development a competitive edge, you'll want to include some key features.
1. Real-time driver tracking
Your customers will appreciate knowing exactly where their driver is and how long until pickup. Provide a map that shows the driver's current location and estimated time of arrival.
2. Fare Estimates
Give riders an upfront price for their trip before booking. An estimated fare calculator can provide the total cost based on distance, traffic, and any applicable surge pricing. This transparency will put customers at ease and reduce disputes over fares.
3. Multiple Payment Options
Offer popular, convenient payment methods like credit/debit cards, PayPal, Apple Pay, or Google Pay in addition to cash. The more options, the better.
4. Rating and review system
A rating system lets riders provide feedback on their experience. It also helps drivers improve their service. Reviews build trust in your brand by highlighting your best drivers.
5. 24/7 Support
Have a dedicated support team available around the clock to handle questions, issues or emergencies. Fast, responsive support is essential, especially for a service that operates day and night.
6. Surge pricing notifications
Notify riders when surge pricing is in effect due to high demand. Give them the current fare multiplier and the option to wait for normal rates to return or book now. Transparency around price changes will minimize frustration.With the right combination of features like real-time ETAs, fare estimates, payment options, a rating system, 24/7 support and surge pricing notifications, your taxi app can provide an experience that keeps customers coming back for more rides. Success is just around the corner!
Choosing the Right Taxi App Development Company
Choosing the right taxi app development company is crucial to building a successful taxi business in Abidjan. Look for a company with experience launching taxi apps in West Africa, preferably Côte d'Ivoire. They should understand the local taxi market, regulations, and customer needs. Some things to consider:
Relevant experience
Seek out companies that have developed ridesharing or taxi apps before. They should have case studies and a proven track record of successful app launches. If they've worked with taxi companies in Abidjan or elsewhere in West Africa, that's even better. They'll be familiar with things like popular pickup/drop-off points, pricing models that work, and marketing strategies tailored to the region.
Local knowledge and connections
Working with a locally-based company has advantages. They understand cultural nuances, speak French and local languages, and have connections that could help you navigate regulations or find investors and partners. However, some reputable companies based elsewhere also have strong local teams and expertise in Francophone West Africa. Don't rule them out.
Competitive pricing
Building a taxi app is an investment. Compare quotes from different companies to find one that fits your budget. Look for transparent pricing with no hidden fees. Some charge hourly rates for development, while others provide a fixed total cost based on the specific features and complexity of your app.
Post-launch Support
The company you choose should provide support after launching your taxi app. They should offer technical support to fix any bugs, update the app as needed, provide marketing assistance, and help you scale your business over time. Discuss their post-launch support services and any costs involved before signing a contract. Following these tips will help you find an experienced, reputable company to build your taxi app. With the right development partner, you'll be well on your way to launching a successful taxi business in Abidjan.
Also Read: What Makes A Successful Ride-Sharing App?
Legal Considerations for Starting an Online Taxi Business in Abidjan
Starting any business comes with legal responsibilities, and a taxi service is no exception. To operate legally in Abidjan, there are a few key steps you'll need to take.
1. Business Registration
First, you'll need to formally register your business. In Abidjan, you can register as a sole proprietorship, partnership or corporation. For a taxi service, a partnership or corporation is often a good choice. You'll need to obtain the proper business licenses and permits required to operate a taxi service in your city.
2. Driver Requirements
Make sure any drivers meet all legal requirements to operate a taxi in Abidjan. This typically includes a valid driver's license, commercial driver's license or permit, vehicle insurance, and a taxi driver certification or permit. You'll want to verify driver records to ensure a safe service.
3. Vehicle Requirements
All vehicles used in your taxi service must meet certain standards to legally operate. This includes proper registration, licensing, insurance, safety inspections and commercial decals or markings to identify the vehicles as part of your taxi fleet. The specific vehicle requirements can vary in different cities, so check with your local regulations.
4. Insurance Needs
You'll need multiple types of insurance coverage for a taxi business. Commercial auto insurance will cover your fleet of vehicles. General liability insurance protects your business. You may also want business interruption insurance and worker's compensation insurance for your drivers.
5. Pricing Regulations
Most cities regulate how much taxi companies can charge passengers. Make sure you are aware of the rates set by the regulatory body in your city to avoid penalties. You must clearly display pricing information in each taxi so customers know the rates before rides. Following all legal steps carefully will help you build a reputable taxi service that serves customers well while avoiding issues with regulators or law enforcement. Do your research, set high standards and put safety, professionalism and customer service first. Success will surely follow!
6. Marketing Your New Online Taxi Business for Success
Now that you have your online taxi business up and running in Abidjan, it's time to start spreading the word and attracting new customers. Marketing your new company will be key to gaining the exposure and trust of locals looking for taxi services.
7. Build your online presence
Start by creating social media profiles for your business on platforms like Facebook, Instagram and Twitter. Share photos of your vehicles, drivers and highlight your services. Engage with followers by posting updates, responding to comments and questions. You should also build a professional website to help establish your brand. Include details about your company, services offered and contact information.
8. Offer promotions and discounts
Run special limited-time promotions and discounts to attract new riders, especially when you first launch. For example, you might offer 20% off a customer's first ride or a free ride for referring a friend. Discounts and deals are a great way to raise awareness for your business and gain new loyal customers.
9.Advertise on local radio and in newspapers
Don't underestimate the power of traditional advertising. Place ads for your taxi service on popular local radio stations, newspapers, and billboards around Abidjan. Radio, in particular, reaches a huge audience and is an affordable method for small businesses. Newspaper classifieds and flyers are also useful for targeting different areas of the city.
10. Build relationships and get feedback
Make an effort to connect with your customers and get their feedback on ways you can improve. Hand out comment cards in your taxis or email riders following their trip to ask about their experience using your service. Pay close attention to reviews and ratings on your social media profiles and address any concerns or issues promptly and professionally. Building strong relationships with your customers will lead to word-of-mouth marketing and repeat business.
With the right marketing strategy focused on an online presence, promotions, traditional advertising and customer relationships, you'll gain exposure, build trust in your brand and attract new riders to your online taxi service in Abidjan. Stay consistent and committed to offering great customer experiences and your business will thrive.
Conclusion
So there you have it, a roadmap to launch your own online taxi business in Abidjan. It won't be easy, but with hard work and perseverance you can build a successful company. Start by developing a solid business plan, secure funding, build a user-friendly app, recruit quality drivers, and provide excellent customer service. Market your new company through social media and word of mouth. If you are looking for a mobile app development company to help you launch a successful taxi app, Appicial Applications is a great option to consider.
Offer promotions and deals to attract new customers. Listen to feedback and make improvements. If you follow these steps, stay passionate, and never give up in the face of challenges or setbacks, you'll be well on your way to establishing a thriving taxi business in Abidjan. The opportunities are out there now go get started and make it happen! You've got this.