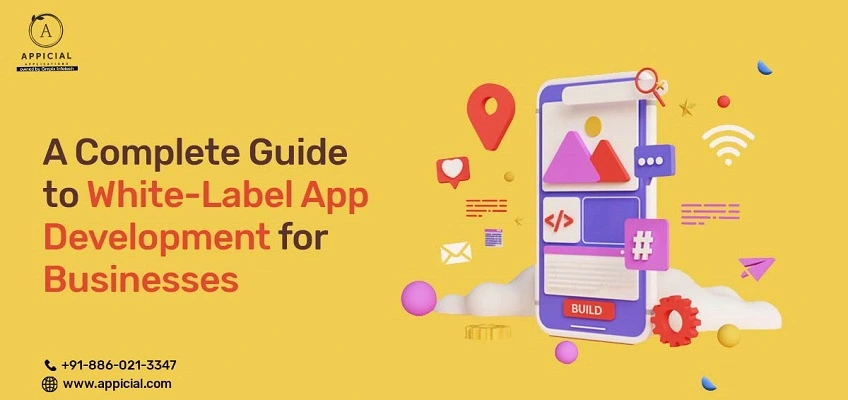 The popularity of mobile apps is developing quickly, and the industry is expanding quickly. Mobile apps have become some of the most widely used software thanks to the high-speed internet in our smartphones. Mobile apps are, therefore, in high demand.
Did you realize that applications now account for 90% of all smartphone usage? Consequently, a mobile app is the greatest choice for businesses looking to engage with their customers.
In actuality, 42% of small businesses currently have a mobile app. In addition, 30% more small business owners anticipate creating an app in the future.
White Label apps and mobile apps reselling are two ideas that have emerged due to this enormous popularity. What white-label applications are and how much they cost to produce will be discussed in this article.
What is a White Label App?
An app development company creates a white-label app, which is rebranded and sold to other companies. For instance, a firm can request company A to create an app for them, but in reality, company B created the software, which was then rebranded and sold as one created by company A.
An application renamed and sold to numerous resellers can also be referred to as a white-label application. Reselling a mobile app is referred to as mobile app reselling. So let's examine it more closely.
What is Mobile App Reselling?
The practice of purchasing a white-label app solution from an app development business and then reselling it to a client that wants an app is known as mobile app reselling.
You can avoid creating a mobile app by becoming a reseller. You only need to purchase the mobile app solution from a development firm, after which you can resell it to your client while making a reasonable profit.
How to Resell White Label Mobile Apps?
Every month, more than 100,000 new Android apps and more than 30,000 new iOS apps are released in the Google Play Store and the Apple App Store, respectively.
Given the above data, it is safe to state that the mobile app sector is experiencing a boom that many people are leveraging. In addition, the potential of mobile apps has inspired many firms to build their mobile applications.
Why White-label Apps are so Interesting?
White-label apps are pre-assembled, plug-and-play app packages. As a result, they are easily deployable on app marketplaces and accessible to the general audience. In addition, these pre-made bundles can be readily resold to customers and monetized to boost the worth of your marketing company.
You can meet the expanding need of small, medium-sized, and large enterprises searching for a more affordable option than having an app designed from the ground up with white-label apps. Whitelabel apps are cost-effective but provide various other benefits like customization, monetization, and ease of upkeep. For further information, see White-label Business Opportunity Ideas for Entrepreneurs.
You can resell a mobile app in two ways. Let's have a look at them.
1. By Incorporating App Development Service in Your Website Or Portfolio
Only a solution to the business's problem, aid in streamlining the workflow, and increase user happiness or engagement make an app useful.
As a result, creating an app and then selling it is impossible because each app is unique to the business that wants to utilize it. You must inform your clients that you offer an app development service as your initial action.
As soon as the client comes to you with an app development project, get in touch with the app development business and have the app created depending on the client's requirements.
By acting merely as a middleman, the app development company will handle most of the development work, allowing you to earn good returns by performing the bare minimum.
2. Sign up for White label App Reseller Program/Platforms
Register as a reseller with various White-label App Reseller Programs and Platforms to find new clients and sell mobile apps.
These sites can assist you in locating new clients that require the development of an app for their company. Registering on the platform can approach these clients and present them with your best product at competitive prices.
You can use these programs and platforms to generate a lot of visitors for app development. As a result, you can request that the app development business create the app following what the users want and need. As a result, you might gain from acquiring several new clients for app development.
White Label App Development Process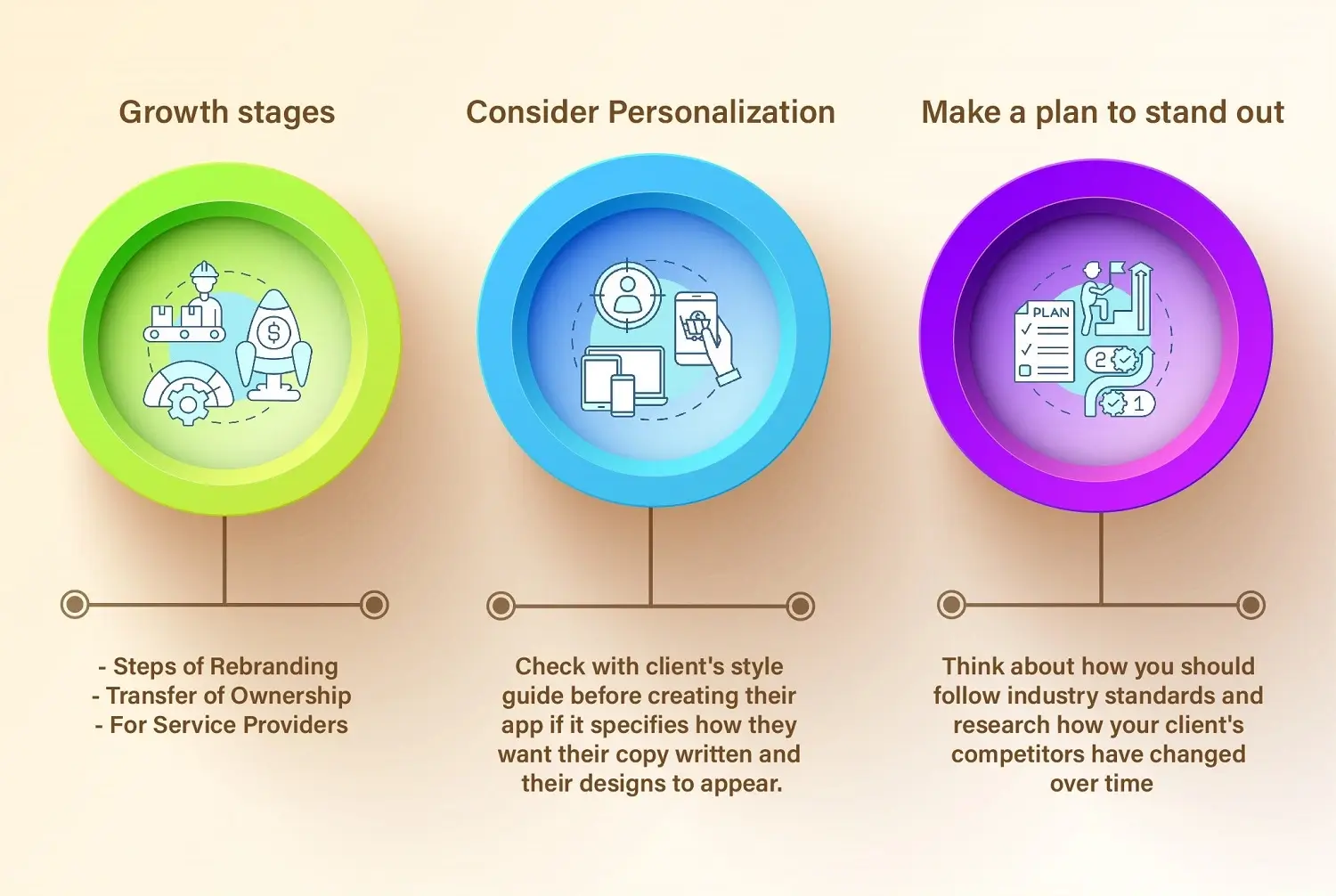 Developing a mobile white label taxi app involves three steps:
1. Growth stages
A service provider commonly referred to as a white-label production company develops a fully working app with a particular objective and target market in mind.
a) A rebranding step
An app that has been altered and updated with a new brand and tagline might be used as a reseller's product.
b) Transfer of ownership
The client, a reseller—a company that either ordered a solution or bought an already-made app—gains possession of the app. White-label applications are advantageous to business owners and resellers alike.
c) White label application development for service providers
White label applications could potentially provide development teams with some important advantages like:
d) Obtain a fresh source of recurrent income
Access to reselling opportunities without restrictions;
Use the feature as a service model to give rudimentary functionality, resell, and create other features for a cost.
2. Consider Personalization
Without a doubt, your client will want to customize the app. Therefore, you must make sure that the white-label app you create for them adheres to their brand guidelines. Therefore, you cannot approach each app in the same manner.
Depending on the audience and preferences of your client, you'll need to make smart alterations. Check your client's style guide before creating their app if it specifies how they want their copy written and their designs to appear.
The app complements its other marketing materials, helping them establish a stronger identity and a more noticeable online presence.
3. Make a plan to stand out
When considering white-label taxi app development for a client, consider how other applications for companies in their industry have been produced. Think about how you should follow industry standards and research how your client's competitors have changed over time.
Instead of copying your rivals, make your customer stand out by providing something unique and worthwhile. If your client's website is already responsive and mobile-optimized, you do not need to recreate it in app form.
The next step is to determine whether there are any unmet consumer needs.
Also Read: Main Reasons Why Your Company Should Become A White Label Mobile App Reseller?
Things You Must Do Before Making White-Label App For Client
1. Design and user experiences
The most crucial elements in the development of an app are design and user experiences. You must pay attention to the app's design if you want it to have greater functioning.
You will find all essential and modern features and cutting-edge functionality with the white-label app development services. But, after that, you must adhere to the predefined design that white-label mobile app development services give.
You can hire a group of white-label developers to provide the service, and they can build a mobile application to meet your marketing requirements. Using app development services can help you save even more money.
2. Identify the features you want for your app
Putting your ideas into practice is the next step toward a successful sale. You won't succeed in this field if you're not a seasoned IT professional.
You receive a set structure in the white-label app. Although you did not create the app with your company model, you can easily request content and arrange everything in a predetermined order.
The advantages of custom apps include more flexibility. In addition, the general app structures and features are adaptable. Therefore, if your program has characteristics that will enhance its value, it will benefit you and greatly aid you.
You'll require a trusted partner that can respond to your inquiries and assist you in carrying out your ideas. Three alternatives exist:
i. Create the design
You'll need to rent an office, identify, and hire IT engineers before you can begin working on your project. Although it sounds great, putting it into practice can be a complete disaster. Specific company requirements, the time required for CV research, and the costs associated with onboarding processes can result in a large financial outlay.
ii. Engineers with their own businesses
Many highly skilled and trained people are willing to work for you on platforms like Upwork. However, this decision has a unique set of disadvantages. Due to remote work, various time zones, cultural differences, work attitudes, and other issues, hiring freelancers may be a waste of time.
iii. Services that are contracted out
The current market, fortunately, provides another choice. However, remember that you'll need to assemble a large team of professionals, including a designer, front-end, back-end, and QA engineers.
And as experience has demonstrated, it is nearly impossible to assemble a team of heroes on a freelancing network, let alone manage them well.
3. Barriers to sales
By acquiring a white-label taxi app, customers risk losing their credibility. By putting their name on the products, you and your team have created, they seize control of them. However, they cannot guarantee the app's correctness because they were not involved in the manufacturing process.
Furthermore, the sales procedure would be challenging because of the intense market rivalry. This work may not be straightforward in the early phases of the white label app lifetime, but it is crucial. Find and hire a sales professional, preferably one with experience in the white goods sector.
4. Possibility of customization
Your customers want their logos to display on your iOS and Android white label apps. Unfortunately, this is how white label creation works: you produce software that blatantly emphasizes the value of other companies.
The design of your app should be straightforward, clear, and simple to modify. Put an end to using amazing visual effects because your client's vision can differ from yours, and you don't want to redesign anything.
5. Learn about the web presence of the clients
Look into the companies who might be interested in buying your white-label app and your target market. You can choose anything that might be helpful in this circumstance, from company websites to Facebook pages.
Consider the branding of your target organization—the specifics of your tweets and your general interactions with your audience. Then, you can use these observations to determine the designs and functionalities to include to meet their needs.
6. Cost of development
With few modifications, it is created and sold to more than startups. As a result, it is less expensive than the alternative. To save money, if you are someone who considers the cost of development, you should only choose white-label mobile app development services.
7. Maintenance
Before you obtain the white label app has undergone extensive testing and analysis before you obtain it. As a result, it has lessened the bug's problems as well as others. Furthermore, it guarantees that no one will hack into or infect the white-label solution. Therefore, based on maintenance, it is comfortable to use.
Maintenance is the major component of any app development. You don't stress over the possibility of bugs and defects. Instead, the developer retests the program thoroughly if you add new features. The white label app is best maintained in that manner.
Getting a White label taxi app tailored to your company's requirements can be finished in a few days. In comparison, the first stages of developing a custom mobile app can take several months.