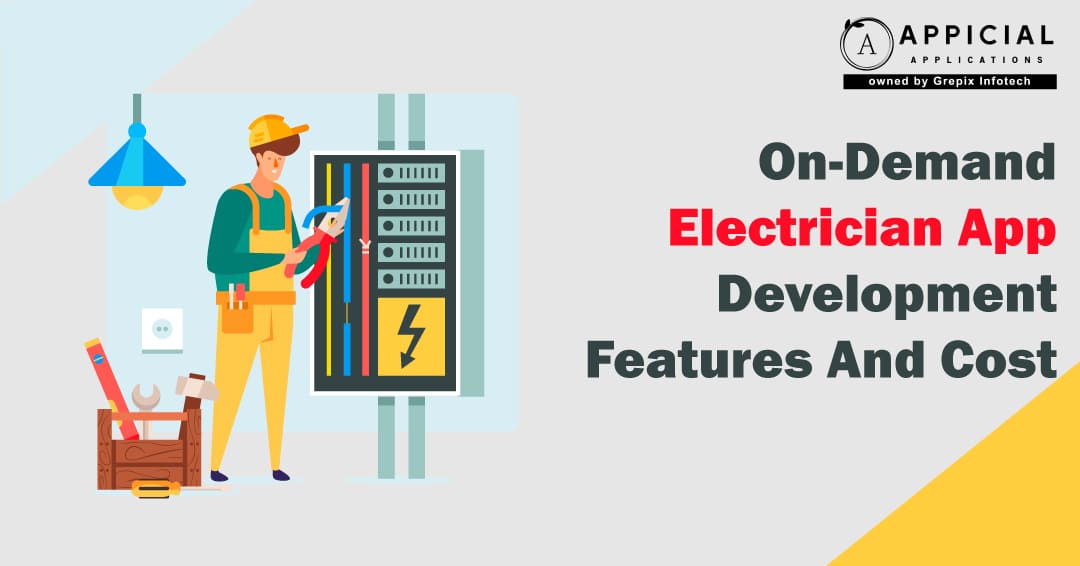 Are you also sick and tired of doing the daily tasks associated with fixing appliances? If so, congratulations! You've finally found the right post, as we'll be discussing on-demand electrician mobile apps that will help you find the right electrician and provide the services you need. These mobile applications free the user from having to find an electrician to fix their geysers, air conditioners, washing machines, irons, heaters, and an endless list of other appliances. You can locate electricians with just a few clicks with the aid of on-demand electrician mobile apps, right?
It had just copied the conventional methods of locating reputable electricians, such as asking neighbors or looking in classified ads or references. So, get a basic understanding of the technologies, qualities, and financial constraints relevant to on-demand electrician mobile apps here.
Features of Your On-Demand Electrician App
Our experts cover every aspect of the on-demand electrician app when discussing its features. We make an effort to include all the features you might need. Please let us know if you discover anything that we may have overlooked.
Customer App
Login: The primary area of the app where users first arrive. They can log in using their social network or email login information.
Choose an electrician: Users can choose the type of repairs they need and the desired electrician.
Request a service: After completing the form, users can choose specific services and enter their desired time, date, and location.
Make payments: After completing the process, users can proceed with making a payment to hire an electrician.
Check offers availability: Users can check the availability of the offers by visiting this page. They can view the promotions running on various services and take advantage of them as needed.
View request history: View the order history to book the desired electrician with just one tap. Users can view the order history.
Booking cancellation: Users may cancel reservations if an electrician is not available or if there are any last-minute emergencies.
Provide feedback: Users have the option to rate and comment on the services that an electrician has rendered.
Partner App
Register: It is comparable to the user panel. The credentials for the electricians' social media or email accounts can be used to log in.
Accept/reject appointment: The electricians have the discretion to accept or reject a user request based on the volume of requests aligned and the user location requirements.
View and manage profile: The electricians can edit their profile under this section and can add relevant years of experience and specialization.
Manage availability in a calendar: The electricians can also control their availability. If they are preoccupied with a task, they can set the status to busy, and they can change it back to free once the task is finished. To make it easier for users to book the services, they can schedule the busy days and hours in the calendar.
Receive payment: The electricians have the option of accepting payments through integrated payment methods like Credit/Debit Cards, PayPal, etc., or by choosing COD as well.
Customer reviews: In this section, electricians can read testimonials from past clients and see their ratings.
Admin Panel
Dashboard: The admin controls the total number of active users, total requests, and the number of confirmed and pending bookings.
Users and electrician management: The admin oversees and verifies all users and electricians who are connected to the On-demand electrician app.
Manage ratings and reviews: In this section, the administrator manages all ratings and reviews submitted by users. This makes it simple for the administrator to identify qualified electricians and gives him the freedom to take the necessary actions to improve the app.
Service management: The administrator is in charge of all services relating to the maintenance and repair of electrical devices. Additionally, the admin registers and manages all the products for which your On-Demand Electrician app offers solutions.
Payment management: The administrator retains full authority to examine every user transaction. The admin is in charge of managing all in-app purchases and subscription package revenue.
Reward management: The administrator is in charge of overseeing all customer rewards, offers, coupons, and loyalty programs.
Reports: The administrator is in charge of all reports about incoming orders, payments made, the most popular and used offers, and the busiest times of day when the most requests were made.
App monetization and marketing: The admin is in charge of all the promotional materials, such as campaigns, email banners, and templates.
Few more features
The auto estimate arrival time: The auto estimate arrival time feature enables users to predict the arrival time of the electricians based on their current location. They can track the electricians' locations and determine how long it will take them to get there.
Multi-location access: With this function, the user can see the electricians in various towns and cities. By doing this, they can identify the best electricians in their area and hire them as needed.
In-app messaging: Users and electricians can communicate via SMS, emails, and other means. They can communicate with the electricians and go over the schedule, venue, and various other amenities.
GPS: The electricians can follow the route taken to get to the user's location with the aid of GPS. Additionally, it enables the admin and users to view the electricians' current locations and request optimized routes to reduce arrival times.
Notifications: Users receive all messages relating to order and payment confirmation, new offers, and discounts. Additionally, it keeps users engaged with the app by displaying the electricians' arrival time and other crucial information.
Cloud installation: The On-demand electrician app is run in the cloud. The cloud servers hold all of the data about new orders, payments, communications, users, and electricians. This makes the app run more quickly and securely.
Customer loyalty program: A customer loyalty program is a great way to draw users and give them a reason to return to your app. The users do receive rewards and discounts after a successful referral or if they frequently use your app's services.
Set favorite location: Users can choose their home or office address as their favorite location. With just one tap, users can book the electricians, making it simple for them to request a service.
Payment: To enable users to make payments securely and dependably, several payment models, including credit/debit cards, payment gateways, net banking, etc., are integrated into the app.
Turnkey solutions: Complete solutions Your on-demand electrician app can serve as an aggregator and enable connections between various electricians and businesses. As a result, you can turn your idea for an app into a lucrative business model.
Integrated analytics: Analytics that are combined: The admin can view all the data in the form of pie charts and reports regarding the incoming orders, payments made, offers most frequently used, user acquisition, and retention rate.
Also Read: 10+ SaaS Ideas for Your Next Billion-Dollar Startup From 2022 to 2030
Other Technologies
The electrician app development team associated with us uses technology that is engaging and highly rewarding. If you want anything specific the changes can easily be done.
Bandwidth, Twilio For Push Notifications
Nexmo For SMS, Voice, and Phone Verification
Braintree & PayPal For accepting payments
GWT For Powerful Programming
Mandrill For everything related to emails
Database MongoDB,
Cloud Environment AWS
On-Demand Electrician App Development Process
Once all the attributes and features have been finalized, you can initiate the development of an On-demand electrician mobile app. Since we are here talking about development, hence it is very imperative to select the right development model to be seated with the best and most excelled mobile app.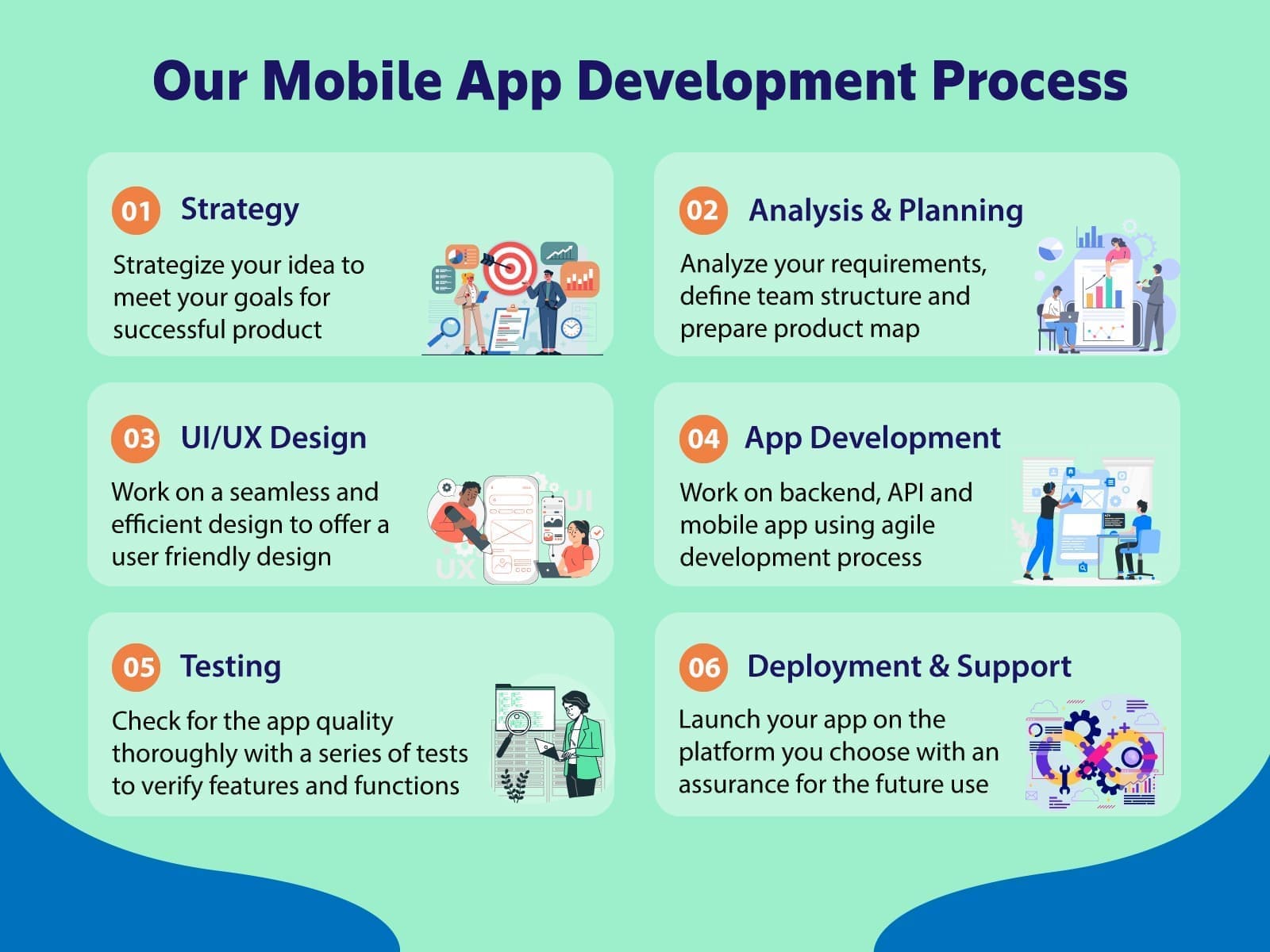 Analysis: The development of apps begins with this step. In this step, all the features and requirements are completed and documented.
Development: This stage sees the app being modeled and framed by your app idea and business model, from platform selection to feature integration. It is crucial to process all the development activities with proper planning and analysis.
Design: The app is modified in this step, so create a comprehensible design with the help of the appropriate infographics, engaging content, and images that are in line with the fundamental concept of an app.
Quality Control: The app is finally moved into the testing phase once all development-related tasks have been completed. Stringent measures should be taken to fix any existing bugs. Standardized testing tools and various testing techniques must be used to identify the bugs.
Launch: The app is prepared for the launch process once all testing activities have been completed. An app that is specifically designed for all the documented data and functions flawlessly across all platforms will undoubtedly be at the top of the app store charts.
We can complete your project by the deadline with a clearly defined process. Our team adheres to the deadlines and provides solutions that are on target. To ensure that the solutions we deliver to you are in line with your business goal, we use agile methodology.
Electrician App Development Team Structure
Finding the appropriate and capable people to work on creating your app from scratch is essential. To create the ideal mobile app with genuine quality, you need to hire mobile app developers, skilled designers, astute testers led by a couple of project managers, and the appropriate mobile app development company.
Project Manager: She or he must possess strong managerial abilities and the intelligence to recognize the best solutions that are suited to the needs of the company.
Developers: Back-end app developers as well as Android and iOS app developers.
Designers: Expert UX/UI designers, Graphic Designers,
Testers: A team of proficient and skilled QA experts for delivering a smooth and rich experience to users.
The solutions are in line with your business objectives, according to the four pillars of our mobile app development team. Your solutions are interesting and make you stand out from the competition.
How Much Does It Cost To Develop an On-Demand Electrician App?
The process of creating a mobile app is time-consuming and difficult, and it may take much longer. Because of this, on-demand electrician mobile app development companies typically bill by the hour depending on the complexity and timeline. For creating these apps, the going rate per hour is between $30 and $40, which is reasonable. Due to their equal importance to back-end developers, costs also cover paying for quality control, the testing team, and user experience/user interface designers. However, the cost of creating an app also depends on the developers' physical location.
For instance, US-based app development companies bill between $40 and $250 per hour, while rates in Western and Eastern Europe are, respectively, $50 and $170 and $20 and 150. A simple on-demand electrician mobile app with few features can be created for as little as $20 to $120 per hour in India. Therefore, based on the cost structures, developing an on-demand electrician app costs between $8,000 and $12,000; however, if you want a fully-featured mobile app, the cost may rise to between $15,000 and $20,000.
We offer the top products on the market for the most affordable prices. Because of the technical sophistication and scalability of our solutions, you won't need to worry about dealing with the pressure of advancing technology.
Conclusion
We provide specialized solutions that enable you to sync your data, integrate internal data systems, and add dynamic content and flexibility. To help its clients connect with their audiences more effectively, it can guide you to the appropriate locations and offer comprehensive interfaces with a strong sense of interactivity. The technology used when discussing web app development differs slightly from that of general web development. The web app makes it simple for users to navigate and use it. The on-demand electrician app makes it simple for users to navigate and use it.
We are only a click away if you're looking for a dependable group to help you weather the storm and triumph over the fierce competition. You can get in touch with our professionals, and they will assist you in turning your app idea into a functional reality.