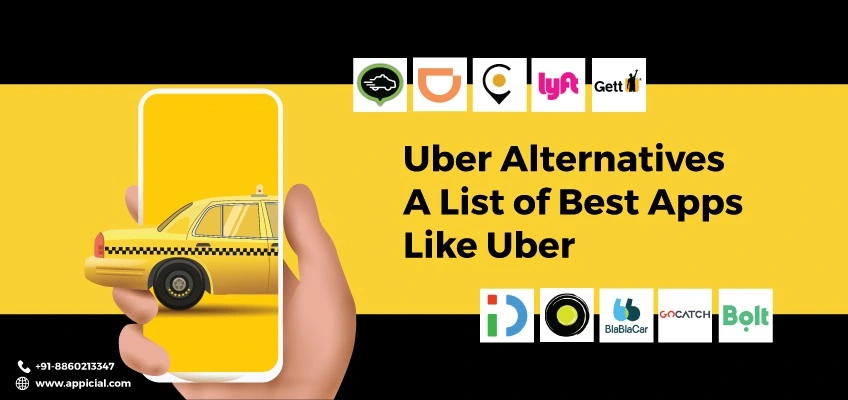 Uber is one of the most used taxi-hailing platforms in the world. They also offer transportation and food delivery services on a peer-to-peer basis. The services from this platform are used regularly in more than 80 countries. This platform has gained a lot of happy and satisfied customers compared to other most popular Uber Alternatives.
Uber is a platform with 100 million active users monthly. So it is a huge number in terms of customers. But today, we are not here to talk about Uber. Instead, we will talk about the best taxi-hailing apps in the world, which are great Uber Alternatives.
Uber Revenue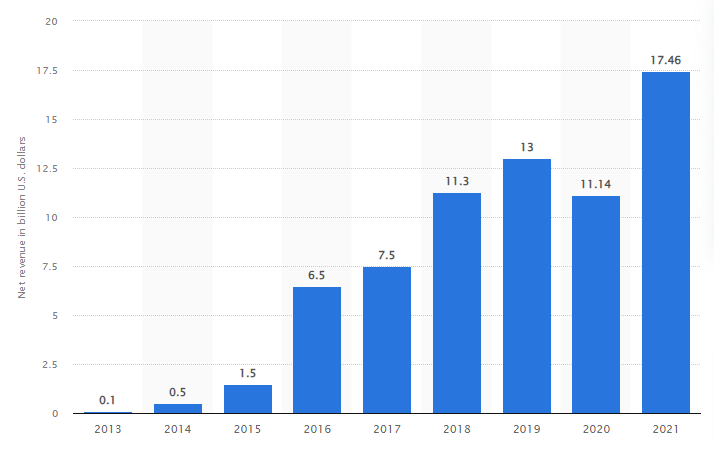 Uber Technologies generated around 17.5 billion U.S. dollars in net revenue in 2021. The mobile transportation network company has around 93 million monthly users all over the world. Uber available in 69 countries and over 900 cities worldwide. The company went public in 2019.
This article is for those searching how to Build a Taxi Booking App Like Uber and how much it costs to Build an App like Uber? or if you are comparing the best apps like uber for your startup idea validation.
If you plan to Build an app like Uber, I suggest you watch out and get inspired by the Uber Business Model of similar apps like Uber.
We will discuss some of the Top Uber Alternatives that have grabbed the market very nicely.
1. Grab
Grab is a Singaporean multinational technology company Founded by Anthony Tan and Tan Hooi Ling in 2012 as the MyTeksi app based in Kuala Lumpur, Malaysia. It expanded the next year as GrabTaxi. In addition, grab expanded into other services, following the super-app model. In 2014, GrabTaxi moved its headquarters to Singapore and rebranded as "Grab".
Grab super-app provides users with transportation, food delivery, and digital payment services via a mobile app. Grab currently operates in Malaysia, Singapore, Indonesia, Cambodia, Myanmar, Thailand, Philippines, and Vietnam. Grab is Southeast Asia's first decacorn and the biggest technology startup in the region.
Appicial has ready-to-launch Grab Clone to accelerate your taxi app development at lightning speed and drastically reduce costs.
2. Lyft
Lyft, based in San Francisco, California, offers Mobility as a service, ride-hailing, vehicles for hire, motorized scooters, a bicycle-sharing system, rental cars, and food delivery in the United States and select cities in Canada. Users get fare estimates before booking a taxi, but fares can vary using a dynamic pricing model based on the local supply and demand at booking. As of 2022, with a 28% market share, Lyft is the second-largest ridesharing company in the United States after Uber. Because of its presence in more than 60 metropolitan regions throughout the United States, Lyft stands out compared to a premade uber clone script for making taxi hailing easier, better, and more secure.
Without a doubt, Lyft has shown to be significantly better than Uber in terms of service. Regarding the app design, both Uber and Lyft have a similar layout that allows users to follow their driver information and take a trip simultaneously.
Appicial has a ready-made Lyft Clone script for taxi app development.
3. BlaBlaCar
BlaBlaCar is a French online marketplace for carpooling. BlaBlaCar connects drivers and passengers through their website and mobile apps willing to travel together between cities and share the journey cost. The company owns no vehicles; it is a broker and receives a commission from every booking.
The platform has 100 million plus users, of which more than 25 million are active per quarter, and is available in 22 countries, almost all of which are in Europe and Latin America – countries include: Belgium, Brazil, Croatia, Czech Republic, France, Germany, Hungary, India, Italy, Luxembourg, Mexico, Netherlands, Poland, Portugal, Romania, Russia, Serbia, Slovakia, Spain, Turkey, Ukraine, and the United Kingdom.
Appicial's BlaBlaCar Clone has everything you need to operate your ridesharing service.
4. inDriver
inDriver was founded in 2012 in Yakutsk, one of the coldest cities in the world. The service originated when a group of local students established a collective group of "independent drivers".
InDriver is one of the fastest-growing taxi apps operating on the Real-Time Deals model. InDriver app disrupted the online taxi booking apps with its "negotiable fares" option. The user can easily book a ride by entering the pick-up & drop location and the bid for his price. Once the rider bids his price, the drivers have three choices accept the quoted price, reject the request, and bid for a higher price. This feature allows drivers to choose their rides.
The InDriver app is available in countries like Russia, the United States, Kazakhstan, Uzbekistan, Mexico, Brazil, Armenia, Colombia, Costa Rica, Panama, India, and many others.
Appicial's Bid n Ride is an inDriver clone that is a perfect solution for businesses seeking to increase their customer base in taxi mobility.
5. OLA Cabs
Ola Cabs (known as OLΛ) is an Indian ridesharing company. In addition, it operates in other business verticals, including financial services and cloud kitchens. The OLA ride-hailing service, the closest competitor to Uber in India, is the next best thing to an Uber-like app development service. Following the acquisition of TaxiForSure, OLA became the largest taxi-hailing service in India, operating one of the largest fleets of cars in the country. As of 2019, the company has expanded to a network of more than 1.5 million drivers across 250 cities.
We have a ready-to-use Ola Clone script that you can use to develop your taxi app.
Also Read: Marketing Strategies for Your Taxi App Before Launching
6. Didi
Didi, formerly named Didi Dache and Didi Kuaidi, is a Chinese vehicle-for-hire company. Didi is headquartered in Beijing, with over 550 million users and 10 million drivers. The company provides app-based transportation services, including taxi hailing, private car hailing, social ridesharing, bike sharing, on-demand delivery services, and automobile services, including sales, leasing, financing, maintenance, fleet operation, electric vehicle charging, and co-development of vehicles with automakers.
On 1 August 2016, DiDi announced the Uber China acquisition and valued Uber China at US$35 billion. Our ready-to-launch Didi Clone app is fully customizable and can be customized based on any business requirements.
7. Cabify
Cabify was founded in May 2011 by Juan de Antonio, a Spanish entrepreneur. Cabify set up its first transportation network in Madrid, and the idea attracted investors from Silicon Valley. Juan de Antonio remained the CEO, while Ajao and Wallace became advisors as they continued leading their startup. Samuel Lown joined as the CTO in July, with Michael Koper and Adrian Merino joining the team two months later.
Initially, the service was called "Executive" and was intended for a niche group with high-end vehicles that were slightly more expensive than taxis. In February 2012, Cabify had 20,000 users and completed nearly 3,000 rides in Madrid alone. In the next two years, more than 150 taxi drivers in Madrid joined the company.
A year after its foundation in Spain, Cabify launched its operations in Latin America, opening subsidiaries in Mexico, Chile, and Peru. In 2016, Cabify started operating in Argentina (Buenos Aires and Rosario), Brazil (Sao Paulo), Costa Rica, Bolivia, Ecuador, and Panama. It also announced it would expand its current services to new cities, such as Valparaíso and Viña del Mar in Chile.
If you are looking for Cabify Clone, Appicial is your best choice for taxi app development.
8. Gett
Gett, previously known as GetTaxi, is an Israeli B2B Ground Transportation Management (GTM) platform and marketplace headquartered in London and owned by GT GetTaxi (UK) Limited. GetTaxi was founded by Israeli entrepreneurs Shahar Waiser and Roi More. In the summer of 2009, Waiser came up with the idea during a thirty-minute wait for a taxi to the airport in Palo Alto, California. GetTaxi's beta version in Hebrew started operating in Tel Aviv two years later, in the summer of 2011, and Get launched the taxi service in London in August 2011.
In March 2012, GetTaxi branched out to Moscow and opened its first USA offices in New York City. In May 2016, the Volkswagen Group invested $300 million in Gett.
In 2017 Gett acquired Juno, a ride-hailing company operating in New York City. Gett sold Juno in November 2019 in an agreement with Lyft that saw Gett form a partnership with Lyft.
Gett'sGett's marketplace model saw further partnerships with Ola in 2020 and Curb Mobility in 2021.
Gett Clone is an on-demand taxi booking software that helps expand business reach by providing taxi services to customers anytime.
9. Bolt
Bolt (then Taxify) was founded by Markus Villig (then only a 19-year-old, a high-school student) in 2013 with a vision to aggregate all Tallinn and Riga taxis into one platform. He developed the first version of the mobile app with €5,000 borrowed from his parents. The service was launched in Tallinn, Estonia, in August 2013, and by 2014 it was operating abroad.
In 2017, Bolt launched its services in London by acquiring a local taxi company with a licence to operate but was forced by Transport for London to shut down its services. However, the company has filed a new licence application and relaunched in London in June 2019.
Bolt operates in over 500 cities in more than 45 countries in Europe, Africa, Western Asia, and Latin America. The company has more than 100 million customers globally, and more than 3 million partners use Bolt'sBolt's platforms to offer rides and deliveries to customers.
Bolt Clone is an app that helps you start your online taxi business.
10. GoCatch
GoCatch is an Australian ride-hailing platform where users can book taxis, private rides, and premium services in advance or on demand. It currently offers its full services in Australia and its premium-only service in New Zealand and Singapore. The platform currently has over 59k drivers and operates in 22 cities across three countries. This profile focuses on GoCatch's opportunities and challenges in light of the COVID-19 pandemic and regulatory landscape.
Appicial has a ready-made GoCatch Clone script for taxi app development.
Final Thoughts
You should consult a taxi app development company to create a taxi-booking app. An Uber clone solution allows you to deploy an application like Uber in seconds. Sow the seed of investment in an Uber app solution and enjoy the rewards of making a profit in the long run.