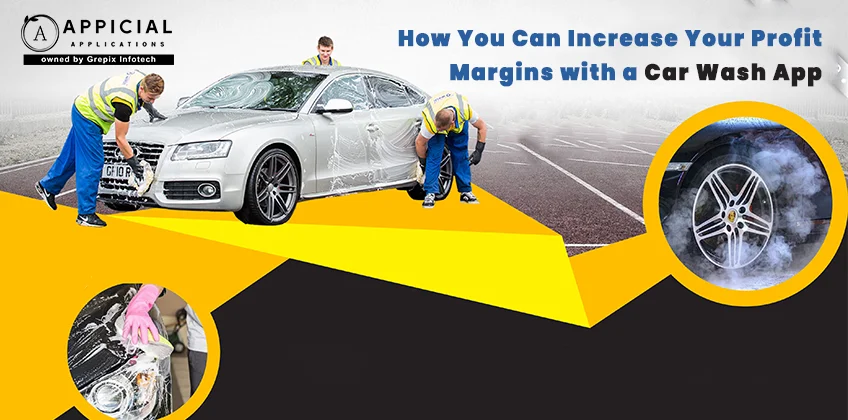 Smartphones have made life easier and more convenient than ever before. The digitalization of everything has raised the bar for technology. People can now access a wide range of services with relative ease.
So, if you want to get your car cleaned, you can skip huge lines, save time reserving the service, and avoid waiting for your turn by downloading one on-demand car wash app, which will be your ultimate solution.
With the success of on-demand service apps, on-demand car wash apps are gaining popularity, and car owners are employing these on-demand car detailing apps to have services delivered to their preferred locations. On-Demand car wash app connects car washers and customers for their car washing services. The car wash app is available for Android and iOS platforms. Get a 100% customizable app to increase your brand value, revenue and customer reach. Our car wash app is a perfect fit for a car wash startup that wants to start its own business. You get to manage the entire business from a single end with a strict monitoring facility.
Car Wash Market Size
In the United States exclusively, up to 60% of individuals utilize car wash services. As a result, these services produce a large amount of income. The car wash market peaked at $800 million in 2017 and has been growing dramatically. Since its release, the wash app, which offers on-demand car wash services, has produced more than $3.3 million. With an annual growth of 25%, it has emerged as one of the economy's fastest-growing sectors.
The number of automobile owners cleaning their vehicles at home has decreased, as per the International Carwash Association (ICA), as customers are more concerned with car management and accessibility.
Due to time restrictions and hectic schedules, car owners are also turning to on-demand mobile car wash app services and employing applications for auto cleaning and detailing, helping to grow the sector.
Look at the graph showing the development of car wash applications in the US from 2008 to 2020.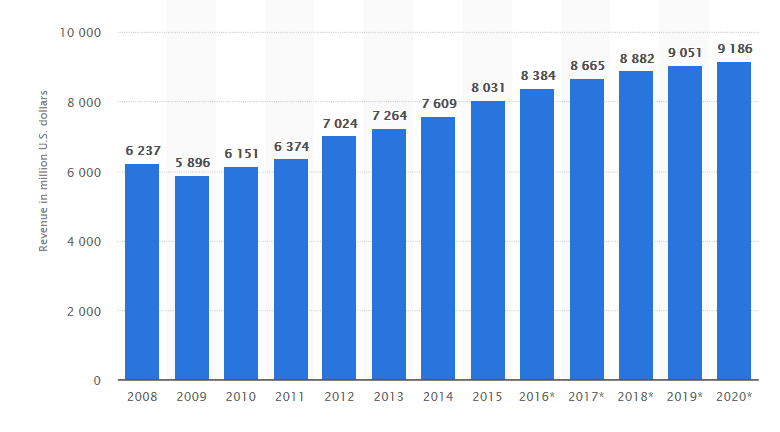 The online car wash booking app's main goal is to speed up the manual vehicle preparation process and advance car wash technology, which will leave cars cleaner and healthier in less time.
Why Invest in Car Wash App Development
The car wash app is one of the most popular apps at the moment. People appear to have been waiting for an app that would allow them to book car wash services and avoid having to visit a dealer's facility regularly. The app's ease of use and wide service have fuelled the trend of cash wash apps looking ahead to the future. According to the research, almost 60% of the population chooses to use an online car wash reservation system.
The rise in app usage has created a slew of new chances for investors and new businesses to profit. The on-demand trend isn't going away anytime soon, and customers have grown accustomed to vehicle washing services, making such apps an excellent investment. Let's discuss some of the astonishing facts and figures:
People spend 92 percent of their smartphone time on applications, which is good news for the car wash sector.
The market is estimated to reach $41 billion in 2025, with a compound annual growth rate of 3.2 percent.
Users that visit car washes several times each month account for about 28% of all washes.
Users that visit car washes at least once a month account for about 48% of all washes.
Users who choose to have their car washed every six months account for about 5% of all car wash services.
Types of Car wash Mobile Apps
We've outlined two different sorts of vehicle wash apps below, and you can choose one to design. Choose one based on your company's needs and the needs of your target audience.
1. Dedicated Apps
Car wash app development is not a new concept, and there are numerous significant participants in the market that ensure that the business will continue to grow. Because of various advantages, almost every industry is developing some form of solution:
The app's overall return on investment is far too high.
There is a high level of user engagement and a better rate of retention.
You can build brand loyalty and keep your customers up to date on the latest deals and discounts.
You can divide the services into different categories and create multiple packages.
Users' involvement develops with time as a result of a large number of categories available. An app owner only needs to set up and upload all of the service details to the custom app before contacting a large number of clients at once. It's rather common to have a specific app for each industry. You'll need to hire mobile app developers from a respected organization if you want an on-demand cash wash app.
2. Aggregator Apps
Apps like this are appealing to business owners who want to get into the product and make some money. The vehicle wash service supplier publishes the car wash rates for users to choose from. The company that develops car wash apps charges a one-time fee, after which the market is accessible to dealers.
On the platform, standalone vendors are available, and demand for online car wash app is increasing as the number of customers grows. Customers can select a supplier from the list of those who have survived. It is fairly typical to discover an aggregator app in the majority of sectors.
Also Read: LAUNCH YOUR ON-DEMAND CAR WASH APP
Revenue Model for On-Demand Car Wash App
Are you curious about how these car wash apps make money? They make money from a variety of sources, to be sure. Let's take a look at some of the most essential revenue generators:
1. Advertisements
These car wash service companies can utilize their apps to advertise third-party products to raise a significant amount of money. In exchange for money, they might provide the space on their apps. This company, like most others, makes a large amount of money through adverts.
2. Sponsorships
While you're doing your job well, it's not a bad idea to promote the services of another car wash app development company and their work. Allowing sponsorships could result in substantial financial gain.
3. Merchandise
Apart from providing services, one can also sell their brand products on their app, such as car shampoo, wax, cleaning gloves, external paint, and so on. This is also a means of earning money.
Increase Your Profit Margins With Wash Clone App
Not sure how a car wash app will help you make more money? Revenue can be generated from a variety of sources, including:
1. Developing a customer loyalty program
By establishing a loyalty program, you may enhance your user base. Your users will begin referring others to your car cleaning app, resulting in increased revenue for you. For example, if they bring a buddy or refer a friend to your app, they can get one vehicle wash completely free.
2. Send alerts and notification using push notifications
You will not be receiving service orders for the car wash every day. After assessing the circumstances, you can begin implementing "Happy Hours" by sending out notifications to your users. You can also launch new vehicle washing services, and offering discounts will help you grow your car washing business.
3. Setting aside time for specific users
Nobody enjoys waiting in lines for hours, especially working professionals who want to return home. The software can let them arrange a car wash at their location at a time that is convenient for them. The software recognizes the difficulties that car owners have, therefore they offer same-day services, making its consumers pleased.
4. Car wash services should be promoted
You can market your vehicle cleaning service providers' services by charging them a predetermined monthly fee or a % if you're establishing an aggregator model app.
Popular Car Wash Applications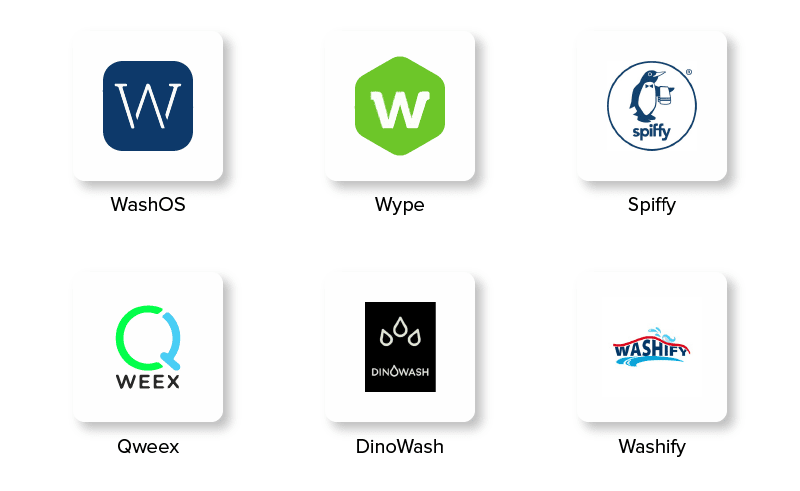 CONCLUSION
The ideal thing for anyone in this field, from start-ups to large corporations, is to employ an experienced car wash app development company like Appicial to work with them and produce the app they want. These apps provide a one-stop solution for users who want to get things done from the comfort of their own homes.
Looking out to start your venture like MobileWash? Try our Car Wash App, the easiest way to kick-start your own car wash business.