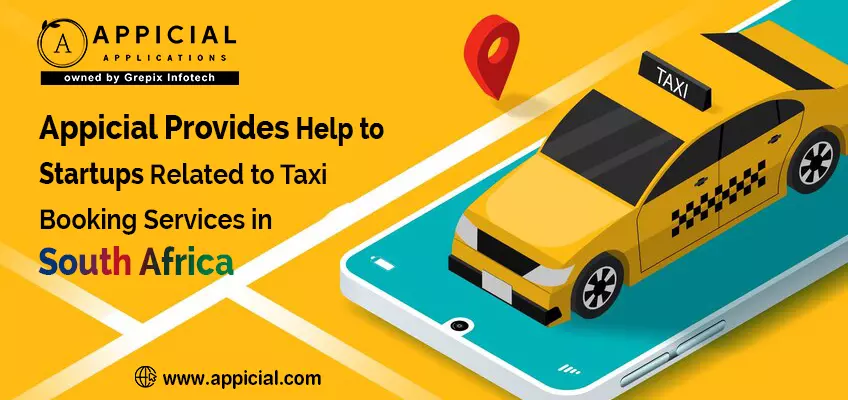 Appicial Helps Startups Related to Taxi Booking Services in South Africa
Appicial is a leading mobile app development company based in India to emerge as the best local on-demand Uber like app service that can offer exceptional customer service whether the customers are travelling alone.
According to industry figures, approximately 70% to 80% of South Africa's population relies on public transportation for commuting and mobility. Consequently, the minibus taxi is the most popular means of transportation in South Africa. It is why the annual turnover of these minibus taxis ranges from R60 billion to R90 billion.
Appicial is well aware of this, which is why, with their fast, economical, and easy on-demand uber like app service, they wish to provide a better alternative to the people of South Africa. Appicial helps Soccermom with a highly secure solution to emerge as a safe ride for kids in South Africa. Soccermom keeps you connected with your driver and children during the ride, with real-time notifications on pick-up and drop-off and in-app live tracking.
Customers can choose from various cab types with Soccermom, including standard sedans, premium sedans, and minibusses.
Advantages of Choosing Taxi App for Your Business
The following are the advantages of choosing a taxi app for your business.
1. On-Demand Reservations Riders may use an on-demand taxi booking app to experience the convenience of hiring a cab on their smartphone in no time. Users may order a taxi with only one tap by entering the pick-up and destination locations.
2. Ease of Convenience Taxi booking applications provide riders with ease by being fully equipped with various features and functionality. The unique features make it easy for passengers and cab drivers to get about.
3. Tracking your whereabouts The uber clone app allows travelers to track the location and direction of their cab in real-time. It also shows the estimated arrival time of the cab at the destination.
4. Transparency One of the most important qualities people look for in a taxi app is transparency. Before booking a ride, customers can look at driver profiles, age, experience, ratings, cost, and other factors.
5. Easier and Faster Payment With a taxi app, passengers have a variety of payment alternatives. They can pay using debit/credit cards, mobile wallets, or even cash, which is easier, faster, and more convenient.
Appicial helps Soccermom by Offering a Safe Ride for Kids
Startups desired a solid uber like taxi booking app for kids that would aid them in their quest to become the top taxi booking service in the country. Apart from that, security is their primary concern. They wanted top-of-the-line protection for both their data and their drivers in their app. Appicial fully comprehended their requirements and provided them with a solution that met all of their needs.
The Premium Subscription is a fixed monthly price charged to your credit card, while the "pay as you go" ride fares are registered in real-time by the driver and paid from the funds in your in-app wallet at the end of each journey. Appicial was able to provide top-notch customer service to their passengers-thanks to the unique features in our system. Aside from that, we added other security features to their product that they requested.
Appicial offers the best taxi booking app with top-notch security. So how Did We Do It?
1. Verification of the rider's profile photo
2. SOS button for drivers
The client wanted to add another SOS-related security feature to their driver. The motorist can use this feature to select the SOS option if they feel endangered. As soon as the driver presses the SOS button, the app will send their location and other information to their SOS contacts in real-time, who will take immediate action.
3. Data Security
The client's final key request was for a solution that provided top-notch security for all of their data. Appicial met their needs with a robust solution that includes military-grade encryption and other security measures, making it impenetrable to hacks, data theft, and frauds.
Conclusion
Startups received a tremendous amount of support in South Africa. As a result, many people began to use their services and provided them favorable reviews. One of the startups also achieved an average waiting time of only 5 minutes for its consumers, which drew in many customers.
If you are looking to develop uber like app, then your search ends here!
Appicial is a prominent taxi app development company with over 7+ years of experience providing bespoke mobility solutions. When you hire mobile app development teams, you're getting a group of experts in various industry verticals who can work with various startups and small enterprises. We've served over 400 clients, and we've done so in more than 30 countries.