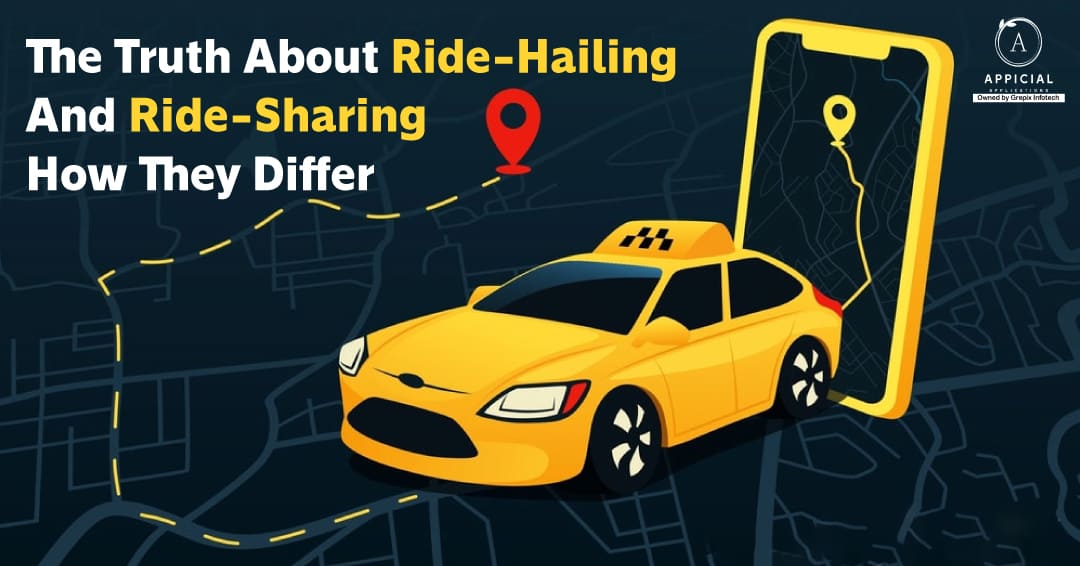 Ever wonder about the difference between ride-hailing and ride-sharing? You're not alone. These terms are often used interchangeably, but they refer to two distinct ways of getting from point A to point B without driving yourself. Ride-hailing services like Uber and Lyft are all about convenience: open an app, request a ride, and a driver will pick you up and take you wherever you want to go. Easy, right?
Ride-sharing, on the other hand, is more focused on efficiency and environmental impact. The idea is that you share the ride and the cost with other passengers traveling in the same direction. You hop in, meet some new friends (or enjoy a quiet commute), and split the fare. Ride-sharing aims to reduce traffic and carbon emissions by maximizing the number of people in each vehicle.
So the next time you need to call a car, think about whether you are in more of a ride-hailing or ride-sharing mood. Either way, you have options to get where you're going without the hassle of driving. Sit back, relax, and enjoy the ride. But now at least you know the difference!
Ride-Hailing: What Is It and How Does It Work?
So you are ready to ditch driving and let an app take the wheel? Smart move. Ride-hailing services like Uber and Lyft can save you time, money, and stress. But before you request your first ride, it's important to understand the difference between ride-hailing and ride-sharing.
Ride-hailing services, like UberX or Lyft, allow you to hail a private ride from a driver for a fee. You request a ride through the company's mobile app or website, and a driver will pick you up and take you to your destination. These rides are direct and exclusive to you and your group.
How Does Ride-Hailing Work?
Using a ride-hailing service is pretty straightforward:
Download the ride-hailing app or access the website and create an account. You will need to provide a payment method to use the service.
Open the app or website and request a ride by entering your pickup and drop-off locations. You will see an estimated fare for your ride before requesting it.
Meet your driver at the pickup location you entered. The driver will start the ride on the app or website so your fare can be calculated.
At the end of your ride, the total fare will be charged to the payment method you have on file. Tips are appreciated but not required.
Ride-hailing makes getting around more convenient. No more hailing taxis or dealing with public transit. You can get where you need to go with the tap of a button, leaving the driving to someone else. Isn't that a ride worth sharing?
Ride-Sharing: What Is It and How Does It Differ From Ride-Hailing?
Ride-sharing and ride-hailing are often used interchangeably, but there are some key differences between the two. Ride-sharing refers to sharing a vehicle with others who are headed in the same general direction, allowing you to split the cost. With ride-hailing, like Uber or Lyft, you request a driver to pick you up and take you to your destination.
Ride Sharing
Ride-sharing apps like BlaBlaCar, Uber Pool, Ola Share, and SRide, allow members to rent vehicles by the hour. You book a car online or via an app, unlock it with your membership card or phone, drive it, and return it when you're done. The costs are calculated based on how long you use the vehicle. Some key benefits of ride-sharing include:
It's affordable. By sharing the vehicle with others, costs are split.
It's convenient. Cars are located in your neighborhood, so you can easily rent one whenever you need it.
It's sustainable. Fewer vehicles are needed overall since they're shared.
Ride-sharing is ideal if you only need a vehicle occasionally or for short trips. However, you do have to plan and book the vehicle, which may not work if you need one right away.
Ride-Hailing: How It's Different
Ride-hailing services like Uber and Lyft involve hiring a driver to pick you up and take you to your destination immediately. You request a ride through an app on your phone, and a driver will come to pick you up, usually within minutes. Some key aspects of ride-hailing include:
It's on-demand. You can get a ride right away, whenever you need one.
No membership or planning is required. You just open the app and request a ride.
Drivers use their vehicles. Ride-hailing companies recruit independent drivers who provide you with a ride using their car.
So while ride-sharing and ride-hailing both offer convenient transportation options, the main differences come down to vehicle ownership, planning, and cost. For an affordable, pre-planned trip, ride-sharing could work great. But if you need an on-demand ride right now, ride-hailing is likely your best bet.
The Pros and Cons of Ride-Hailing Vs Ride-Sharing
Ride-hailing vs. ride-sharing: which is right for you? Both options have significant pros and cons to consider before booking your next ride.
Ride-hailing services, like Uber or Lyft, connect you directly with a driver who takes you to your destination. The main pros are convenience and shorter wait times. You can request a ride with the tap of a button and be on your way within minutes. However, ride-hailing tends to cost more, especially during peak hours or for longer trips. Surge pricing can lead to much higher fares at times of high demand.
Ride-sharing, such as Uber Pool or Lyft shared rides, allows you to share the ride and the cost with other passengers going in the same direction. The biggest pro is affordability, with fares often 30–50% less than a private ride-hail. Ride-sharing is also an eco-friendly choice since fewer vehicles are needed to transport the same number of people. However, the cons include less direct routes, longer travel times, and less flexibility in pickup and drop-off points. You may have to walk a short distance to be picked up or dropped off. Ride-sharing isn't ideal if you're in a hurry or have mobility issues.
Which option is best depends on your priorities for that particular trip. If budget and sustainability are top concerns, ride-sharing can be a great choice. If timeliness or convenience matters most, ride-hailing may be worth the extra cost. Some tips:
Compare fare estimates in the apps before booking to choose the most affordable option.
For ride-sharing, build in some extra time in case of delays or detours.
Sit in the front seat for ride-sharing to avoid cramming into the backseat with strangers.
Politely let your driver know if you have a preferred route or need to make any stops.
Rate your driver and provide feedback to help improve the overall experience.
Ride-hailing and ride-sharing each have a place in today's transportation ecosystem. By understanding the differences, you can make the choice that suits your needs for any given trip. The future of mobility is all about options, and these on-demand services provide more choices than ever before.
Developing a Ride-Hailing or Ride-Sharing App: What You Need to Know
Developing your own ride-hailing or ride-sharing app requires a major time and financial commitment, but it can be rewarding if done right. Here are some key things you will need to consider:
Business model
First, determine if you want to operate a ride-hailing or ride-sharing service. With ride-hailing, riders request a driver to take them to their destination. Ride-sharing means riders share the vehicle and ride costs with other passengers traveling in the same direction. You will need to build a business model, set fares, and determine how drivers and riders will use and pay for your service.
Tech Platform
You will require a user-friendly mobile app for riders and drivers, a website, and the backend technology to operate it all. This includes features like:
User profiles and accounts
GPS mapping and navigation
Payment processing
Matching riders and drivers
Review and rating systems
Messaging or call features
Building a proprietary tech platform requires significant investment but gives you full control and flexibility. Alternatively, you can license an existing "white label" solution and customize it for your needs.
Recruiting drivers and riders
Launching an app is only the first step. You will need to actively recruit drivers and riders to build your network and reach critical mass. Offer promotions and incentives to entice initial users. Make sure to have a plan to retain them with great service, fair prices, and a quality experience.
Compliance and Safety
Ride-hailing and ride-sharing services require compliance with regulations that differ in each city and state. You will need to follow rules around licensing, insurance, background checks, vehicle requirements, and operational practices. Prioritizing safety and security for both drivers and riders is also essential to running a responsible service.
Starting a ride-hailing or ride-sharing service is challenging but can be rewarding work. With the right business model, technology, marketing, and compliance procedures in place, you will be transporting happy customers in no time. But remember, it's a marathon, not a sprint!
Also Read: What Makes A Successful Ride-Sharing App?
The Future of Ride-Hailing and Ride-Sharing: What Lies Ahead?
The future of ride-hailing and ride-sharing looks bright. As the technologies and services continue to evolve, the experience for both drivers and riders will improve.
1. Autonomous vehicles
Self-driving cars are on the horizon, and ride-hailing companies are poised to benefit. Without human drivers, autonomous vehicles will lower costs for companies and consumers. Riders may see lower fares, while drivers can avoid the hassle of sitting in traffic and dealing with difficult passengers. Companies are already testing autonomous ride-hailing fleets in select cities.
2. Integrated mobility
Ride-hailing and ride-sharing companies want to become one-stop shops for all your transportation needs. They're expanding into bike-sharing, scooter-sharing, and public transit. The vision is for a single app where you can book and pay for any mode of transport. This "mobility as a service" model provides more options for riders and more opportunities for companies to generate revenue.
3. Personalization
As companies gather more data about riders and their habits, the services will become highly personalized. Your app may learn your frequent destinations and make customized recommendations for rides, routes, and schedules. Ride-hailing could integrate with smart home devices to automatically call you a car when your calendar indicates you need to leave for an appointment. Personalized subscriptions and loyalty programs may provide benefits for frequent riders.
4. Challenges Remain
While the future looks bright, ride-hailing and ride-sharing still face challenges like managing massive amounts of data, incorporating new technologies, addressing social and economic concerns, and turning profits. Regulations and policies on data privacy, worker rights, congestion, and safety will shape how these companies operate going forward. Ride-hailing may transform transportation as we know it, but responsible innovation and governance will be key.
The road ahead will likely see ride-hailing and ride-sharing become more autonomous, integrated, personalized, and ubiquitous. Yet a human-centered approach, not just a tech-first mentality, will be needed to ensure these services benefit both companies and communities in the long run. The future is unwritten, so we must thoughtfully consider how we want these technologies to impact our lives and shape our cities.
Conclusion
So there you have it, the truth about the difference between ride-hailing and ride-sharing. While they may sound similar, these transportation options are quite different in how they operate and who benefits. Ride-sharing app development is designed primarily around providing convenient rides for passengers, with the companies and drivers generating revenue and earning a profit. Ride-sharing, on the other hand, focuses more on maximizing the occupancy of vehicles to reduce environmental impact, traffic, and parking needs in cities.
The next time you need to get somewhere, think about which model aligns more with your priorities and values. If convenience and speed are most important, ride-hailing is probably your best bet. But if you want to do your part to reduce emissions and ease congestion, ride-sharing is the way to go. The choice is yours so that you understand the difference, you can make the decision that suits you.