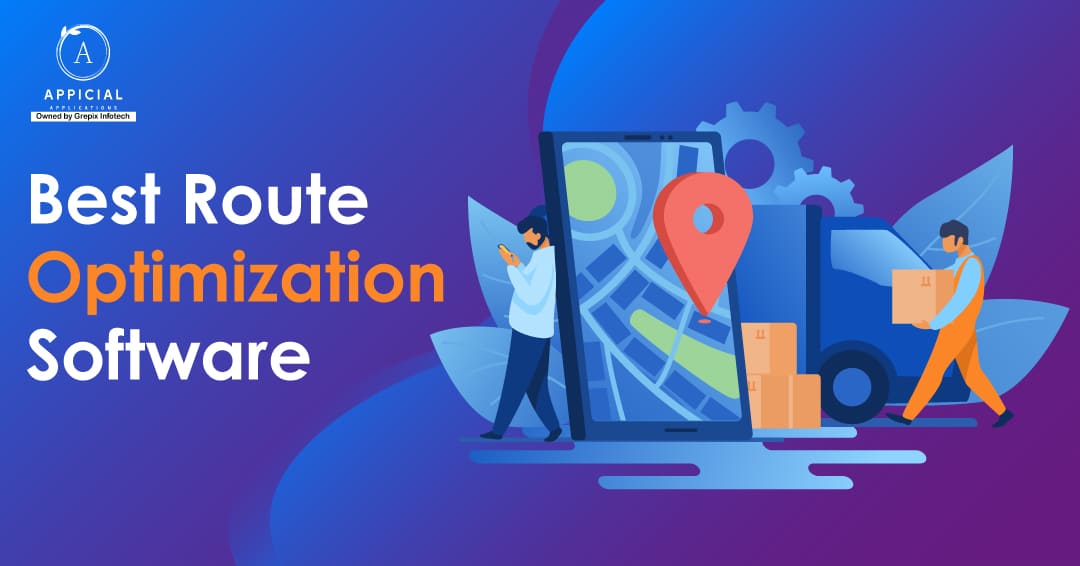 Before we dive into the best route optimization software lists, let's understand what route optimization software is.
Route planning software is a tool that helps plan and optimize transportation routes. It takes into account things like distance, time, traffic, and the vehicle's capabilities to find the best route. Businesses, delivery services, and individuals use the software to improve how well their operations work and to cut down on travel time and costs.
According to global delivery route optimization software, the market was valued at $2,905 million in 2016, and it is expected to reach $9,447 million by 2023.
So, do you have to manage the field sales, along with the management of collecting the items from the logistics company and getting them delivered right away to the customer's doorstep? Do you want to make it easier for yourself?
The only solution to cut down on your stress is route optimization software. The route planning software plans the delivery route, which helps you run your business more efficiently.
Well, it's true that "the less you spend on the road, the more your sales increase." So, your business needs an efficient route planner with multiple management software tools to cut down on driving costs and increase productivity.
Benefits Of Using Route Planning Software
1. Identifies the Most Effective Routes
The right software identifies the least time-consuming travel plans by considering external factors like traffic congestion, road construction, time of the day, and weather. It uses advanced algorithms to determine the most effective route for the user.
2. Reduces Costs
If used smartly, routing software helps reduce road time to a huge extent. This, in turn, cuts logistics costs exponentially. The optimized routs cut costs in two main ways:
I) Reducing Fuel Consumption

As the fleet spends less time on the road, fuel consumption is reported to be lower. Now, fuel costs account for more than 30% of overall expenses. This means lesser consumption leads to lesser charges.

II) Reducing Maintenance Costs

As vehicles do not spend too much time on the road, the normal wear and tear reduce. This leads to a reduction in maintenance costs.

III) Labor Reduction

The need for fewer vehicles means you will require fewer drivers. Additionally, your drivers will complete the stops quicker, reducing labor costs.
3. Boosts Productivity
The software will do complex tasks for you. You won't be spending time planning routes. This saved time can be used to provide your services in a better way. Furthermore, optimized routes allow more jobs to be completed in less time, increasing worker productivity. This means they spend less time in the car and more time on valuable activities.
4. Saves Time
Route optimization leads to time and resource savings. It improves overall fleet productivity by enabling jobs to be completed more quickly and promptly. Same-day deliveries become possible with the right use of technology.
5. Increases Customer Satisfaction
Well, if you can provide your services on time, your customers are bound to be happier with you. Route planning software tools ensure that the right driver gets to the right customer at the right time without backtracking. There is no doubt that happy customers mean customer retention.
6. Helps To Reassess Resources
You may be utilizing more resources than is required to make deliveries or provide services. Optimizing fleet operations helps reassess the number of vehicles in the fleet that is needed to do the job. You might get a benefit from reducing the number and, in turn, cutting back costs.
You now know why route optimization is important, but which route optimization app is good for your business? It's now time to check how to choose a route optimizer.
Best Route Optimization Software Are
1. Google Maps
Google Maps is a household name for a reason. It's an easy-to-use route planner that's available right on your smartphone. With just a few taps you can create a route for travel by foot, car, bicycle, or public transport.
You can add up to 9 stops to your route, search for gas or food at any moment, and receive turn-by-turn directions with real-time traffic updates to remain on the quickest route to your destination.
As a route optimizer, Google Maps falls a bit short since it does not optimize routes with more than one stop.
Price
Free
Main Features
Routing
Turn-by-Turn Directions
Live Traffic Conditions
Street View
Pros
User-friendly
Free
Reliable
Create optimized routes with up to 10 stops
Can't view top-priority customers at a glance
Cons
Limited to only 10 stops
Can't set departure, arrival, or duration time
Can't track customer information
2. Circuit
Circuit route optimization software can be used by businesses that need to plan the route with multiple stops. It helps in improving efficiency in your delivery operations. The circuit meets all the points required by the route optimization software. It uses sophisticated technology that combines updated current traffic conditions with updated map data plans to optimize the order of your delivery route, saving you up to 25% in time and fuel.
Route Optimization
It simulates thousands of different route combinations to help you to find the best route for yourself. Route optimization is a significant time-saver. It helps you to optimize the route and then drive to the preferred navigated route. Using the circuit you can create a full-loop route.
Route Monitoring
Circuit's route monitoring features help you to navigate the location of your driver in the context of their route. It has updated GPS tracking to identify the driver's geographic location.
Customer Update
Circuit can also send delivery updates directly to the customer. It reduces the risk of failed deliveries as once a driver starts their route, recipients get a text or email of their ETA. The customer is provided with the link to check the tracking web page.
Proof of delivery With the Circuit app
Collect a customer's signature
Mark the left package in a mailbox
Take a photograph for additional verification.
Once the driver delivers the item can update the details on the circuit.
Pricing Plans
The circuit offers free routes for up to 10 stops.
For longer roots, you need to have a plan for it. The circuit allows the subscription in three different categories such as dispatch recipient and premium. Its subscription allows you to optimize unlimited routes up to 500 stops; it was only available for Android devices.
Features of circuit
Optimize up to 1000 stops
Set stop time windows
Set first/last Stop
Set stop priority level
Helps to find the best route
Pros
Easy to use.
Accessible on different platforms
The software is well-designed and efficient.
It is a versatile product.
Outlook integration is a good feature.
Great for geographically distributed teams.
Cons
Price is high
No customization option
Also Read: Advantages of Taxi Dispatch Software Over Traditional Taxi Administration
3. Route4Me
Route4Me is a comprehensive and customizable delivery route planning solution for your business. It allows significant customization.
It is very popular among service techs and delivery operations. Route4Me allows mileage tracking, which helps you document the total distance driven to meet clients. It also allows you to track your drivers' itineraries to avoid employee fraud.
Route Optimization
Route4Me includes a level for single-person routes and a different level for multi-person routes and lets you optimize with specific constraints, such as avoiding traffic. Once a route is entered, the dispatch route can manually move customers across routes.
Route Monitoring
Route4Me offers a tool to monitor and supervise drivers who rush or drive too fast. It also collects driver data and saves it into the dashboard for your future reference. Using it, you can easily compare the travel times or map out where drivers deviated from their routes.
Customer Updates
Route4Me uses geofencing. It allows you to set up parameters around your customer's location, to enable the driver to find the specific location easily, along with informing your customers about the arrival of their delivery.
Proof of delivery
Route4Me allows drivers to collect signatures on their mobile devices. The signatures appear automatically on each corresponding stop in the app. Along with the update of the signature, it allows the drivers to accompany the median along with the signature as a note.
Pricing Plans
Route4Me offers three tiers as
Route Management (which doesn't feature route optimization), costs around $149/mo.
Route Optimization tier (optimizes single-person routes), costs around $199/mo.
Route Optimization Plus tier includes the pro features and costs around $299/mo.
Features of Route4Me
Route Planning
Mileage Tracking
Order Management
Customer Database
Employee Management
Reports
GPS Tracking
Pros
Optimized routes,
Easy access to the database
Increased return on investment (RoI)
Cons
Clearance of data after the free trial gets over.
No options for color coding or customization.
4. OptimoRoute
OptimoRoute offers all 5 key points. It helps field service and delivery businesses to offer great service. OptimoRoute optimizes routes in a matter of seconds. OptimoRoute offers an endless supply of tricks, features, and shortcuts that flex to your unique needs and workflows. All you need to do is plan the route, and upload a file and OptimoRoute will boot up the list of routes in seconds.
Route Optimization
OptimoRoute optimizes your route including and specifying several constraints such as travel duration, driver work times, and many more. The data required to enter on the OptimoRoute can be entered manually or uploaded to a spreadsheet over it. Depending on the plans, you can choose up to 250 stops or 750+ stops.
Route Monitoring
OptimoRoute offers live ETA. It also enables you to have a look at the activity of the driver and get a day full of lists of deliveries done by him along with the time on a spreadsheet. The spreadsheet gets stored on your dashboard for your future reference.
Customer Updates
OptimoRoute allows you to send an email to your customers, text messages, or notifications. OptimoRoute includes a URL with the following message, to help the customer to get to the website tracking page directly and track their order. It allows the customers to get updated with recent ETAs.
Proof of Delivery
With real-time delivery documentation, OptimoRoute allows one to capture digital signatures, photos & notes in the Mobile App for claims resolution and better customer service.
Pricing Plans
OptimoRoute has three different plans. The Starter plan allows you to order 250 tasks but not offering live tracking or API integration. In the Business plan, you can plan 500 orders, but eliminates customers' real-time tracking of their orders. In the Enterprise plan, you get all of OptimoRoute's features and you can plan 750+ orders at once.
Features
Automated Planning
Eliminate driver and vehicle cost
Live tracking and ETA
Real-time order tracking
Mobile App for drivers
Realtime Route Modification
Weekly Planning
Analytics
API integration
Pros
Fast and accurate
Flexible
Live data from the field
Seamless growth
Cons
Difficult in planning multiple software
Difficulty in adjusting the route.
Also Read: What is Taxi Dispatch Software? | Taxi Dispatch System
5. RouteXL
RouteXL provides the basic service. It offers free route optimization up to 20 stops but does not feature route monitoring, no customer updates, no mobile app, and neither any proof of delivery features.
Route Optimization
Route optimization helps you to optimize ab 220 stops free and after that, it requires a paid plan. RouteXL uses two types of geocoding: free and premium. RouteXL allows you to enter the address of the customer and it finds this route for you.
The optimized route can be sent to the driver in the following ways:
Print: It allows you to print the report and hundred to your driver before starting their delivery service.
Email: The route can also be made to the driver's email and using the link driver can open it from any browser.
Fulfillment: Using RouteXL you can text the driver the link, and using that URL driver can get access to the route. It is a simple system that shows the stops, scheduled arrival times, and delivery options.
Pricing Plans
RouteXL offers free route optimization for up to 20 stops or less. If you want up to 100 stops per route, it's roughly $38 per month. 200 stops per route are $76.35 per month (70 euros).
Features
Drag & Drop
Live Driver Tracking
Pros
Ease of use.
Ability to add multiple stops and location
Cons
Lacks the customer update
No monitoring feature.
How To Choose a Route Optimization Software
Here are a few factors that you must factor into to find the best route-planning software.
1. Connectivity
It is advisable to select a routing software that can be accessed even remotely. Cloud-based applications, Android, and iOS apps can be accessed from anywhere. Desktop PC software cannot.
2. Integration
The purpose of the software is to save time. It would be pretty ironic if you have to upload Excel spreadsheets constantly. This is why look for a routing solution that can be integrated with your existing systems like CRM or SCM.
3. Flexibility
Multi-purpose route planning software cannot go wrong for you. If you want to manage territories, plan strategic movements, or perform business mapping, find a delivery logistics platform that provides more than one function.
4. Price
It must go with your budget. Sometimes, monthly subscribed plans can prove to be highly costly for you. You can just hire a leading company that creates mobile apps and develops route management apps or on-demand delivery apps just for your own business if you want.
5. Data Points
Make sure that the software you choose considers various data points during delivery route planning. Multiple factors such as distance, weather, traffic conditions like in Google Maps, and historical data are extremely important.
6. Reviews
You should check out the reviews of the business owners and their drivers as well. This will help you ensure that the software has a credible customer base.
7. Support
The issue with buying such software online is that their customer support team is not very helpful. They do not provide adequate support to clients who do not live in the same city/ state/ or country as they are located. This is again why people sometimes go for custom software or use a mobile application that works anywhere.
8. Adaptability
A route optimization tool needs to allow route planners and fleet managers to optimize their routes for various vehicles.
The ideal route planning software should allow users to visualize the optimized routes on a similar app with a different color combination. Hence, with a precise view of the routes, it will be easier for the route planners to reassign stops to increase overall efficiency.
9. Accuracy
A geocoder is included in almost all route optimization software on the market. Converting addresses into a specific location on a map with accurate information about latitude and longitude coordinates is a difficult task. The key to accurate geocoding is to understand confusing addresses and local contexts. Therefore, having an accurate database of different apartment locations and addresses will provide a significant advantage.
10. Historic Data Survey
It is essential for the route optimization program to look at past data at three different levels: riders, customers, and time of day. The past proof of a rider can tell you about his talents, competence, desired delivery time, and preferred working zone. A customer's previous data, on the other hand, can reveal his favorite time slots, availability, and any specific delivery instructions.
Conclusion
Delivery route planning is all about optimizing multiple routes. Depending on your deliveries, you could be looking to create optimized routes with special constraints, so the above ones could help you out. The mentioned tools and software can help you to plan the best route for your service.
Are you looking for a taxi booking software to create a white-label taxi booking app. An Uber clone solution allows you to deploy an application like Uber in seconds. Sow the seed of investment in an Uber app solution and enjoy the rewards of making a profit in the long run.