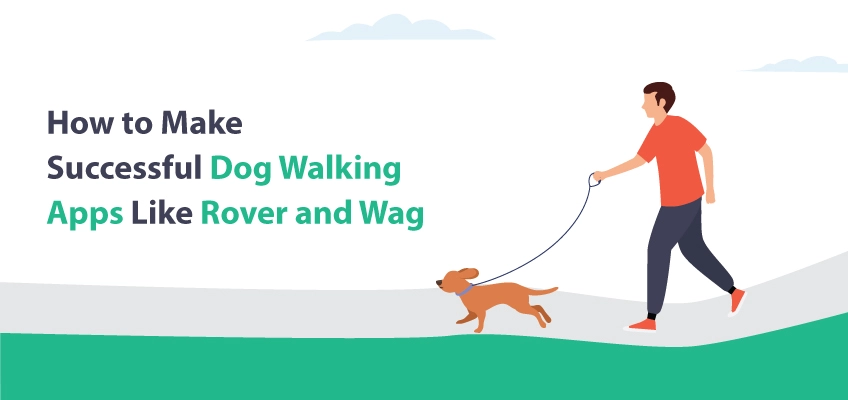 How To Make Successful Dog Walking Apps Like Rover and Wag
For a long time, the dog walking app model has been popular among dog owners. Having a pet dog is not simple. You still have social responsibilities and a job to take care of, no matter how much you adore your furry little kid.
Did you know?
Pet industry expenditure was USD 103.6 billion in 2020, according to American Pet Products Association.
Business Strategy
Creating a business strategy that meets your present and future business goals is the first step in producing an on-demand dog walking app. You can work for a pet-walking or pet-care firm, or you can start your own dog-walker service aggregator company. If you want to grow your business and generate more money, you might add other services like dog care, dog training, and pet grooming.
But be careful not to take off more than you can chew. Focus first on what you do well, and then expand to other pet-care services gradually.
Decide on a revenue system
The next task is to plan your company's monetization strategy. There are several methods to make money with the on-demand dog walking app.
For Dog-walking Agency- If you own an agency, monetization is pretty simple. You're effectively automating the entire process with the app. Your way of earning will be very similar.
Market Research
1. Understanding Market Landscape: To begin, gain a fundamental understanding of the market. Ask yourself the following questions:
Who do you want to reach out to?
What are the issues they're dealing with? What are your options for resolving them?
What are the current pet-care trends and how can you provide value to the industry?
2. Analyze Competitors: You must determine who your competitors are. What is the most popular dog walking app's name? What types of services do they offer through their dog walking apps? What marketing channels do they employ, and how well do they succeed in the market? Then you should look at the features available in their dog sitter or dog walking apps.
3. Identify Potential Partners: It is more likely for a business to succeed if both sides benefit from it. In addition to evaluating your competitors, you should look for firms that are similar to yours but not competitors. Veterinary hospitals, pet food companies or stores, pet grooming, and training schools are just a few examples. You can collaborate with such companies to increase the number of people who use your dog walking app. To partner with aggregators, you'll need to find and contact independent dog and pet walkers, as well as dog walking agencies.
Important Features of an On-Demand Dog Walking App
Here's the list of features of an on-demand pet walking app.
1. Customer's App
Search and Filters: This feature assists consumers in locating suitable dog walking services that meet their needs. The customer can look for a specific service, agency, dog walker, dog walking fees, or area by using the search bar. Filters allow dog owners to eliminate ineffective dog and pet walkers and choose the one that meets all the requirements.
Profile: Pet parents should be able to check out the profiles of dog sitters through the dog walking app before reserving one. This profile can help people do virtual verification process and make informed decisions when it comes to entrusting their beloved pets to pet services.
Photo Updates: This feature allows dog and pet owners to receive updates and verification of their dog's health and treatment. Photographs of dog walkers' activities with pets can be taken and sent to the dogs' and pet owners.
Real-time Tracking: This is a must-have feature in any on-demand dog walking app software. Wag and Rover, two of the most popular dog walking apps, both contain this option. The GPS tracking feature allows dog and pet owners to know where their dogs and dog walkers are in real-time, providing a sense of security.
Reports: This feature will allow dog and pet owners to keep track of all their bookings, walking distances, dog and pet walker performance, and payments in one spot.
2. Dog Walker's App
1. Create a Profile: Dog and pet walkers can establish a profile to display their previous experiences and provide a brief description of how they care for dogs and other pets. They can include a photograph of themselves as well as any other form of identification that dog owners can check before leaving their pets to walkers.
2. Accept/ Reject Requests: When dog or pet owners' respond to the call to dog and pet walkers, they can look over the work description to see how many pets there are, whether they need to sit the dogs, take them to dog parks, or look after them in any other way. The dog walker can then accept or reject the offer.
3. Schedule: A calendar or scheduling function assists dog and pet walkers in planning their dog walking jobs and systematically scheduling their reservations. This also makes keeping track of booked appointments and payments from dog owners easier.
3. Admin
1. Manage Customers and Walkers: The admin is in charge of the dashboard and has access to dog owners' and on-demand dog walkers' information. The administrator oversees the details and handles any difficulties that arise.
2. Assign Tasks: The administrator oversees all employment requests submitted by dog or pet owners. Both automatic and manual job assignments must be possible on the dashboard.
3. View Reports: The admin will also have access to all of the created reports, which will aid him in keeping track of the app's actions. Everything from the number of appointments booked to how many are accepted, cancelled, or fulfilled is detailed in the statistics.
4. Organize your payments: The administrator can keep track of his commission from the service charge and make payments to the dog and pet walkers as needed.
Why Choose Appicial for Dog Walking App?
For animal health organisations as well as pet tech startups, our skilled dog walking app developers provide trustworthy and secure solutions. As a result, no matter what your needs are, we can create, build, and deploy the ideal app for you and your company.
Our best practises are informed by the evolving dynamics of the companion animal health sector, allowing us to create cutting-edge web and mobile apps that have revolutionised pet care and health monitoring.
Customer Requirements
Result-driven Approach
Cloud-enabled Platform
Exceptional User Experience
Appealing Design

Top 5 Dog Walking Apps for Dog lovers
Here are the 5 popular dog walking apps for dog lovers;
1. WAG!
Wag! It's almost a requirement for dog owners who work long hours. While you're away, your dog may get some exercise, and dog walkers can make money.
What about my pet's safety, you might be thinking? Wag safety tests are administered to all dog walkers to ensure that they are qualified to work as a Wag walker.
This dog walking app allows you to track your walker using GPS. Wag! is the finest dog walking app because of all of these features.
2. Rover
Rover is comparable to Wag in terms of functionality. Rover has been featured in this list as a tool for finding dog sitters. Wag! also offers the option of hiring dog sitters, but Rover is a seasoned veteran. With a dog walking app like Rover, you have a better chance of finding long-term dog sitters.
Wag! is one of the finest dog walking apps, but Rover is the greatest dog sitting app.
Rover provides you with a wide range of sitter options as well as the ability to contact directly with them. It is critical to ensure that your dog is content and healthy while you are away.
3. PUPPR
Puppr is one of the most outstanding dogs training applications because it includes everything from basic obedience to advanced manoeuvres. Each trick will include a step-by-step guide as well as photographs. By entering progress after each session, you can keep track of your dog's overall progress.
Are you looking for more reasons to use this app? Sara Carson & The Super Collies, finalists on America's Got Talent, have over 50 tricks on Puppr. Premium customers have access to additional lesson packs as well as a live chat with Sara.
4. PAWPARKS.NYC
This app for dog lovers will assist pet parents in discovering parks in the NYC area, as well as which pups are playing in those parks. Pet parents can connect with other pet parents at their leisure simply by creating a profile.
PawParks.nyc provides various unique features, such as "PawPals" and "PawDates" with other pets in the neighbourhood.
5. IKIBBLE
iKibble is one of the safest and healthiest dog loving apps available. It categorises and ranks foods based on their health status. It also includes information on health advantages, feeding guidelines, and preparation.
Hundreds of food items, including meat, dairy, grains, fruits, and vegetables, are simply searchable for pet parents. When it comes to feeding your dog, iKibble has you covered.
What Are the Benefits of Using a Dog Walking App?
Here are the benefits of using a pet walking app;
1. Saves Time & Energy
Dogs, particularly puppies and young dogs, have a lot of energy. This energy can only be expended by physically engaging in activities such as playing, walking, or exercising your dog. When you're stuck at work all day, though, this may be impossible, and you'll be stuck with a hyper, energetic dog when you get home.
You may have someone come over during the day to help get some of that energy out if you utilise a dog walking app.
2. Gives You a Feeling of Security
After you've built a rapport with your dog walker, they'll frequently be able to keep an eye out for any questionable conduct while they're with your dog. Break-ins are 6 percent more likely to happen while homeowners are gone at work, after all. Dog walkers serve as an extra set of eyes in your community, keeping an eye out for prospective robbers or frauds.
3. A free lockbox is provided by several services.
Instead of leaving your key under the doormat when your dog is walked by a neighbour, dog walking apps like Rover and Wag offer a free lockbox where you may store your key for dog walkers. This step allows you to let your dog walker enter your home without having to provide them with a key all of the time, increasing the app's overall security.
4. Allow your dog to get some exercise.
Hiring a dog walker to assist exercise your pet during the day could be beneficial. You may also keep track of how much your dog is walked daily and increase or reduce that amount once you return home.
CONCLUSION
So, that's a wrap to the complete guide to creating an on-demand dog walking app!
Appicial is a leading on demand dog walking app provider that has extensive expertise and experience in developing on-demand apps for different domains, you name it.
Are you looking for the best on demand dog walking app services? If so, your search ends here!