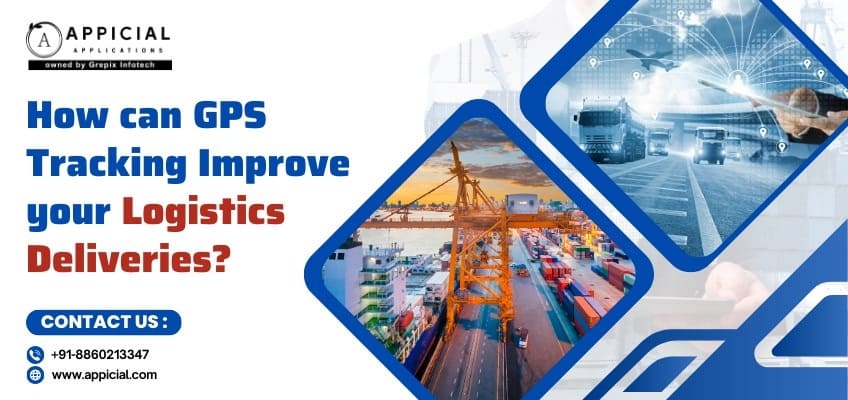 Logistics app connects drivers and customers who need their cargo to be delivered. It simplifies logistics management for local and international shipments. It saves time, efforts, eliminates communication errors, cuts down cost and paperwork. It lets you provide a reliable service and select reliable service providers for customers and shippers.
In the fast-paced e-commerce industry of today, getting packages to the right place and on time is more important than ever. The use of GPS tracking devices has become essential for e-commerce companies. It can improve the customer experience and streamline delivery processes.
GPS tracking devices can improve your deliveries in a big way by letting you track them in real-time, finding the best delivery routes, and lowering delivery costs.
This blog will talk about the different benefits of GPS tracking devices for e-commerce deliveries, as well as how they are changing the way deliveries are made.
Benefits of GPS Tracking in E-Commerce
Last-mile delivery has always been looked at as a cost center for retailers. With technology coming into the picture, the last mile has been revolutionized and has a big potential to reduce costs and generate more revenue. Here's how.
1. Faster Deliveries
GPS tracking devices keep an eye on the status of your delivery in real-time. It informs you of the various routes one can take for quicker deliveries. For example, businesses can use GPS tracking to easily find traffic jams and other roadblocks and find ways around them.
2. Improved Tracking and Visibility
The status of deliveries can be tracked in real-time using GPS tracking devices. Businesses can track deliveries in real-time thanks to a software platform that displays this information. With this information, businesses can easily find and fix any problems with the delivery, making sure packages get there on time.
3. Improved Delivery Efficiency
Using GPS tracking devices to streamline delivery routes and cut down on delivery times can help e-commerce companies save money on delivery costs. This makes the delivery process more efficient and less expensive, so businesses can save money and give it to their clients.
For instance, companies can use GPS data to find the quickest route to a delivery location, avoid traffic, and shorten delivery times. As a result, delivery management is improved, productivity rises, and delivery costs fall.
4. Better Customer Experience
Customers can get real-time updates on the status of their deliveries from GPS tracking devices. This increased transparency and accountability lead to a better customer experience, as customers can feel confident that their packages are being handled with care and attention.
For example, customers are more likely to shop with businesses that give them real-time delivery information, accurate delivery times, and better delivery management. This is because it makes the customer experience better.
5. Data-Driven Decisions
GPS tracking devices produce a lot of information that can be used to improve how deliveries are done. By looking at delivery routes, delivery times, and delivery success rates, businesses can find places to improve and make decisions based on the data they have. This results in a delivery process that is more effective and economical.
6. Enhanced Security
GPS tracking devices add an extra layer of security for both customers and e-commerce companies. Customers can be confident that their packages are being delivered safely while businesses can track their deliveries to ensure they are not lost or stolen.
Also Read: A Complete Guide for On-Demand Logistic App Development
GPS Transforms Middle and Last Mile Deliveries
The Logistics app is a powerful fleet management platform that e-commerce businesses can use to speed up the delivery process. Our logistics app is taking middle-mile and last-mile fleet management to the next level by making GPS tracking a key feature.
Our Logistics' GPS tracking works with its powerful software platform to give businesses a complete solution for managing their middle- and last-mile fleets.
Overall, Logistics is a very useful tool for businesses that want to improve their delivery processes and give their customers a better experience. With features like real-time tracking, route optimization, and delivery management, the Logistics app is a complete tool for managing fleets in the middle mile and last mile.
It enables companies to improve customer satisfaction and streamline delivery processes. Let's now consider how it can benefit any business' middle and last-mile logistics.
Benefits of Logistics GPS Tracker
1. Live Tracking: Stay Ahead of the Fleet
GPS tracking devices make it possible to track a vehicle's location in real-time. This lets businesses keep track of where their delivery vehicles are at all times. With this information, businesses can keep track of their fleets and make sure deliveries happen on time and as planned.
2. Route Optimization: Maximize Delivery Efficiency
Delivery routes can be made more productive by using GPS tracking devices, which also cuts down on delivery times. Businesses can improve their delivery operations by using real-time data analysis and delivery history.
3. Preventing Fuel Frauds
Rising fuel prices could become a major headache for your company. The GPS tracker for the Logistics app can estimate how much fuel will be used for a task, a trip, and an agent. The last-mile delivery process is the most expensive part of the entire supply chain, so you can cut costs significantly by conserving fuel.
4. Vehicle Monitoring: Maintaining Fleet Health
Additionally, GPS tracking devices can be used to keep an eye on the condition of delivery vehicles, giving companies use data about vehicle performance and upkeep requirements. Businesses can use this information to make sure their fleet is operating at peak efficiency, lowering the risk of breakdowns, and maintaining delivery effectiveness.
5. Customer Satisfaction: Enhancing Delivery Experience
GPS tracking devices can improve the customer experience by giving customers updates and tracking information in real-time. With this information, customers can keep track of their deliveries and know exactly when they will arrive. This gives them confidence in their purchases.
6. Monitoring Driver Behaviour
The GPS tracks the driver's actions, driving habits, and performance. GPS can also pick up on reckless driving, excessive braking, acceleration, and speeding.
It also makes a detailed report of how the driver did, which makes it easy to look at their actions, and it gives specific information about how the drivers use the vehicles.
Continuous vehicle monitoring improves safety and lowers insurance costs.
Final Thoughts
As e-commerce grows and changes, GPS tracking devices will become more important to make sure packages get to customers on time and in the right place. For the delivery of items purchased online, GPS tracking devices are revolutionary. By using real-time monitoring, route optimization, lower delivery costs, and data-driven decision-making, e-commerce companies can improve their delivery processes and give their customers a better experience. The benefits of GPS-tracking devices are clear, so businesses that use them will be in a good position to stay ahead of the competition.
As the industry is growing like a wildfire, you have to have an on-demand logistic app to stay ahead of your competitor.
Don't know what to do? No worry, leave everything to us!!
Appicial Applications is a leading logistics app development company that has been designing and developing apps for years and has helped multiple businesses to gain a market foothold. With a fervent crew of goal-oriented professionals, we harness state-of-the-art technology to build feature-rich, functional, beautiful, and future-ready apps that perfectly cater to your needs and budget.