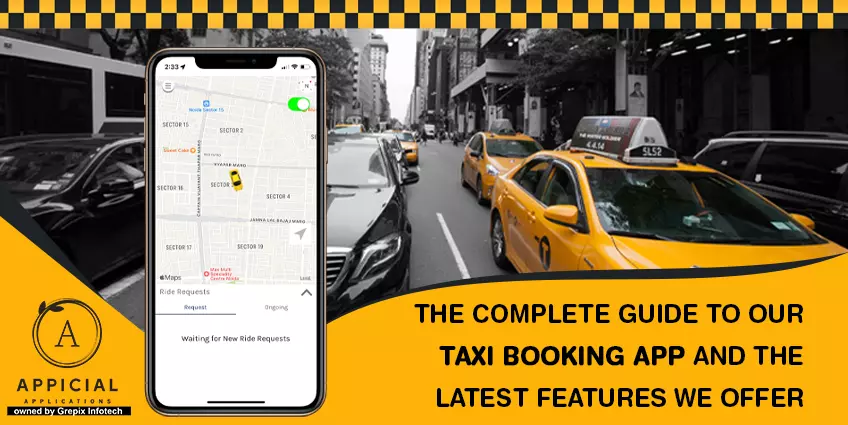 The Complete Guide to Our Taxi Booking App and the Latest Features We Offer
Building a taxi booking application from scratch is not as easy as it sounds. In addition to the enormous costs involved, replicating a development model like Uber requires a team of dedicated developers who can bring an app to reality. However, the good news is an Uber clone app development is possible through a readymade pre-built script. Therefore, purchasing our readymade Uber clone app can help you to accelerate your taxi app development at lightning speed and drastically reduce costs.
HireMe is a white-labeled pre-built uber clone taxi booking app that can be 100% customizable based on the client's business requirements.
Intuitive, responsive panels with a seamless user experience, which comprises three modules:
Passenger App
Driver App
Admin Panel
Appicial's Taxi Booking App Features
HireMe app comes with some advanced features, including Airport Queue, Auto Accept Trip Request, Incident Reporting System, Driver Behavior, Driver Activity Logs, Real-Time Driver Payments, Deep Statistics, Smart Fare Calculation, Accurate Eta With Live Traffic, Multi-city features like pricing, currency, category, language, and much more on a city basis.
a. Airport Queue
We have a very advanced Airport priority queue algorithm. App auto-detects the available drivers at the airport and prompts a message to add yourself to the queue. So drivers need not wait for longer to get the ride-booking request faster.
b. Auto Accept Trip Request
Auto Accept is an advanced feature for drivers to reduce the chance of missing a trip. As a result, drivers can more easily focus on their next pickup, earn a reward for their acceptance rate performance, and have peace of mind knowing their next trip will be offered and accepted quickly.
c. Incident Reporting System
An incident reporting system is a solution that enables our teams to detect, investigate, and respond to any incidents with drivers and passengers. In addition, the incident reporting system acts as a single point of contact between the support team and drivers & passengers. UberApps design and develop incident reporting systems in which admin can get summarized incident information at various levels easily and quickly.
d. Driver Behaviour
Driver behavior is the actions performed by a driver to ensure people's safety and compliance with driving regulations. Appicial keeps a record of drivers' driving behaviour, such as wearing safety belts, overspeeding, sharp turns, hard breaks, etc.
e. Driver Activity Logs
The driver activity logs record what drivers are doing on the driver app. They need to record everything they're doing to ensure that they're doing their jobs well. Admin can check the driver activity logs to monitor the driver activities, daily trips, etc. Driver activity logs are the simplest to operate, most complete, and most versatile electronic Hours Of Service (HOS) solution. Driver activity logs provide the admin with complete visibility of the status of every driver in the Hours of Services(HOS) shift and cycle, including a replay of daily history and comprehensive reports.
Also Read: Appicial Helps Startups Related to Taxi Booking Services in South Africa
f. Realtime Driver Payments
Appicial provides a solution to help companies pay off their drivers timely and with automation.
g. Deep Statistics
Granular level statistics to understand Rider and Driver behavior and reward them for better performance.
h. Smart Fare Calculation
Trip fares are primarily calculated based on distance and time. A smart fare management system is a system in which automated fare calculation includes all parameters such as distance, time, fare, taxes, tolls, etc.
i. Accurate Eta With Live Traffic
A rider can get an accurate ETA (Estimate time arrival) of the driver with live traffic. Driver arrival times are based on road conditions, curvatures, hills, and historical speeds with detailed and predictive data.
j. Integration with Government Bodies
Our system is built upon government guidelines for the verification process of drivers and their personal and vehicle documents like Registration, insurance, ID, License, etc.
k. Multi-City
It helps taxi businesses to add multiple countries/cities to provide service. In addition, the admin can add or remove countries where they want to deliver their service. This advanced feature of the solution stack ensures business expansion.
Conclusion
Suppose you have to build a taxi app like Uber with minimum possible functionalities, and you decide to go the conventional way, trying to assemble the entire application. Then, it will require a considerable investment and spending. On the other hand, if you decide to go for a ready script, you can instantly reduce the estimated costs by a significant 75%. Therefore, purchasing our readymade Uber clone app can help you to accelerate your taxi app development at lightning speed and drastically reduce costs. In addition, the apps are fully customizable and white-labeled.